Courtesy Of Vermont Folk Rocker
In the showroom attached to Jim Geier's Starksboro woodshop is one of the first rocking chairs he ever made. It was built with construction materials salvaged from his job renovating houses, and its dark wood, earthy rope and solid silhouette betray its 1970s origins. But from these humble beginnings, Geier has refined his craft to build a formidable fine furniture business: Vermont Folk Rocker.
Today, Geier's patented design can be found in homes all over the country — and giving a cozy Vermont touch to Burlington International Airport and Green Mountain State welcome centers.
Sturdy and inviting, the Shaker-influenced rockers particularly stand out for their seat, made from 76 small wooden blocks woven to the frame. This built-in flexibility makes for a very comfortable chair. And, as Geier notes on his website, the scaled-back Adirondack-style arms are "designed with knitting and holding babies in mind."
Geier, 74, didn't set out to make the unofficial Vermont state chair. "I just wanted to make things," he said. "I didn't care what it was."
Growing up near Albany, N.Y., Geier spent his high school summers working with his grandfather, a stonemason. "I think my grandfather got me going on making things," he said, recalling in particular a giant concrete dinosaur they built for a children's park.
Geier came to Vermont as a student at Saint Michael's College in Colchester, graduating in 1965 with a degree in biology. After teaching high school for a year, he volunteered for the army. Following three years of service, he returned to Burlington to work as a building renovator.
In 1971, Geier rented a small shop in Burlington's South End to make cabinets for the houses he was working on. Once he had a shop of his own, he threw himself headlong into furniture making, continually "churning out new things," he said.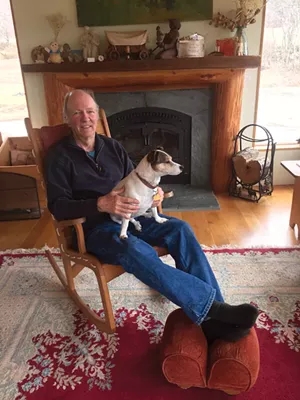 Rachel Elizabeth Jones
Jim Geier
"I was more fascinated with the idea of making something new than I was with the money," Geier recalled. During that time, he also drew great inspiration from the University of Vermont's Fleming Museum of Art, which hosted a woodworking exhibition. "I was just blown away," he said. "I never forgot it."
Given Geier's experimental spirit, it should come as no surprise that Vermont Folk Rocker didn't begin with a chair at all but with a hammock, made from his now-signature blocks of wood. When he took the hammock to a show in Massachusetts, his sister suggested reimagining it as a rocking chair. "It just went from there," he said.
Geier tweaked and tested his design until 1990. That same year, he moved his shop to the small Addison County town of Starksboro and committed to focusing nearly all of his attention on rockers.
Today, Vermont Folk Rocker chairs start at $1,775 and are made with four different woods: cherry, bird's-eye maple, red oak and black walnut. Geier works closely with his small staff of about 10 employees to make each chair by hand. Together, they cut the initial components, bevel block edges and saturate the wood with a linseed-oil finish — multiple times.
"It's the elbow grease that makes it really smooth," Geier said.
One of Vermont Folk Rocker's many fans is Gene Richards, director of aviation at Burlington International Airport. "They're stunning. They're beautiful," he said. "They're not only a seat. They're art."
Though BTV has provided travelers with rocking chairs since 2002, it wasn't until 2016 that Vermont Folk Rockers were added to the mix. For Richards, who began his position at the airport in 2013, Geier's chairs fit perfectly with its mission of "Vermont reinforcing Vermont."
Aside from being attractive and locally made, the rockers make sense for weary travelers. "They're good for people pre-travel," Richards said. "They're therapeutic — it's like a mini back massage as you sit."
"They're more calming than a regular chair," Geier noted. And despite Vermont Folk Rockers' strong connection to the Green Mountain State, he also recognizes the universal within the local: "Everybody wants to sit in a chair that's comfortable."
Find Vermont Folk Rockers at Burlington International Airport. For more details, visit vermontfolkrocker.com.
---
Courtesy Of Vermont Folk Rocker
Dans la salle d'exposition adjacente à l'atelier d'ébénisterie de Jim Geier à Starksboro, on peut admirer l'une des premières chaises berçantes qu'il a fabriquées. Il l'a construite avec des matériaux récupérés sur les chantiers de rénovation où il travaillait. Le bois sombre et le profil robuste de la chaise, typiques des années 1970, trahissent l'âge de la berceuse. Depuis ces débuts modestes, cependant, Jim a raffiné son art et fondé une formidable entreprise de meubles appelée Vermont Folk Rocker.
Aujourd'hui, le design breveté de Jim se retrouve dans des maisons partout aux États-Unis. Et ses chaises donnent un air accueillant à l'Aéroport international de Burlington et aux divers centres où on accueille les visiteurs au Vermont.
Robustes et invitantes, les berceuses d'influence Shaker sont particulièrement frappantes, avec leur siège fait de 76 petits blocs de bois « tissés » dans la structure. Cette flexibilité en fait des chaises très confortables. Et comme le fait remarquer Jim sur son site Web, la forme des accoudoirs est pensée en fonction des personnes qui tricotent ou qui bercent des bébés.
Jim, qui a 74 ans, n'avait pas l'intention de fabriquer la chaise emblématique non officielle du Vermont. « Je voulais simplement faire des choses de mes mains, dit-il, n'importe quoi. »
Quand il était petit, à Albany, dans l'État de New York, Jim passait ses étés chez son grand-père, qui était maçon. « Je crois que c'est lui qui m'a donné ce désir de fabriquer des choses », dit-il, en évoquant un dinosaure géant en béton qu'ils construisirent pour un parc.
Jim est venu au Vermont pour étudier au Saint Michael's College à Colchester, où il a obtenu son diplôme de biologie en 1965. Après avoir enseigné dans une école secondaire pendant un an, il s'est engagé comme volontaire dans l'armée. Au bout de trois ans, il est revenu à Burlington pour travailler dans la rénovation.
En 1971, Jim loua un petit atelier dans le quartier South End de Burlington pour y fabriquer les armoires des maisons sur lesquelles il travaillait. Une fois qu'il eut son propre atelier, il se lança dans la fabrication de meubles, inventant continuellement de nouveaux modèles.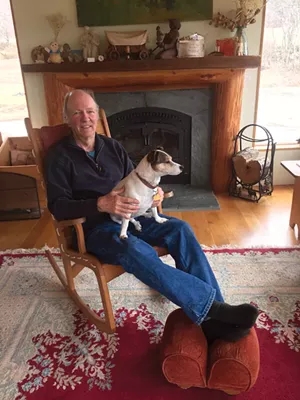 Rachel Elizabeth Jones
Jim Geier
« J'étais davantage fasciné par l'idée de faire quelque chose de nouveau que par l'argent », se souvient-il. À cette époque, il s'inspira aussi beaucoup des œuvres du musée Fleming de l'Université du Vermont, qui organisait une exposition d'ébénisterie. « J'ai été émerveillé, dit-il. Je ne l'oublierai jamais. »
Compte tenu de l'esprit expérimental de Jim, il n'est pas surprenant que l'entreprise Vermont Folk Rocker n'ait pas commencé avec la fabrication d'une chaise, mais plutôt d'un hamac, fait de blocs de bois, qui sont devenus sa signature. Lorsqu'il emporta ce hamac à une exposition au Massachusetts, sa sœur lui suggéra de le recréer en chaise berçante. « Tout est parti de là », dit-il.
Jim fit de nombreux essais jusqu'en 1990. La même année, il déménagea son atelier dans la petite ville de Starksboro, dans le comté d'Addison, et décida de concentrer toute son attention sur les chaises berçantes.
Aujourd'hui, les chaises de Vermont Folk Rocker les moins chères se vendent 1 775 $ et sont faites de quatre essences différentes : cerisier, érable piqué, chêne rouge et noyer noir. Jim travaille en étroite collaboration avec ses 10 employés et toutes les chaises sont faites à la main. Ensemble, ils coupent les pièces, taillent en biseau les rebords des blocs et imprègnent le bois d'huile de lin, en plusieurs couches.
« C'est l'huile de coude qui rend la surface aussi douce », affirme Jim.
Gene Richards, directeur de l'aviation à l'Aéroport international de Burlington, est l'un des nombreux admirateurs de Vermont Folk Rocker. « Ce sont de magnifiques berceuses, dit-il. Plus que de simples chaises, ce sont de véritables œuvres d'art. »
Bien que BTV fournisse aux voyageurs des chaises berçantes depuis 2002, ce n'est qu'en 2016 que les berceuses de Vermont Folk Rocker s'ajoutèrent au lot. Pour Gene Richards, qui a commencé à travailler à l'aéroport en 2013, les chaises de Jim sont parfaitement compatibles avec la mission de l'aéroport de « renforcer le Vermont en faisant appel au Vermont ».
En plus d'être jolies et fabriquées localement, ces chaises berçantes sont tout indiquées pour les voyageurs fatigués. « Elles conviennent aussi à ceux qui partent, dit Gene. Elles ont un effet thérapeutique; c'est comme recevoir un mini-massage. »
« Elles calment davantage qu'une chaise ordinaire », dit Jim. Et malgré le lien très fort entre Vermont Folk Rocker et l'État des Montagnes vertes, il admet que cette berceuse a un caractère universel tout en étant très locale : « Tout le monde veut s'asseoir dans une chaise confortable. »
Vous trouverez des chaises de Vermont Folk Rocker à l'Aéroport international de Burlington. Pour avoir plus de détails, visitez le site vermontfolkrocker.com.