We'll go out on a limb and guess you've probably heard of Phish, Grace Potter and Anaïs Mitchell. But there's a hell of lot more to local music than our most famous exports. In fact, we'd put our scene up against any in the Northeast — though we concede that Brooklyn is pretty rad, too.
To hip you to some of the resident bands you should know, we've crafted a little mixtape below. But it's just a starting point. Find your groove by getting out to some shows — check the music venues roundup — and turning to the music section of Seven Days each week. Oh, and follow 7D on Spotify (sevendaysvt) for frequently updated playlists — including this one.
Madaila, "Realization"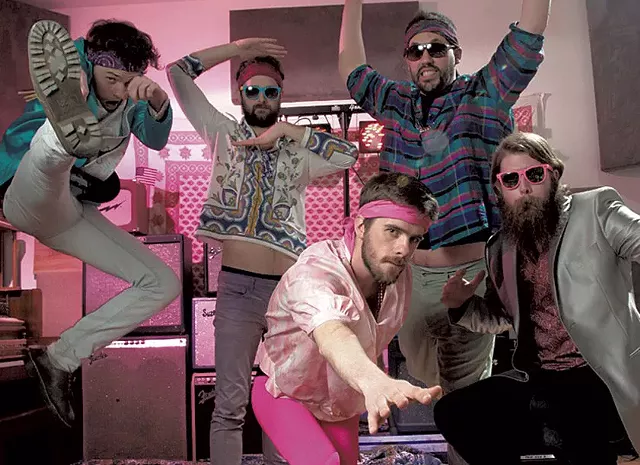 Matthew Thorsen
Madaila
Do you like neon? Goofy dance moves? Spandex? We thought so. Madaila have quickly ascended to the ranks of Vermont's elite, thanks to an infectious sound that fuses the danceable pop sensibilities of Justin Timberlake, the lyrical heart and affinity for falsetto vocals of Bon Iver, and the sonic ingenuity of Beck. Check out "Realization" from their 2016 sophomore album, Traces.
The High Breaks, "Voodoo Wave"
Blending the classic surf riffage of Dick Dale with a bizarro noir bent that winks at filmmaker David Lynch, the High Breaks are kings of the beach when it comes to Vermont's oddly vibrant surf-rock scene.
The Mountain Says No, "Statistik"
If you like your rock grimy, swampy and a little weird, say yes to the Mountain Says No. "Statistik" is a hairy, erratic and charismatic cut from the band's excellent 2015 record that hints at an array of influences, from Black Sabbath to Pavement to Fela Kuti.
Tyler Mast & Paradise Divide, "Mad River Stomp"
Though it tends to fly under the radar, Burlington's jazz scene is bustling, offering everything from straight jazz to bebop to post-bop and the most far-flung sonic trips. Tyler Mast & Paradise Divide are a local supergroup of sorts who specialize in "art groove." That's a heady instrumental fusion of funk, roots, rock and jazz that makes for a smooth access point for wannabe hepcats to dig the scene.
Black Rabbit, "The Original Original"
Perhaps no genre has as long and proud a tradition in Vermont as punk. (Suck it, jam fans.) Punk has been a cornerstone of the scene since the late 1970s. Presently, Black Rabbit are among the state's best, merging vintage punk snarl with genuinely top-notch chops.
Caroline Rose, "Blood on Your Bootheels"
If you're looking for Vermont's next breakout star, here she is. Rose scored reams of praise for her spectacular 2014 record, I Will Not Be Afraid. Check out the sociopolitically charged lead single, "Blood on Your Bootheels," a biting, timely track that premiered via NPR Music and put Rose on the national map. Look for a new album — and perhaps a sonic switch toward psychobilly — soon.
The Lynguistic Civilians, "Drink Funky"
Matthew Thorsen
The Lynguistic Civilians
Vermont's hip-hop scene is lively and diverse, which might come as a surprise to newcomers. Deal with it, yo. Heavily influenced by A Tribe Called Quest — RIP, Phife Dawg — the reigning kings (and queen) of the 802 are a rap crew called the Lynguistic Civilians. Take one spin with the party anthem "Drink Funky," and you'll see why.
Swale, "Popular Crowd"
Swale's 2014 record, The Next Instead — and the accompanying remix record, Direct Inbreds — was something like the local rock equivalent to appointment viewing television. The album was among the most anticipated of the year and, following its release, among the most universally admired. Our favorite cut was the anthemic "Popular Crowd." We dare you not to sing along.
(Disclosure: Swale bassist Tyler Bolles is the brother of Seven Days music editor Dan Bolles — we told you Vermont is small!)
Francesca Blanchard, "Mon ange"
Whether Francesca Blanchard sings in English or French, she has a way of getting her message across — and it's typically aimed right at your heart. The worldly songwriter is a budding star at home and abroad — she was born in France — owing to her beautifully expressive voice and uniquely nuanced sense of folk song craft.
Rough Francis, "MSP2"
If you're gonna live in Burlington, you'll have to familiarize yourself with the story of Detroit proto-punk band Death. (Just google it, m'kay?) In the meantime, check out the sons of Death, Burlington's Rough Francis, who are making national waves with new punk music inspired by their dad's old band, such as their ripping single "MSP2."
Kat Wright and the Indomitable Soul Band, "By My Side"
If you're a fan of retro-soul torchbearers Sharon Jones, Raphael Saadiq or the late Amy Winehouse, you'll want to let your backbone slip to the sultry R&B sounds of Vermont's reigning soul diva, Kat Wright.
Harder They Come, "Freak"
The electronic dance music scene is bumping in Burlington. Though largely dominated by house and its various offshoots, you'll find pockets of trap, trance, chillwave, EDM and just about every other variant of untz-untz at clubs all over the city. Local recordings tend to be few and far between, but "Freak," from Harder They Come's 2015 The Freak EP, is an excellent primer.
The DuPont Brothers, "Seven Days"
No, we didn't choose "Seven Days," from the DuPont Brothers' 2016 record A Riddle for You, because it shares the name of our awesome altweekly. OK, maybe we did. Still, it's a stirring tune. Recorded with enigmatic composer, producer and bandleader Michael Chorney, the song is a brilliant example of the DuPonts' gorgeously delicate brand of indie folk that hits you right in the feels.