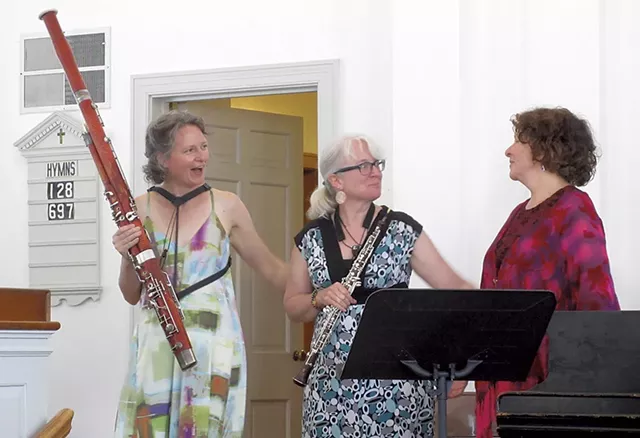 Amy Lilly
Rachael Elliott, Katie Oprea and Cynthia Huard of Heliand Consort
Rochester is a quiet village of 1,171 residents perched on the eastern edge of the Green Mountain National Forest. Despite its relative isolation, it has hosted a high-quality summer weekend concert series for a quarter-century: the Rochester Chamber Music Society.
While RCMC isn't in the same category as the Marlboro Music Festival, its musicians have included regulars of that revered chamber musicians' retreat. Violinist Soovin Kim made his 19th appearance in Rochester at the opening concert on June 8 with pianist Gloria Chien. (The two are co-artistic directors of the Lake Champlain Chamber Music Festival in Colchester and Burlington.) Members of the renowned Brentano and Borromeo string quartets have graced the RCMS, and Peter Stumpf, who was principal cellist of the Los Angeles Philharmonic for nine years, will play on July 19.
Artistic director Cynthia Huard, who cofounded the RCMS with Marguerite Schenkman in 1994, has always made sure that the mix of musicians includes Vermonters and community members, too. The aim of the small-town series is to make classical music accessible and enjoyable to all, she said. Concerts are free and followed by snack-filled receptions. And every year at the Bach Bash, a popular tradition established 21 years ago, community members assemble with a few professionals to rehearse and perform a concert in a single day.
On Sunday, Seven Days attended the third of RCMS' eight concerts. (The season continues through August 11.) On the low altar of the intimately scaled Rochester Federated Church was Heliand Consort, a chamber group led by Huard, who lives in Bristol. Flanking the pianist were oboist Katie Oprea and bassoonist Rachael Elliott, both principals of the Burlington Chamber Orchestra and substitutes with the Vermont Symphony Orchestra. An appreciative audience filled the pews, including Elliott's and Oprea's children in the front row.
Their program ranged from two "Romances for Oboe and Piano," composed by Robert Schumann for his wife, Clara, in 1849; to a 2004 sonata for bassoon and piano by Nancy Galbraith. Lili Boulanger's "Trois morceaux pour piano," from 1914, seemed as exquisite and fleeting as her life. (The first female Prix de Rome composition winner at 19, Nadia Boulanger's younger sister died at 24.)
The musicians briefly introduced each piece. Elliott told the audience to listen for the waves in her Australian friend Padma Newsome's piece "To Bastion Point."
"We're always working to find ways to include the audience in the musical experience," Huard said of the RCMS. An affiliate artist at Middlebury College who teaches private students at her studio in the Middlebury Community Music Center, she appears to have retained her drive to democratize classical music over 25 years of leading the summer series.
Huard has two master's degrees, in piano performance and early music, from Indiana University. She moved to Rochester in 1992 and was soon playing duets with Schenkman, a retired Juilliard School-trained violinist, at the Park House. At the suggestion of an audience member, the pair established a concert series that grew to include invited musicians from Schenkman's musical circle.
When Schenkman died in 2003, Huard continued to codirect with their friend Joan Hutton Landis, a poet who had taught humanities at the Curtis Institute of Music for 24 years. Landis continued Schenkman's legacy by inviting accomplished former students to perform, including Kim. During this time, RCMS began running educational programs, including the Green Mountain Suzuki Institute, a weeklong training residency for string musicians and their families, and outreach programs in local schools.
Landis died in 2017. Huard has dedicated memorial concerts this season to each of her former co-artistic directors.
Rochester resident Lesley Straus, who began helping the RCMS with its books in 2005, is now president and treasurer of the board. The "closet pianist" said she attends many similar events in Vermont, including the Killington Music Festival, the Central Vermont Chamber Music Festival and the Lake Champlain Chamber Music Festival.
"Ours is just intimate," she opined. "You can see Soovin and Gloria at the Flynn [Center for the Performing Arts], but here it's up close and personal. You're not removed from the musicians; the instruments are close. It's a treasure. It's chamber music as it's meant to be."
As an example of that intimacy, Straus cited the concerts of baroque music on period instruments, one of which Huard leads every year: They're generally played on the church floor, and the audience surrounds the musicians.
Like the Craftsbury Chamber Players, a summer chamber series based in the Northeast Kingdom, the RCMS houses visiting musicians locally. "We [the board] all offer house space. They essentially move in," Straus said with a laugh. (The CCP's principal violinist, Mary Rowell, will play in RCMS' July 7 concert.)
After an intermission that most of the audience spent basking in the summer sunshine and mountain air, the concert's second half opened with Huard, Oprea and Elliott singing a simple song a cappella. At their urging, the audience joined in after a few repetitions.
Heliand Consort programs, Huard said, always include one song sung in the musicians' untrained but in-tune voices. The effect — like that of the RCMS experience itself — is to remind us that music unites us all.