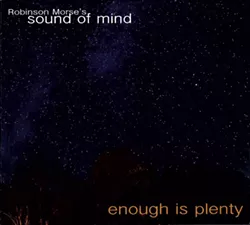 Robinson Morse's Sound of Mind, Enough Is Plenty
(Recombination Records, CD, digital download)
Few figures in the realm of local jazz — or almost any musical idiom, really — are as widely respected among peers as Robinson Morse. The central Vermont bassist has been a scene cornerstone since he was a teenager — then laying down the funkdafied low end for Michael Chorney's acclaimed "antacid" jazz ensemble viperHouse in the 1990s. Chorney is a frequent collaborator, and Morse has been the composer's go-to double bassist on innumerable projects over the years. These include Chorney's own otherworldly sonic pursuits to works by Anaïs Mitchell and Maryse Smith.
Despite the universal esteem with which other musicians hold Morse, he's very rarely placed front and center. Even in his own trio, the inimitable Vorcza, he tends to haunt the margins. That's no slight. Rather, it's a statement to Morse's inherent humility and willingness to serve the music. Still, one can't help but wonder what might happen if he was given — or gave himself — free rein to indulge the innermost recesses of his creativity.
The answer comes by way of a new project, Robinson Morse's Sound of Mind and the band's debut recording Enough Is Plenty. The 11-member ensemble features some of the state's young lions — young catamounts? hepcatamounts? — of jazz, including keyboardist Parker Shper; saxophonists Bryan McNamara, Peter Apfelbaum, Luke Laplant and Jake Whitesell; and trombonist Andrew Moroz. More importantly, the album features eight compositions written or cowritten by Morse.
The album is nothing short of a statement, one best embodied by "intention/affirmation," the third track. Following a pair of sinewy, chameleonic, funk-tinged tunes — the opening title cut and "Atmosphere" — Morse's deft touch as a bandleader shines through. The song is moody and mysterious, a wash of undulating bass and ethereal horn arrangements that coil around the listener's psyche with sinister smoothness.
Morse is a master of the groove, and, even amid the intricacies of his complex, multilayered arrangements, he creates some fiercely danceable fare. "Open Heart," for example, simmers with a sort of gleeful giddiness, particularly in the interplay between the horns and guitarist Max Bronstein. "Offsider" is bright and unpredictable, heavy with retro-funk charm. "Paranormal" offers spectral grooves and spaced-out melodies that transport the listener to an astral plane.
A good deal of credit for the record's dynamism belongs to Morse's star-studded band. To wit, percussionist PJ Davidian and drummer Dan Ryan have never met a pocket they didn't like. And trumpeter Taylor Haskins is simply a monster. But Morse's abilities as a bandleader and composer are the true revelation of Enough Is Plenty. In fact, I'd say that title is patently misleading. Because the album's 40-plus minutes are not nearly enough.
Enough Is Plenty by Robinson Morse's Sound of Mind is available at robinsonmorse.com. The band plays on Saturday, June 10, at Radio Bean in Burlington as part of the Burlington Discover Jazz Festival. (Morse also performs in other ensembles during the fest; see discoverjazz.com for more info.)