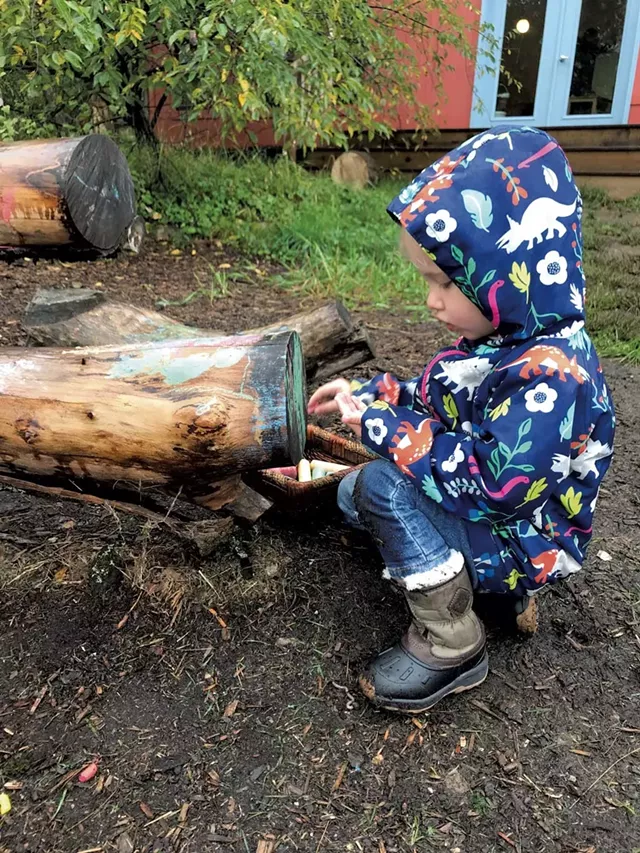 I love being outdoors with my 2-year-old, Virginia, particularly when it's 80 degrees and sunny. Cold, rainy days are a bit harder to navigate. A recent trip to the Robin's Nest Nature Playgroup at North Branch Nature Center in Montpelier challenged us to make the best of lousy weather. It also gave Virginia and me an introduction to education through nature immersion.
Just two miles north of downtown, the nature center boasts 28 acres of fields and forest preserved for public use. Trails provide access to the North Branch of the Winooski River and Hubbard and North Branch River parks.
On a Monday morning in October, we parked in the on-site lot and popped into the main building, where an employee directed us to an outdoor corral called the Nature Playscape.
Virginia and I were the first to arrive for the free, two-hour, drop-in session for kids 5 and under and their caregivers. Facilitator Melora Kennedy walked us through the materials in the fenced-in playscape. Known as provocations, because they provoke exploration, they included a table-like rock holding cups of colored water waiting to be mixed; a collection of planks, stumps and blocks called "loose parts"; and a mud kitchen with a wooden countertop stocked with pots, spoons and other cooking utensils.
Virginia was drawn to a muddy hole in the ground, where she dug with a metal shovel. She also whipped up a dish or two in the mud kitchen and drew on a log with chalk.
About 20 parents brought their kids on one fall morning, Kennedy said, but on this wet and chilly day, there were never more than three families at a time in the playscape. Adults helped and supervised, but let their children pick their preferred apparatus.
This choose-your-own-adventure approach is central to the concept of nature immersion, said the center's Forest Preschool director and teacher Mary Zentara. Unlike outdoor education, which, Zentara explained, "denotes structured activities with a structured outcome," nature immersion is open-ended. "It allows for children to be leaders in their learning and to take ownership in their learning process."
A typical nature playgroup session, Kennedy said, starts with free play. After about 50 minutes, a cleanup song leads to a group circle and another tune. Then, kiddos and caregivers gather their belongings and walk to a nearby second destination, such as the river or a shaded play area called Deer Camp. Here, seasonal songs and stories, sometimes with puppets, ensue. Tots can then eat parent-packed snacks and enjoy more playtime.
The schedule resembles a condensed version of a day in the center's Forest Preschool. Zentara started the playgroup in 2014 as a feeder program for the preschool, and "as a way for parents and children to connect with each other outside."
Because of the low attendance and gloomy weather on this particular day, Kennedy opted to make the most of the Nature Playscape rather than venturing to a second destination.
This was fine with us. Shortly after Kennedy made that call, my mud-covered daughter had a mini-meltdown, apparently fed up with her cold hands and damp clothes. (Pro tip: Pack extra clothing, and bring waterproof outerwear.) After about an hour of play, Virginia and I called it a day.
Despite the rain and the chill in the air, I was glad we got in on the fun. As Zentara told me, "The most potent learning is when we are outside of our comfort zone."
North Branch Nature Center, 713 Elm St., Montpelier
The free Robin's Nest Nature Playgroup meets — rain or shine — every Monday through December 3, from 10 a.m. to noon. Call 229-6206 or visit northbranchnaturecenter.org for more information.
Learning on the land
"Forest Preschool is an exploratory, nature and play-based program with an indoor classroom that empowers children to be active in their own learning while connecting to one another and the natural world," reads the North Branch Nature Center website. Barring extreme weather, such as high winds or thunder and lightning, the nature center's Forest Preschool students spend at least part of each day outdoors — yes, even in the winter. Below is a small sampling of forest preschool programs around Vermont.