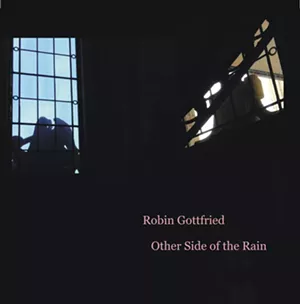 Robin Gottfried, Other Side of the Rain
(Self-released, CD, digital download)
Robin Gottfried is a man out of time. The veteran musician moved to Burlington in 1978 and has since released a string of albums that each feel rooted in the era of late '70s/early '80s pop rock. Specifically, the New York City native bears an overt affection for well-coiffed soft rockers such as Hall & Oates, Kenny Loggins and Peter Cetera. Indeed, Gottfried even styles his own long, curly mane in a fashion that recalls the gently sexy, Brut-scented charms of early-'80s yacht rock.
That genre has lately experienced a hipster-fueled renaissance of sorts — the term "yacht rock" itself only fairly recently entered the lexicon, thanks to an online mockumentary series of the same name. But Gottfried is the genuine article, plying his trade with a refreshing lack of irony and pretense. The latest example of the man's songsmithing is his ninth album, Other Side of the Rain. Though released in Vermont in late 2017, the record could easily be mistaken for a breezy relic from sunny California in 1983. And that's a good thing.
Sometimes lost in the celebration of soft rock's gooey, feel-good aesthetics is the heightened musicality the genre demands. While its poetry might be saccharine, musically the style shares as much rock DNA with prog as pop. Put another way, it might be soft cheese, but it's a well-aged, complex and tasty Brie. And Gottfried is one damn fine cheesemonger.
From the bright, piano-powered pop of album opener "Wishing Well" — a tune that missed its calling as a 1980s sitcom theme song — to the closing acoustic ballad "They Found Their Love in India," Gottfried renders each of the album's 11 cuts with great care and craft. His complex and finely detailed arrangements waste not a single note or phrase. He's somehow both flashy and efficient.
It's likely that musical nuance provides the songwriter — if not the genre on the whole — some lyrical leeway. When they're delivered in lush swells of punchy electronic piano, effects-heavy electric guitar and multilayered vocal harmony, we can forgive overly earnest sentiments and clichés. In fact, we can embrace them — ideally on a bearskin rug in front a crackling fire. Torch songs such as the Richard Marx-esque "Hold On (I Just Need Time)" and the gently groovy title track succeed with a swooning mix of lyrical sweetness and simplicity.
It's worth noting that, aside from Ian Koeller's drums, Gottfried plays every lick and sings every note on Other Side of the Rain — yet another testament to his exceptional musicianship. It also bears mentioning that Gottfried was fairly certain his 2015 album, Caspian Sky, would be his last — a notion alluded to in the album's minimal liner notes. Luckily for local yacht-rock fans, the muse sailed his way again. Here's hoping it continues to.
Other Side of the Rain by Gottfried is available at zoerobin.com. The Robin Gottfried Band play on Saturday, February 3, at the Jericho Café & Tavern.