courtesy of Todd Lockwood
Robert Resnik
Longtime Burlington radio DJ and musician
Robert Resnik
is being inducted into the
Folk Alliance International's Folk DJ Hall of Fame
. The induction ceremony will be held as part of the International Folk Music Awards on February 1 in Kansas City, Mo. Resnik's 50-plus-year career in radio will be honored, including his work as host of Vermont Public's
"All the Traditions,"
a program dedicated to folk and traditional music.
"I was a little shocked when I found out, honestly," Resnik said by phone. He explained that new members of the Folk DJ Hall of Fame are chosen by previous inductees. "So you're getting chosen and congratulated by your peers," he continued, "people like
Nick Spitzer
and
Fiona Ritchie
, who are legends in folk radio, and it feels really, really good."
Resnik's radio career began after he moved to Vermont in 1970 to attend the University of Vermont. He started his own free-form program on UVM radio station
WRUV
90.1 FM, called "The Shirley Temple Show." His work started to attract more attention in 1996 when he began hosting "All the Traditions."
"The secret to being a good DJ, I think, is to not stay in the same place," Resnik said. "I've always told people: 'If you don't like what I'm playing, just wait 10 minutes because the next set will be completely different."
Resnik is planning to fly to Kansas City with his family for the induction, which presents multiple exciting possibilities for the 69-year-old DJ.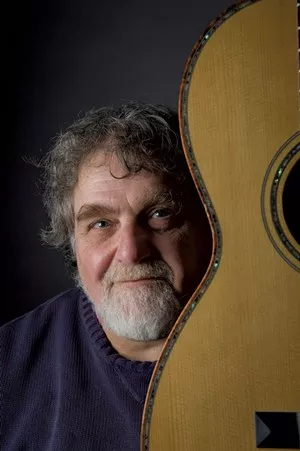 courtesy of Ben Resnik ©️ Seven Days
Robert Resnik
"Look, usually when you get things like this, it's after you've dropped dead," he said with a laugh. "But I'm still here! So I don't want to miss this."
Having attended the awards in the past, Resnik knows what to expect.
"It's so great," he enthused. "They book a third of a hotel for the musicians, who play all day just to catch the ears of wandering disc jockeys. It's a true love fest. Plus, there's
Arthur Bryant's
, which is one of the best BBQ joints in the country. I'm not missing those ribs."
Aside from the killer ribs, Resnik is looking forward to having the designation of being a hall of famer.
"Maybe this will give me a little more cred to say what's folk music and what isn't folk," he said. "It's been a debate that's been going on since Bob Dylan plugged in in 1965. It's such a bigger genre than most people think."
Once he's back from Kansas City, it's right back to doing what he loves, hosting "All the Traditions" every Sunday. When Resnik first got the job, beating out more than 30 other potential hosts, he told the station's brass that he had no preconceptions for what his show would be like, other than he wanted to focus on Vermont artists.
"Showing people music that they've perhaps never heard before is heaven to me," Resnik said. "It's just what I do. And I've been so lucky that a lot of what I've done in my life has been centered around music."