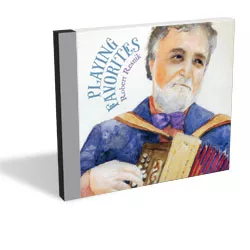 (Thunder Ridge Records, CD)
You may recognize Robert Resnik — or, more specifically, his voice — as the host of Vermont Public Radio's "All the Traditions." Or you may recognize him as one of the Fletcher Free Library's familiar faces — he's worked there for more than 20 years as a reference librarian. Or as an occasional music reviewer for this paper. In one way or another, if you are at all tuned into Vermont culture, you are somewhat acquainted with this guy. What you may not know is that Robert Resnik is a musician and interpreter of folk ballads in his own right, and that when he uses the word "traditions," he means traditional.
On his new album, Playing Favorites (I do love clever wordplay), Resnik faultlessly demonstrates both his supreme knowledge of the folk canon and his skill as a multi-instrumentalist. While I can imagine that Resnik would and could do justice to your typical folk standards — I'm looking at you, "Barbara Allen" and "Silver Dagger" — the lack of familiarity on the majority of Playing Favorites is refreshing.
If there is any one song on this album that you might know, it's likely the cover of Donovan's "Sand & Foam." And, while it is beautifully executed, you get the feeling that Resnik is kinda just trying to throw you a bone with its inclusion here. Elsewhere on Playing Favorites, Resnik sticks to the real-deal traditionals.
"Twa Corbies" is an old Scottish ballad into which Resnik breathes fresh life with his perfectly lonesome clarinet playing (Kristina Stykos takes guitar duty on this one). "O'Carolan Medley" is a song credited to Turlough O'Carolan, who was, in Resnik's words, "practically the Irving Berlin of Irish instrumental music." "Boys of Bedlam" is a traditional dating back to the early 1600s. It documents the lives of mentally ill patients at the St. Mary Bethlehem Hospital in London. You get the point.
Traditional folk music might not be your personal cup of tea, but then again, perhaps you just haven't heard it in the right light. Here's your chance. Resnik's interpretations of this oft-dark genre's offerings are both mesmerizing and therapeutic. He shows respect for the songs he plays and accompanies his selections gently with whatever cool, old-time instruments he has at hand. And whatever instrument that may be, you can bet Resnik knows how to play it.
Robert Resnik plays at Dobra Tea every Thursday.