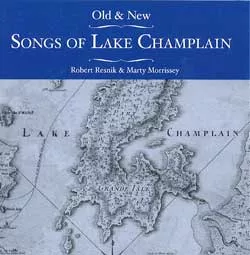 (Self-released, CD)
Vermont Public Radio's "All the Traditions" host — and occasional Seven Days music reviewer — Robert Resnik swaps one studio microphone for another as singer and performer on his latest collaboration with fellow Highland Weavers bandmate Marty Morrissey. Old and New Songs of Lake Champlain plays like an elegiac musical homage to Vermont's other signature geographical feature. Nostalgia blooms throughout this 12-song CD like blue-green algae, from the historical pieces about epic naval battles of the Revolutionary War ("Battle of Lake Champlain" and "Benedict Arnold and the Navy") to the melancholic ode to the capricious elements forever swirling over the lake ("All Kinds of Weather").
Despite an overarching somberness, Songs does manage to blend reverence and respect for Lake Champlain's part played in our nation's birth with the lazy, carefree ambiance of a summer day spent at its shores. There's a healthy mix of original tunes — such as the instrumental "Fall in Missisquoi Bay" and "Inland Waterways," both written by Resnik — as well as traditional music and good old-fashioned covers.
"Best cure for ague is a bottle of rum," Resnik and Morrissey sing on "Boatman's Cure," a musical litany of maladies healed by that seafarer's tonic of choice. The delightful number, written by folk singer George Ward, sways along merrily like a bateau under fair skies, with Morrissey's buzzing concertina droning over Resnik's finger-picked guitar.
Just as he regales us with well-rounded musical taste on his VPR show, so does Resnik demonstrate his musical versatility on Songs, swapping the guitar, ukulele, whistle and banjo with ease. There's an authenticity to both gentlemen's crooning, with out-of-sync but in-tune harmonies suggesting a one-take session, or perhaps an acceptance that such innocuous imperfections lend character to fun, thematic albums such as this one.
"Invasive Species" is a tune that doesn't take itself too seriously. A Resnik and Barbara Wager original, it's delivered in a haunting minor key played on the ukulele as both balladeers bemoan the lampreys, zebra mussels and didymo infesting the beloved lake. Playfully old-timey, it nonetheless confronts a decidedly contemporary — and serious — issue for Lake Champlain.
Swinging effortlessly from past to present and back again, Songs is sure to elicit a grin or approving nod from any who have spent time in or around Vermont's biggest lake. The duo plays a St. Patrick's show at the LACE Sunday coffeehouse in Barre on March 15, and at The Music Box in Craftsbury on March 21.