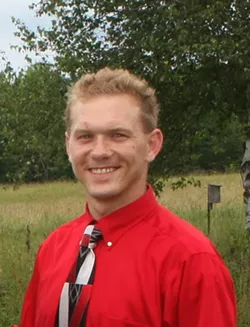 Rob Eklof departed our world on June 12, 2015 leaving his family and friends with 36 years of wonderful memories. He was born November 7, 1978 to Elizabeth (Betsy) Eklof and Eric Eklof. Kind hearted, genuine and so friendly to all, Rob lived a full and exciting life with his early years in the close knit community of South Londonderry VT followed by his high school education at Burr and Burton Academy in Manchester VT. After two years at Landmark College in Putney VT he received his college degree in film production at Full Sail in Winter Park FL. Whether Rob was competitively snowboarding down a Vermont slope, defending a goal in his endless soccer games, winning trophies for his water ski/wakeboard expertise, or just enjoying his days with his four-wheeler, he was a team player and approached life with talent, spirit and good sportsmanship. His passion for Capoeira, a Brazilian martial art and his love for film production were avenues he pursued, studied and enjoyed wherever he lived be it Denver, Los Angeles, Boston, Orlando and Burlington. His life was full with his many travels including the historical sights of Europe, snorkeling in the waters of Hawaii, cruising in the Caribbean, helicopter skiing onto the peaks of the Rockies, playing cowboy at a Montana dude ranch, catching 100 pound halibuts off the coast of Alaska or sharing the music and mats with his capoeira buddies in Brazil.
His brother Sven Eklof and his sister Kari (Eklof) Antonucci shared his highlights and will forever cherish Rob's incredible love for family and his fortitude to have a fun time and live a good life. His very gentle and helpful manner to his four wonderful grandparents, Jim and Jaydee Malcolm and Sven Sr and Mildred Eklof was punctuated with his ever-playful energy directed to his six precious nieces and nephews who adored him and called him Kuncle Rob. Rob's sister in law Irma Eklof and his brother in law John Antonucci were equally special and loved by Rob. They too will forever hold tight to Rob's caring ways, his humor, smiles and good times. Unique in every way, Rob leaves behind so many friends and family who respected his head injury challenges and embraced him deeply as a true gentle man.
We will be gathering to celebrate Rob's life on Saturday July 18 at 4pm at 3356 Winhall Hollow Rd in S. Londonderry VT. Bring your tears, smile, humor, the sun, a lawn chair, a potluck dish to share and a photo of Rob if you have one. We will have a tent with tables and chairs and will provide non-alcoholic drinks.
To keep Rob's spirit alive we hope in the future to start a nonprofit to benefit those in need. In lieu of flowers, perhaps save your pennies for this venture.
Please know Rob loved all who touched his life.
Arrangements are under the care and direction of LaVigne Funeral Home and Cremation Services, 132 Main St. Winooski, VT. Online condolences can be shared with the family at www.lavignefuneralhome.com