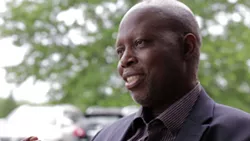 Robert died on July 28, 2015 at the age of 50 at the Vermont Respite House in Williston after a long battle with pancreatic cancer.
He was born on June 15, 1965 in Lubondja/Fizi, in the Democratic Republic of Congo. The son of Feston and Suzanne Walingamina. Robert graduated high school in the Democratic Republic of Congo, Class of 1983. On July 16, 1994 Robert was married in Camp Mulimbi Church in Uvira to Anna Nyassa Samuel. Reverend Achinda and his wife pastured two churches, one in Uvira, DRC and one in Kigoma, Tanzania. In Tanzania, Robert was the General Secretary of the Pentecostal Evangelical Fellowship of Africa.
Robert came to the USA in 2004 in pursuit of the American Dream. Robert was employed by Fletcher Allen Health Care but had to leave due to his illness. Later he started his own business called Alpha Green Cleaning Services. After working hard for years, his wife and their eight children joined him in January of 2013 in Vermont. It was Robert's passion to bring his family here, to offer them educational opportunities and to fulfill their individual dreams. Robert had an amazing ability to make friendships wherever he went. He was known by all to have a warm heart, a big smile, and to be a profoundly proud parent with God as the focus of his life.
Robert is survived by his spouse Anna, his children Fadhili & Faraja (20), Fahari (19), Faibe (18), Feston (16), Fanuel (14), Fabien (12) and Faida (10), his mother Suzanne, his three brothers Richard, Kisindja and Musoshi and his sister Rebeca. He is also survived by many aunts, uncles, cousins, nieces, nephews and countless dear friends. Robert was preceded by his father Feston in 1967, his two older sisters respectively 1961 and 2003.
The family would like to thank Dr. Steven Ades and his staff at the UVM Medical Center and the Vermont Respite House in Williston. Their support, expertise and caring during a very difficult time has been exceptional.
Funeral Services will be held Saturday, August 8th at The Community Bible Church at 2025 Williston Road in South Burlington. The viewing will be from 9:00 a.m. - 10:30 a.m. with the funeral service following at 11 a.m. After the service please join the family for the burial in Hinesburg at the Gilman Road Cemetery and then for lunch and fellowship at the United Church of Hinesburg 10570 Route 116 in Hinesburg. In lieu of flowers, memorial contributions can be made here: http://www.gofundme.com/ma6lh0