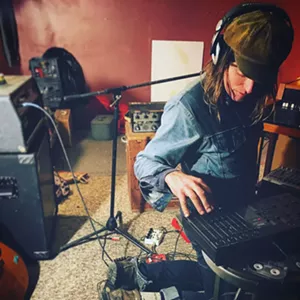 Rob Voland, Quality Loneliness
(Self-released, digital)
It's 4 a.m. The lamp gives off a pale light that is obscured by a cloud of smoke hanging in the air. And Rob Voland is channeling some strange, weary magic through the speakers via his latest album, Quality Loneliness. He's halfway through this collection of short stories, a compendium of quick hits of desperation and heartbreak, when he sings, "I still love you so much it kills, but I don't need nobody." A statement of defiance, a shot of backbone amid a broken heart, "One Last Look" is the song of a man pushing on alone.
Voland embodies and perhaps even embraces the role throughout Quality Loneliness. As on his earlier releases, the Burlington-based songwriter writes and plays just about every noise on the record, all recorded onto a four-track tape in either a garage in Montréal or a basement in Shelburne. It has a whispered, confessional quality to it, like a Raymond Carver story rendered as a Robert Wyatt album. Over 22 brief tracks — many of which don't even top two minutes — Voland sketches out a series of songs that capture a sense of crushing isolation, though often with a sense of sonic adventure.
"New Old Love" has a dreamy, late-'70s coke-and-sex vibe to it, starting the record off with a relaxed swagger. Its classy synth line evokes an anachronistic theme, a type of shimmering flashback effect that cloaks much of the album. Whether on spare, beautiful ballads such as "Listen to the Birds" or the Pink Floydian jam "Blood Smoke," Voland creates moments that appear to be homages to other eras while simultaneously sounding timeless. Few songwriters possess that sort of specific talent, though both of his frequent collaborators — Ryan Power, who mastered the record; and Wren Kitz — boast similar skills on their own records.
Kitz shows up on the title track, providing guitar and gorgeous whispering harmony. "Quality Loneliness" has a Jeff Tweedy deep-cut feel, emanating that form of lonely that reaches the entire heart, where one can either embrace the solitude or rail against it even more futilely. Like much of the album, the song occupies a singular space, evoking those holes we try to fill after love has abandoned us.
Despite the melancholy, this is no long slog of a listen. In-the-pocket rockers such as "Girl Group" and retro spy-music song "Garage Vibe" keep things moving along between the more contemplative efforts. Through it all, Voland's idiosyncratic songwriting shines as brightly as ever. Half revelatory, half hallucinogenic, his songs take on the qualities of an in-brain debate. His voice and playing are more than capable of matching that intimacy, that level of transmutation in which a songwriter takes their own melancholy and juxtaposes it onto yours.
Quality Loneliness is a sad, versatile, beautiful and at times downright trippy record. Even more impressive for a record about being alone is its pervasive sense of empathy. This is an album best appreciated in a dimly lit room at obscene hours, tweaking your brain with something to forget someone or something else.
The album is available at robvolandmusic.bandcamp.com.