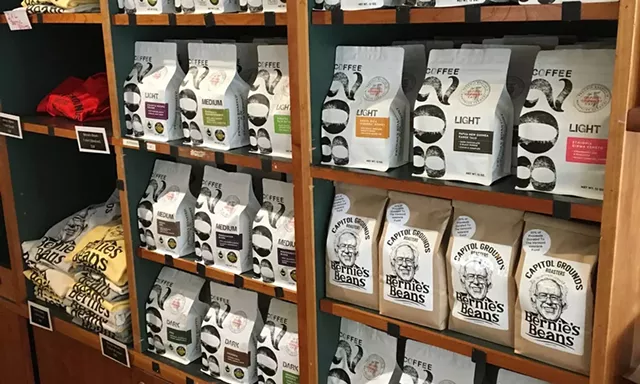 Courtesy of Capitol Grounds
802 Coffee at Capitol Grounds Café in Montpelier
Since Capitol Grounds Café opened in 1998, more than a few Montpelierites have relied on the State Street café-roastery for their daily wake-up or afternoon pick-me-up. As of Monday, March 20, regulars may have noticed that the labels on the self-serve canisters — and the packaged beans in the retail display — have been replaced by the new logo 802 Coffee.
It's the same coffee, folks.
The new packaging and roastery name (the café will keep its original name) represent the company's increasing footprint outside central Vermont, and its ambition to reach consumers beyond state lines. Not long after Capitol Grounds opened, it moved its roasting operation out from behind the counter to a larger space in East Montpelier. The company began selling bagged coffee to restaurants, shops and grocers in addition to café customers. In the past decade, wholesale operations have taken off, according to coffee resources manager Christopher Pyatak.
"We're really trying to expand our footprint geographically," Pyatak said on Monday. "The 802 branding is a reference to things we share as Vermonters," he continued. "It's more than just an area code."
Since 1998, the artisan coffee world has evolved dramatically. As many "third-wave" roasters focus on single-origin beans and toast them to bring out bright and fruity flavors, 802 Coffee has toed a "something for everyone" line. "Our philosophy is that each coffee has a sweet spot where it wants to be roasted to," Pyatak said. While some customers favor classic dark roasts such as Bob's Senate Blend, others gravitate toward lighter, cherry-toned roasts. To accommodate shifting palates, Pyatak said, the certified-organic roastery has increased the number of importers and growers with which it works to expand its selection of rare and high-end coffees.
With a little luck, many of those should soon be available in bags at a store near you. Pyatak said that by week's end, the new bags will be stocked on shelves from Burlington to Montpelier to Brattleboro and beyond.