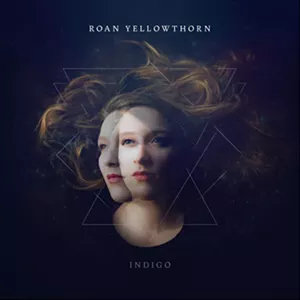 (Blue Élan Records, CD, digital)
Roan Yellowthorn, the duo of Jackie McLean and Shawn Strack, are one of the newest bands to set up shop in Plattsburgh, N.Y. The couple first met at Bard College and have been playing music together for several years. Recently, boutique LA label Blue Élan Records added Roan Yellowthorn to its eclectic roster and released their latest album, Indigo.
It must be mentioned that McLean is the daughter of famed "American Pie" singer-songwriter Don McLean. There's a catch-22 when writing about the scion of a famous person: Jackie McLean's lineage can't be ignored, yet DNA alone doesn't illuminate anything about her own music. So why mention it at all? At the very least, it's a fun fact.
Roan Yellowthorn make glossy, piano-driven pop music with electronic accents. Their grandiose tunes are wet with a lacquer coat of pristine production. McLean's vocals are front and center, drawing focus to her earnest lyrics.
However, two abstract and largely wordless pieces, "Intro" and "Outro," bookend the album. "Intro" includes a sample of a young girl singing "Row, Row, Row Your Boat" as the instrumentals drift into an eerie murk of sound. This sets up a dreamlike, down-the-rabbit-hole vibe, which suggests McLean is an Alice of sorts. But rather than a tripped-out groove-fest of psychedelic wonderment, Indigo suggests that the world of love and relationships is mind-bending enough without talking caterpillars or mad tea parties.
Palpitating beats, brisk acoustic thrumming and authoritative piano chords ground the emphatic "Talk About It." McLean fills the hook with questions ("When are we going to talk about it?" "Do you want to talk about it?" "Or would you rather forget?"), a nice juxtaposition with the self-assuredness of the song's instrumentation and structure.
McLean is a storyteller as well as a pop craftswoman; perhaps these are skills picked up from her father. "Factory Man," the ballad of a misunderstood soul whose day has come and gone, is a jolly-sounding tune with bold piano and vibrant background vocals. But beneath the song's palatable tones is a well of sadness: "He knew a girl who didn't stay / She's in town but far away / Sometimes he smokes a pack a day / Thinking over what he'd say."
"On the Outside," a sort-of hidden track that rolls in after the unsettling storm of "Outro" breaks, is the album's finest. Stripped down to piano and vocals and imbued with reverberating live energy, McLean delivers a powerful statement: "I wish I could see / See myself a way through / Why does it mean so much to me / To be wanted by you?"
Something raw and true lies beneath the luster of Roan Yellowthorn's boisterous production. Their brand of outgoing-yet-introspective pop is a welcome addition to the Champlain Valley.
Indigo will be available on Friday, September 28, on streaming platforms. Roan Yellowthorn celebrate the album's release the same day at Olive Ridley's in Plattsburgh.