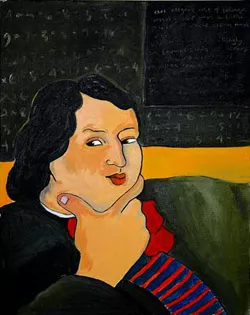 EXHIBIT: "Images From the Road," new oil pastels by Carol Boucher. Grannis Gallery, Burlington. Through February.
ARTWORK "Winter Sunset" by Carol Boucher
For her current exhibit at Burlington's Grannis Gallery, Carol Boucher notes in an artist statement that she spends summers roaming from art fair to art fair in a red Ford Econoline van, hawking her oil pastels at every stop. Last summer she logged 20,000 miles; "Images From the Road," her show of 14 exquisite paintings, was surely inspired by her travels.
But not all the works depict wide-open spaces. Some of Boucher's more unusual pieces capture vistas much higher than they are wide. As in the renowned Japanese hanging scrolls known as kakemono, she has created some tall, very skinny landscapes. But her compositions generally differ from those in kakemono: Boucher prefers quite low horizons rather than craggy mountains or the blossoming branches of cherry trees.
In the bottom third of her 39-by-5-inch pastel "Sentries," Boucher has placed a receding row of leafy trees along the right bank of a stream, which meanders through emerald-green hills. Above the Technicolor landscape is a gentle, cerulean-blue sky and pink-tinted cumulus clouds. Although pastel crayons are a drawing medium, pastel works are considered paintings by virtue of their subtle chromatic modulations, of which Boucher is a master.
In contrast to the placid "Sentries," Boucher's 39-by-7-inch "March Sunset" is fiery: Vibrant hues of a nascent evening cascade in a great diagonal, from deep crimson at upper right, through vermilion, into orange, and white-hot yellow at lower left. The landscape features a bending road flanked by greenish-black hedgerows and shrubs.
While the vertical pastels are wonderfully unusual, Boucher's equally thin horizontal painting, the 5-by-39-inch "Grown in the Shadow of the Mountain," is just as successful. Meadow and mountains roll in a soft, yet saw-toothed, progression of pthalo blue and green beneath another rich sunset layered from reds to yellows.
Boucher's skill enlivens even her normally sized images. "Rte. 22A" presents a view of the scenic Vermont road in a 29-by-39-inch rectangle. Though a standard proportion, it's large-scale for pastels, and its composition is complex. Zigzagging rows in a field that has been hayed are alternately golden yellow and olive green; adjacent is a blue-green stretch of highway. Boucher contrasted the smooth textures of her field with rougher layers of road. The weight and width of the white lines along Rte. 22A's shoulders, and its amber centerlines, gradually diminish as they track deeper into the picture plane.
"View From Antares" is the largest work in the show -- at 40 by 60 inches, it's just about the biggest pastel you're likely to see anywhere. "Antares" is a popular name for boats, and the painting's viewpoint appears to be from the middle of Lake Champlain looking through a chain of islands. For Boucher the work is unusually monochromatic: The calm waters are arrayed in varied bands of Prussian blue; the surrounding islands are ultramarine. Overhead hangs a rich firmament of sapphire and indigo.
Whether Boucher travels on roadways or waterways, she has a keen eye for dramatic colors and a sure hand for manipulating them. So if, next summer, you spot an itinerant artist selling paintings from a red Econoline, you'd be well advised to stop and have a look.