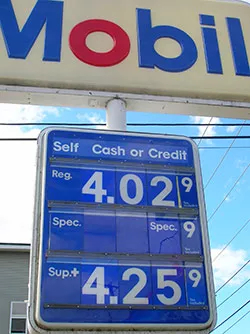 For millions of Americans, summer is synonymous with traveling. But as gas prices rise with the temperature, would-be wanderers are getting off the road in droves. Instead of ocean views in Maine or Cape Cod, we get "stay-cations." Instead of weekends camping in New Hampshire, we get . . . well, we get weekends camping in Vermont. So maybe that part isn't so bad. Still, ever-climbing fuel costs are forcing Americans to fundamentally revisit their lifestyle choices.
The pinch at the pump hasn't affected just leisure-seeking tourists, obviously. As the national average hovers above $4 per gallon — with no relief in sight — those whose livelihoods depend on travel are facing some difficult choices. And we're not just talking about traveling salesmen and truck drivers.
Summer has traditionally been a busy time for touring bands. With a wealth of festivals large and small throughout the country, the dog days are prime time for both up-and-coming acts and established favorites to load up the van and reach new audiences. Touring has never been a particularly lucrative endeavor, especially for lesser-known artists, so this summer's record price gouging, er, hikes have been particularly problematic.
"It seems like it's really tough on bands all across the board," says Nick Vaden, promotions manager at Higher Ground in South Burlington. "Whether it's a smaller regional or local band that's just trying to make gas money to get to the next gig, or even a larger band — with diesel prices being so expensive — it's really hitting hard."
Matt Burr, drummer for Grace Potter & the Nocturnals, concurs with Vaden's assessment. "It's kind of a frightening situation," he says. The major-label act has been trying to hold on to momentum stemming from last year's national media blitz. And that means heavy touring. Unlike an independent act, the band has to deliver, especially with an upcoming run of dates with The Black Crowes. "When you're doing support tours, you're not making much money," Burr says, adding that the band's label, Hollywood Records, chipped in some cash to help ease the financial strain. "We got lucky."
For bands without major-label backing, touring has become even more difficult. But as Colin Clary of Burlington indie-pop band The Smittens points out, it's still a critical facet of being a working band. "There's a difference between saying you'll take an opening spot because it's 'good exposure' . . . well, what does 'exposure' mean? Playing for free and not getting any benefits," he says. "Or saying, 'Let's go meet some people.' If you don't go to other places, you don't get to find your target audience."
The Smittens have a leg up on less established bands because they were able to tour when gas prices were lower. "If we were a new band just starting out, it would be terrible," says Clary. "If you're going to play New York for 40 bucks, it will cost $200 to get there."
The Smittens will head to the United Kingdom this week for a two-week tour. While it's certainly expensive to fly the band across the pond, touring in Europe is easier because cities are closer together than they are in the U.S. However, while this latest gas crisis is relatively new to North American drivers, petrol has been ultra-pricey in Britain for years. "I don't know what gas costs in the U.K.," says Clary. "That's going to be a real wild card."
As of press time, it worked out to something in the neighborhood of $8.91 per gallon. As Clary might say, yow!
While the crunch is obviously tough on low- and mid-level bands, even major acts are encountering gas-related hardships. Though that may have more to do with fans' reluctance to travel and/or shell out big-ticket prices. "People are really thinking about what they're spending their money on," says Vaden, pointing to Higher Ground's status as a "destination" venue that receives minimal walk-up traffic. "Compared to when gas prices were cheaper, it seemed like people would tend to go out and see a show regardless. Now it seems like it has to be something they're really psyched about before they would consider buying a ticket."
An article in the July 10 issue of Rolling Stone backs up Vaden's statement. R.S. reports that even "sure thing" artists such as Bruce Springsteen and Nine Inch Nails have been experiencing far fewer sellouts than usual. They also report that George Michael and Maroon 5 are struggling — so again, maybe it's not all bad.