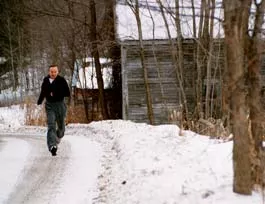 It's hard to believe Bernd Heinrich doesn't know precisely how far it is from the Richmond-Hinesburg Road to his house in the woods. You'd expect something more exacting than "three or four miles" from an award-winning physiological ecologist who won a Guggenheim to get the buzz on bumblebees. More to the point, the 61-year-old Heinrich is an ultramarathoner. Training for 60-mile runs has familiarized him with every inch of the Sherman Hollow Road.
On a Sunday morning in January, the trim University of Vermont professor is writing, not running — poring over a manuscript for a book about the winter adaptations of animals. Just outside the window above his desk is an elaborate cage — an aviary that holds three tame ravens. Heinrich has done extensive behavioral research on the birds, and one of the resulting books, Mind of the Raven, won the John Burroughs Medal for Natural History Writing. Other Heinrich titles include Bumblebee Economics, The Trees in My Forest, Ravens in Winter, The Hot-Blooded Insects, The Thermal Warriors, One Man's Owl, A Year in the Maine Woods and In a Patch of Fireweed: A Biologist's Life in the Field.
You can tell from the books on the shelves of his home office that Heinrich takes a holistic view of natural science — or that he is not satisfied studying just one subject. The Sex Life of Flowers is there with The Ascent of Man, Island Africa and The Chimpanzees of Gombe. For Heinrich, the world is one great big lab. Anthropol-ogy, psychology and philosophy enter into his analysis. Running comes up in his own books when it's relevant to his detailed observations of African dung beetles, sphinx moths, ants and woodcocks.
In that respect, his latest work is a bit of a departure. Racing the Antelope is not a biology book that references running, but a running book backed by biology. It documents Heinrich's painstaking preparation to run a 100-kilometer race in Chicago by offering lessons he has learned from studying animals and insects in the natural world — in the areas of heat regulation, endurance, pacing and waste elimination, to name a few. Heinrich's first-place finish in 1981, at 41, set a world record in long-distance running. He ran the entire race without socks.
A soft-spoken contrarian who bristles at the concept of self-promotion, Heinrich is not altogether comfortable talking about himself — in person or in his book. At the same time, he laments that his endeavors don't get the recognition they deserve. Long-distance running "is as physiologically and psychologically challenging as any sport on the planet. But it can't be reduced to sound bites of minutes or seconds," he writes in the epilogue of Antelope. "That's why I felt challenged to write about it."
On a more personal level, Heinrich says he didn't want to forget his Chicago race experience — he calls it a metaphor for his life — so he decided to document it in detail two decades later. But the race story alone "didn't really make much sense unless one sees the training for it. After I wrote about that, I thought, well, the training doesn't really make sense without the physiology behind it, and I thought, 'Wow, that ties in directly with what I've been doing, research-wise. It just kept expanding." He adds, "I figured if I didn't write it down, nobody would ever know that I set a record."
As training books go, Antelope is definitely not a how-to. It's not a tell-all, either — Heinrich barely touches on compelling long-distance-running subjects like chafing and indigestion. Or family psychology, for that matter. Unlike Bill McKibben, whose Long Distance: A Year of Living Strenuously probed the obsessive, egotistical side of exercise and his relationship to a dying father, Heinrich never questions his own drive, and he paints a one-dimensional picture of his Papa — a half-Jewish gentleman farmer and entomologist who joined the German Air Force during World War II.
Heinrich puts the emphasis on science, making the connections between evolutional adaptations in animals and how they relate to human speed, endurance and will — all of which are required in racing long distances. "I wanted to know what they ate and breathed and how they lived, what made them so different from other humans and so much like some of the animals I admired…" he writes of his early running heroes like Herb Elliott and Jim Ryun. "Almost everything we know about ourselves has been built on knowledge learned from other organisms."
---
In Racing the Antelope, Heinrich starts at the cellular level — actually, the energy-producing mitochondria — to explain some of the basic chemistry involved in aerobic exercise. After the lesson in metabolic efficiency, you may not be able to explain exactly how adenosine triphosphate contributes to muscle contraction, but you get the basics of oxidation, the difference between slow and fast-twitch muscles and the recipe for exhaustion — an oxygen debt that produces lactic acid.
He moves on to the runner's problem of overheating by discussing the unique physiology of hawk moths. Despite a wide range of environmental temperatures, the night-flying insects maintain a steady body temperature via a combination of furry thorax and abdominal heat radiator. As for honeybees, they cool themselves by regurgitating liquid and spreading it over their forefeet — "probably not a recommended option for us," Heinrich notes with rare humor.
Moving up the food chain, he observes that some birds use poop for the same purpose. Migrating flyers also have an ultra-efficient respiratory system that results in one-way movement of air through the lungs. These breathing innovations have "made them the most impressive ultra-endurance machines of flesh and blood the world has ever seen," he notes, not to mention practitioners of energy-saving strategies like wind drafting and fat-loading.
Hydration also gets a chapter. Heinrich analyzes the camel, which is up against the very same challenges as a marathon runner: "managing overheating combined with fluid and energy depletion." Concentrated waste and unique blood chemistry assist camels in minimizing dehydration over long, dry distances. The fatty "hump" is a food source. Like a head of human hair, it's also a sun protector — in the case of the camel, shading less insulated, heat-releasing areas around the stomach. For human runners, it argues for wearing a hat.
The pronghorn antelope is a more obvious source of envy — it can run seven miles in 10 minutes and has been clocked at 61 miles an hour. Heinrich attributes its remarkable aerobic capacity to a number of factors, including large lung volume, an oversized heart and greater amounts of hemoglobin concentration in the blood. He named his book after the animal because "I see it as the ultimate mammal endurance runner."
Despite their impressive physiology, however, he writes, "No dissection will ever isolate the greatest of all antelope attributes" — its "spirit and enthusiasm for running." Parallel to his biological analysis is an examination of the primal desire to run. You may not feel like you're fulfilling your destiny when you drag your ass out of bed to jog on a cold winter morning. But Heinrich sees it as a vestige of the hunting instinct, which he believes is "hard wired" in humans, as it is in wolves.
Quoting from The Complete Book of Running, by James Fixx, he explains the appeal of the chase. "We experience what we would have felt had we lived ten thousand years ago… keeping our hearts and lungs and muscles fit by constant movement. We are reasserting, as modern man seldom does, our kinship with ancient man, and even the wild beasts that preceded him."
---
Heinrich essentially grew up as a modern-day hunter-gatherer. In Racing the Antelope, his outdoorsy upbringing reads like "Hansel and Gretel" meets Ranger Rick. After a harrowing post- war retreat from their farm in Poland, his family settled in an isolated German forest near Hamburg. They eked out a living by collecting insects and animals and selling the mounted specimens to natural history museums, including the one in New York.
"Some people might think we were deprived, but to me it was idyllic," Heinrich says. "We went out into the woods looking for things, trapping mice." In the book, he elaborates, "I got a head start in life because I had learned the basics — life cycles of moths, the needs and manners of a baby crow, and the job of running after tiger beetles through warm sand on bare, tough-soled feet."
Heinrich had to put on shoes when the family moved to the United States. He was 10 when the family emigrated from Germany and settled on a farm in rural Maine. But after one snowy winter attempting to log for a living, his parents went back to collecting animals. For six years they traveled, mostly in Mexico and Africa, while Bernd and his sister Marianne were stuck in a nearby boarding school for homeless kids.
Conditions were Dickensian at the Good Will school and orphanage, where Heinrich supplemented his diet with stolen cow feed and earned himself the nickname "Nature Boy." But he thrived in the surrounding woods, and became the appointed mail-route runner. When the call went out for cross-country contenders, he decided to give it a shot. He won five consecutive races and got a new nickname that suited him better: "Animal."
He kept running at the University of Maine at Orono and got interested in physiology through a part-time job assisting a professor. Heinrich had more or less ruled out college, in large part because his "old-fashioned" father opposed it — his own higher education was cut short by the war. The old man was deeply hurt when Bernd chose a career path slightly different from his own. He told the boy, "If you don't think like me, then you're not my son." His father never came to see him run.
"It felt like a rejection of what I was," Heinrich says, noting he found it "much, much easier" to please his coaches than his father.
Running became an outlet for Heinrich — an activity at which he could excel through hard work and careful analysis. He writes, "Ultimately, running appealed to me because its quality cannot be defined in terms of anyone's use or place in a hierarchy or plan. Perfection is fairly and objectively defined by numbers… never open to judgment… The test is the race, where credentials mean nothing and performances everything."
His scientific endeavors helped him perfect his technique, as Racing the Antelope clearly illustrates. They also explain his skepticism around performance-enhancing strategies he sums up as "black magic": stretching, weight lifting, special nutrition, how-to running books. Asked how he would advise winter runners, he responds with stoic resolve: "Put on another coat and a pair of gloves."
Oddly enough for a biologist, that unconventional attitude also extends to sports medicine. Although he has had two knee surgeries, Heinrich's book is full of discarded diagnoses from doctors who told him he would never run again. The latest, of "degenerative arthritis," got him riled enough to start running again in earnest a couple years ago. Before long, he was training for another ultramarathon — a 50-mile race last October in Brunswick, Maine. Although his average speed per mile was down by two minutes, Heinrich won the race in all age groups, and set a U.S. record for runners over 60.
"There's no question about it. You're going to get slower," Heinrich says of running in the twilight years. At the moment, he's giving the road a rest, jogging only occasionally. He shoots a worried glance at the manuscript before him. His ravens look ready for breakfast. And from the kitchen come the sounds of little children — from his third marriage, to Rachel Smolker. Right now, he says, "I've got too many other things to do besides running."