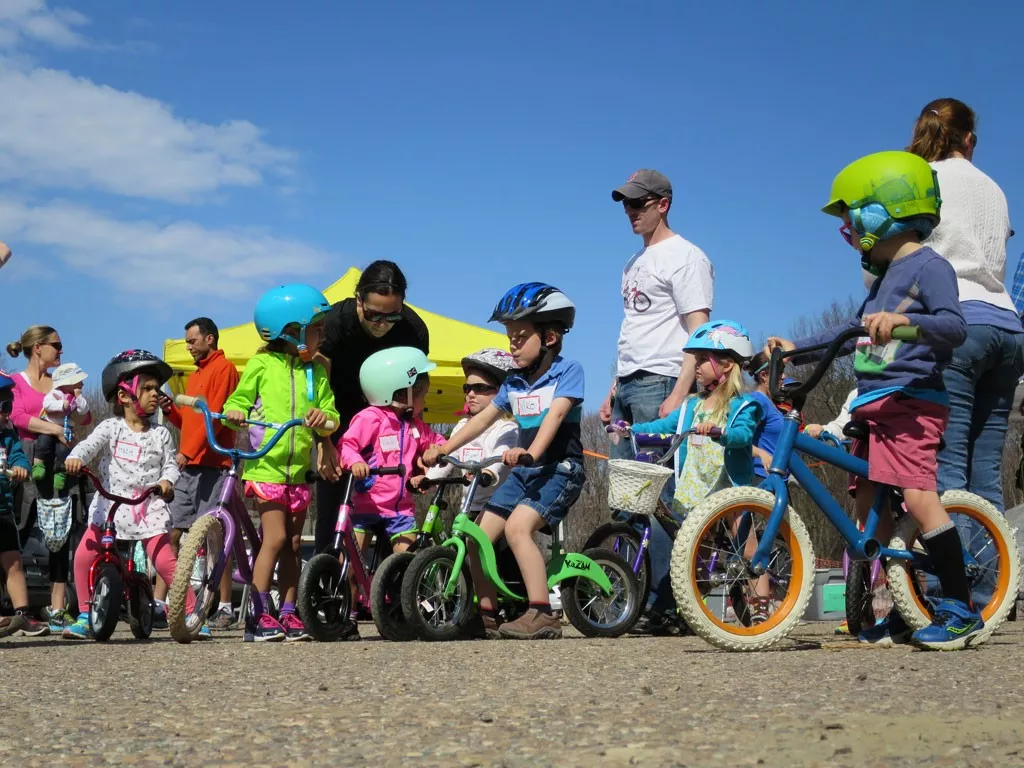 Want to hit the road with your family — on two wheels instead of four? Local Motion, a Burlington-based bike-advocacy nonprofit, can help. The group hosts cycling workshops that teach kids and adults to ride with confidence.
Jason Van Dreische, Local Motion's director of advocacy and education, advises caution when it comes to riding with children. "They need to consistently exhibit control and awareness," he says. "Not just of the road itself, but of other road users and their likely actions." He recommends working up to riding with children by practicing on quiet streets where the stakes are low, and observing how kids react to obstacles and surprises.
One of Van Dreische's favorite family biking spots is Thompson's Point in Charlotte, which has winding roads, minimal traffic and gorgeous scenery. Park on Deer Point Road, just north of Thompson's Point Road. Or, for a longer ride, park at the Charlotte ferry dock, then take Converse Bay Road to Lake Road to Thompson's Point Road.
Here are some gear and safety tips, courtesy of Local Motion, that will help your family get rolling.
Wear a helmet. Two of your fingers should fit between your eyebrows and the helmet brim. No more than two fingers should fit between the strap and your neck. Ensure that the strap around the crown of the head is tightened so that you can shake your head without the helmet sliding around.
Know your ABCs. Air pressure: Keep tires properly inflated for a safer, comfier ride with fewer flats. Brakes: Check that each of your brakes works before you ride. Chain: Make sure it's rust-free and in good working order.
Be predictable. Ride in a relatively straight line. When turning or changing lanes, signal first by pointing in the direction you're headed.
Stay to the right and ride single file. Adults should always ride first and, when possible, last in line, and ride a little farther out in the road than the kids.
Bike on the road, not on the sidewalk. Drivers don't expect to see bikers on sidewalks — so they don't. Small children are even more difficult to see; they're also less aware of likely danger spots. When it comes to biking, streets are safest. If you must take to the sidewalk, treat each driveway as a four-way stop.
Gearing Up
Here's what you'll need to help make your next family bike ride safe and fun:
Bell: Alert other riders or walkers to your presence. Bells are especially handy when passing pedestrians on the bike path.
Footwear: Avoid open-toed or loose-fitting shoes, and make sure laces are tied so they don't get tangled in pedals.
Helmet: Don't leave home without it. Be sure to check for proper fit (see safety tips).
Patch kit: A flat doesn't have to be the end of a ride! A simple patch kit takes up as much space as a box of raisins.
Pump: Whether or not you patch it, you can reinflate a flat tire and, if it's not too bad, ride it home.
Rain gear: Choose gear that packs up small.
Reflective wear: Even in daytime, reflective vests and other clothing let drivers know you're there.
Tag-along: Kids ages 3-5 who can't keep up on a family bike ride can use a tag-along, which includes regular handlebars, a bike seat and one wheel and attaches to an adult bike. When is a kid ready for one? They have to be able to reliably sit still, says Van Dreische. If they shift their weight suddenly, they can throw you off balance.
Trailer: Young children can come along for the ride in a bike trailer once they're able to hold their head up without wobbling; that's usually between 9 months and a year old. They should always wear a helmet. Consult your pediatrician if you're not sure your little one is ready.
For more information on family biking, including a free parents' guide to bike safety and a curriculum guide for teaching bike skills to kids ages 8-14, visit localmotion.org/education/bikeskillstraining.