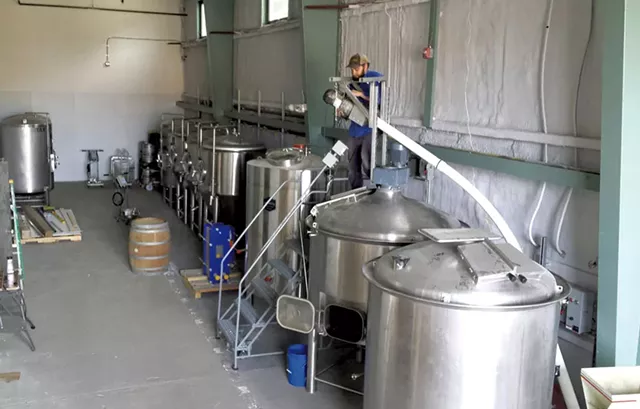 When Mark Babson started kegging beer at Magic Hat Brewing five or six years ago, he hoped the job would evolve into a career in beer. The Williston native had been homebrewing since his days at the University of Vermont.
At Magic Hat, Babson progressed from kegging to cellar and lab work, then into brewing. "I was a little bit of a jack-of-all-trades," he recalls. After a move to the Upper Valley, he landed at the Woodstock Inn Station & Brewery in North Woodstock, N.H.
That was a fine gig, but Babson wanted to make his own beer, and not just at home. Two years ago, he left Woodstock, secured funding and found a space in downtown White River Junction, where he has installed a 10-barrel brew system.
When River Roost Brewery opens later this fall, Babson will likely offer hop-centric pale ales alongside maltier brews such as an English-style brown ale. Winter will bring oatmeal stout. He'll sell the beers in kegs to bars and restaurants and pour growlers in the brewery's tasting bar and retail shop, along with bottled specialty beers (think barrel-aged and Belgian styles).
While the opening date is still TBD, River Roost will become the largest of the area's three breweries, joining two in nearby Tunbridge: Brocklebank Craft Brewing and the forthcoming Upper Pass Beer, which made its public debut at the Tunbridge World's Fair this past weekend.
Disclosure: Mark Babson is married to one of reporter Hannah Palmer Egan's close friends.