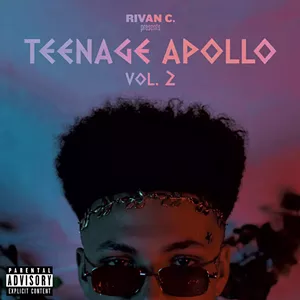 (Self-released, digital)
Rivan C. — aka Rivan Calderin — is a young MC from the Burlington area who has been making increasingly big waves in the local scene. He's a charismatic presence on the mic with a melodic, playful flow. He's made his name off tight SoundCloud singles and engaging live shows, and he recently joined up with the jazz-rap outfit Juicebox, who are fast becoming house party legends.
Rivan C.'s latest effort, Teenage Apollo Vol. 2, is a triumph of joyful noise. He delivers tasty, high-energy verses that express both his outsize personality and his humble, down-to-earth style. He's "Mick Jagger with a drip," but he also wants that perfect "four point oh" GPA. And he loves his mom.
The LP is impeccably '90s, which may be a credit to the influence of Calderin's dad — longtime area DJ/mover and shaker Luis Calderin. Hell, the record even kicks off with an intro track called "Intro," which features the MC urging the listener to "sit back, relax and remember the name" over a blissed-out synth loop. Rivan C. tips his cap to A Tribe Called Quest, gives love to his family and shouts out all the homies.
It's a great moment and becomes even more impressive in retrospect as this flawlessly cohesive album unfolds. Where Vol. 1 was more of a grab bag — a new artist exploring his sound — Vol. 2 is a cold, calculated heist. The beats are all luxury funk with a timeless feel and a modern trap gloss on the drums.
The opening set is particularly strong, spanning four dynamite tracks produced by Sean Waters, Sauron, Kevin Katana and 802 superproducer Es-K. The transitions are so perfect, you'd swear they were all working in the lab together.
"Rewind" has some blistering tongue twisters and one of the catchiest beats on the album. "Jackie Joiner" delivers uplifting aspiration rap about the importance of "holding on to bigger dreams." Throwback banger "Stupid Qpid" nearly steals the show, with a killer beat and a knockout hook from singer Eva Rawlings. It's lead single material.
The second half of the project switches gears several times, alternating between light-speed raps and chilled-out R&B. Rivan C. is no Lionel Richie, but he's engagingly goofy as a lead singer on "Goddess," a love-song duet with vocalist Emma Glass. He also drops nimble, bilingual bars in double time on "Elevator," an anthem that sounds like summer.
Album closer "Teenage Apollo" manages to wrap all these threads together — and harken back to the "Intro" cut at the same time. Staying true to the Native Tongues-era theme, Rivan C. gives props to his "idols," Mos Def and Talib Kweli.
This is a smart, tight project that establishes Rivan C. as a leader of the new school, if you will. He's more De La Soul than Black Star, seasoned with equal parts Jungle Brothers and Fu-Schnickens, but who knows what else he has up his sleeve? This is clearly just the beginning of a promising career.
Teenage Apollo Vol. 2 by Rivan C. is available at SoundCloud.