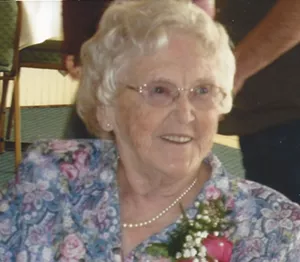 Rita Pauline Dupont, 93, passed away on March 17, 2015 in Swanton surrounded by her loving family. She was born March 9, 1922 in Winooski to Narcisse and Marie (Gaboriault) Soutiere. She married the love of her life the late Romeo Dupont on June 14, 1941.
Left to cherish her memory are her children and their spouses; Joyce and Come Bombardier, Joan and Robert Perras, Joanne and Phillip Kinne, Richard and Marie Dupont, Nancy Rousselle, Susan and John Couillard, and Bruce and Lucille Dupont, 16 grandchildren, 24 great grandchildren, 2 great-great-grandchildren, brother-in-law Urbain Dupont, many nieces, nephews, extended family and friends. She was predeceased by her husband Romeo in 1994, her parents, grandson James Dupont, son-in-law Daniel Rousselle, and 13 brothers and sisters.
Visitation will be held Monday March 23 from 3:00PM to 7:00PM at the LaVigne Funeral Home and Cremation Service in Winooski. A Mass of Christian burial will be held 11:00AM Tuesday March 24 at St. Francis Xavier Catholic Church in Winooski. In lieu of flowers donations may be made in her name to Franklin County Home Health/Hospice, 3 Home Health Circle, Suite 1, St. Albans, VT 05478. Online condolences may be shared with the family at lavignefuneralhome.com.