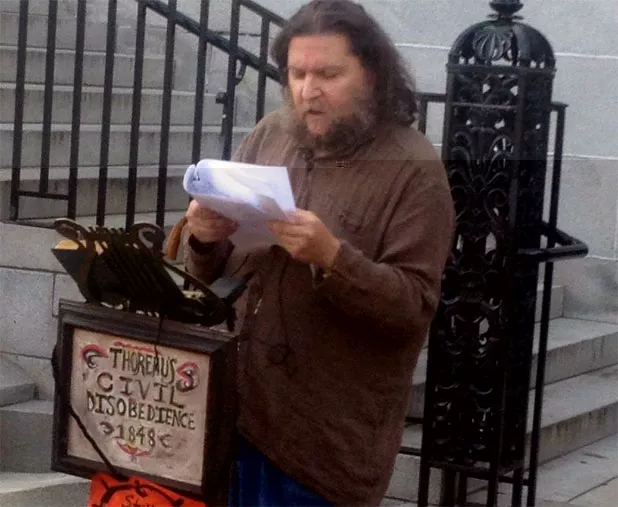 Marc Awodey, reading in front of Burlington City Hall in August 2012
It is with deep sadness that I report the passing of Marc Awodey, longtime art critic for Seven Days. At 51, Marc died of a heart attack this weekend.
Marc was also a talented painter, an art teacher at area colleges, a poet — and haiku champion! — founder of the Minimal Press and one-time creator of poetry vending machines that served up tiny verses for quarters. He was a collector and seller of coins. He was a cofounder of the long-ago Rhombus Gallery on College Street and, in recent years, of the online Vermont Art Zine. He was smart, funny, inquisitive, passionate, gentle, kind and sensitive. And he never missed a deadline.
Marc also once ran for Burlington City Council (and lost) as a Democrat, and was a justice of the peace. He even had an unlikely stint in real estate. But mostly, he was an indefatigable painter.
Due to his poor health from diabetes, Marc "retired" from art criticism about a year ago, but continued to teach and make art. He had a large and lovely solo exhibit at Johnson State College's Dibden Center last year, filled with his signature evocative, somewhat melancholic scenes as well as still lifes bursting with color and energy. Yet Marc, who studied painting at the Cranbrook Academy of Art, declared himself more concerned with the formal essence of art making than with subject. As his son Clay quoted on Marc's Facebook page:
"I am a figurative painter who is, nevertheless, more focused on formal issues than narrative content. Narratives are egocentric, and I am an artist of the Id. Textures, color, and line are the Id. I establish a dialog with each canvas, and let it develop on its own terms - so my pictures are very simple and direct."
Marc's art reviews were astutely analytical, with a deep respect for and knowledge about art history. He had an abiding, and amusing, disdain for navel-gazing artists' statements.
In August, Marc was on Church Street reading Thoreau's Civil Disobedience. It's fitting that a photo of him doing so — and adopting the look of a 19th-century man — is his final Facebook profile.
From his chapbook, no, this ain't no haiku (Minimal Press, 2000):
longing for heaven
i rubbed sand
into my hair
and leapt at the clouds.
Goodbye, Marc. You made an indelible mark in the hearts and minds of many in this community, and beyond. You will be missed. Thank you for the paintings, the poems and the memories you left behind.
Marc Awodey Memorial: A visitation with the family will be held on Saturday, October 20, 2-4 p.m. at Burlington College, Room 253. Those wishing to pay their respects are welcome.
A visitation with the family will be held on Saturday, October 20, from 2 — 4 pm at Burlington College, 351 North Ave, Room 253. Those wishing to pay their respects are most welcome.
A larger community memorial will take place Friday, November 2, at 5 p.m. in the Unitarian Universalist Church in Burlington. All those wishing to celebrate Marc's life by sharing art, music, poetry, or memories are welcome to speak. Find out how to reserve a spot on the list of speakers at marcawodey.org.