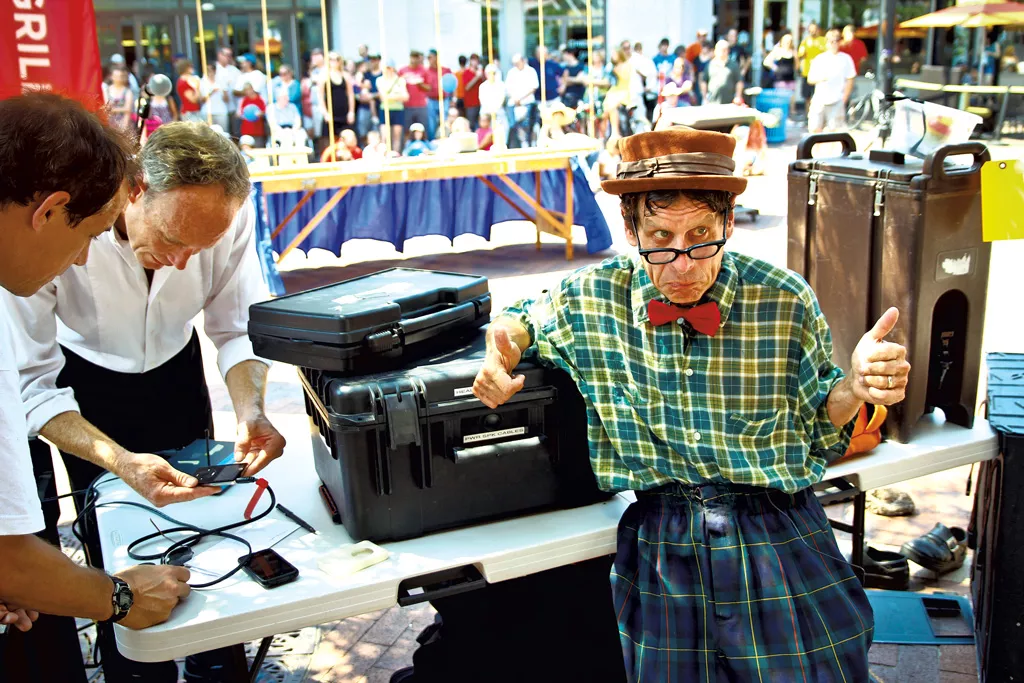 Courtesy of Burlington City Arts
Woody Keppel
Next week, Charlotte-based vaudevillian, screen actor, musician and comedian Woody Keppel will welcome many of his longtime friends and fellow street performers to Burlington City Arts' eighth annual Festival of Fools.
The festival, which Keppel founded in 2008 and still curates, celebrates the ancient tradition of street performance, or "busking." For three days, internationally renowned comedians, musicians, jugglers, acrobats, magicians and daredevils will do their shtick in downtown Burlington for crowds of thousands, then pass the hat for tips. For some, it'll be their first time busking in Burlington.
The man behind the festival has been thrilling audiences worldwide for nearly 35 years with his unique blend of music and family-friendly physical comedy. For decades, Keppel has performed as the buffoonish half of the comedic duo Waldo & Woodhead, alongside his stage partner, Paul "Waldo" Burke.
For the fiftysomething Keppel — like many in showbiz, he's shy about revealing his age — channeling the inner-child alter ego Woodhead began as a form of therapy to help him overcome paralyzing stage fright. "Woodhead is not funny," Keppel says of the character, whose comic appeal is his naïve and absentminded bumbling. "It's the things that happen to him that are funny."
Once, Keppel was in the midst of a street performance in Paris, surrounded by about 700 people, when an old woman entered the circle, lifted her dress and peed on the sidewalk. The impromptu urination inspired an additional 10 minutes of improvisation on Keppel's part.
"You can't script this stuff," he says. "You just have to learn to react on your feet."
A native of Richmond, Va., Mark "Woody" Keppel grew up in a household of entertainers. His grandmother was a vaudevillian dancer, and his mother directed children's theater, so he was surrounded by music and dance throughout his childhood. "Our house had five kids and three pianos," he says.
Those pianos weren't always his friend. When Keppel was 8, his mother insisted he play a piano recital, the mere thought of which terrified him. Keppel dutifully memorized his Tchaikovsky piece, but he remembers that when he got on stage in a stuffy, packed auditorium, he became "a nervous wreck."
"I sat down at this baby grand piano and got through seven measures — and then just went completely blank," he recalls. He started over, but the same thing happened. Keppel began sweating and shaking, then got tunnel vision and froze up. His teacher had to lift his hands off the keyboard and physically remove him from the chair.
"The audience cheered in sympathy," Keppel says, "but that was the worst thing of all, because I knew they were just feeling sorry for me ... My mother and I still talk about that incident."
Keppel didn't perform for an audience again until high school, when he learned to play Neil Young and Cat Stevens songs on guitar to win the love of a new girl in the neighborhood.
Many of his friends suggested he become a film actor, owing to his seeming ease at inhabiting characters. (In later life, Keppel earned six film credits; he's currently writing a screenplay.) But he felt no overwhelming desire to be onstage or on-screen, and spent years wondering what career to pursue.
Keppel majored in music at Virginia Commonwealth University but never saw himself as a music teacher, either. For a time, he entertained the idea of becoming a plumber, then got his real estate license. None of these professions inspired his passion.
One day, while visiting a museum in Virginia, Keppel saw a performance by Bob Berky, an internationally renowned theatrical clown and musician. Impressed and intrigued, Keppel later approached Berky, who invited him to a circus workshop the following spring in Maine.
Keppel arrived at the idyllic lakeside camp to find that all his fellow students already knew advanced circus tricks. Since he was nowhere near their skill level, he recalls, he knew he had to come up with a stage character. One morning, while the rest of the class rehearsed their acrobatics, Keppel conceived of the Woodhead character. He wrote a sketch for him and performed it for the class an hour later. They loved it.
"That was when I knew this is what I want to do. It was like putting on a mask," Keppel remembers. "This isn't me anymore; it's a character."
For more than 25 years, Keppel made a living as Woodhead. He became the character even before each show began. And, though the shows were both physically and mentally demanding, he says he had no memory of what he was saying or doing onstage.
"I've done thousands of shows with Woodhead, and no two are the same," Keppel says. "And when it's over, I don't have a clear recollection of what I did, because I'm no longer in that brain. It's therapy for sure, but it's also exhausting!"
Keppel moved to Boston in the 1980s and began performing for Sarah Caldwell's Opera Company of Boston. In 1985, he got a call from Dick Finkel, who was organizing the first large busking event of the modern era: a 10-day street performers' festival in Edmonton, Alberta.
"I said, 'What are you paying?' And he said, '$800,'" Keppel recalls with a laugh. Though Keppel had his doubts about Waldo & Woodhead working for so little money, the organizer was persuasive. "Finkel told me, 'If you don't make great hats, I'll be shocked,'" he says, using busker lingo for the post-performance take.
Though Keppel had been busking for only about a year, Finkel flew him to Alberta and covered his room and board. The event was an enormous success and spawned similar busking festivals all over the world; Keppel has performed in Halifax, Nova Scotia; Belfast, Northern Ireland; and Christchurch, New Zealand.
In Halifax in 1988, organizers upped the ante by turning the fest into a competition, with a $10,000 prize provided by Ford Motor Company. About 100 international acts converged on the downtown. At the performers' first meeting, Keppel suggested that, in the spirit of their craft, the winner share the $10,000 pot.
"That didn't go over well. They were like, 'Screw that!'" Keppel recalls. Their loss: Waldo & Woodhead won the $10,000 prize, and Keppel donated $2,000 of his share to a local orphanage.
Keppel says he's always been intrigued by the history of the fool. In the Middle Ages, aristocrats and church leaders set aside one day a year, the Feast of Fools, when peasants were allowed to ridicule them and poke fun at the establishment. After the last modern Festival of Fools, in Amsterdam, ended in the mid-1980s, Keppel envisioned resurrecting the tradition. But it would be many years before he succeeded.
The first time Keppel visited Vermont, he saw the northern lights and knew he wanted to live here one day. He made the move in 1990, but continued to travel the world from his Vermont base, performing in large street festivals.
Today, Keppel lives in a cozy bungalow overlooking Lewis Creek in east Charlotte with his dogs, Junior and Bella. About 10 years ago, he "saw the writing on the wall" and realized he didn't want to spend the rest of his life on the road. So when his neighbor, BCA executive director Doreen Kraft, mentioned that the city was looking for a new festival to promote, "I had one in my pocket," he says.
"To me, Woody is one of a kind," Kraft says. "Sometimes he can have me in absolute stitches, and I can't even remember what he said."
According to Kraft, the crowds for the Festival of Fools have grown every year, with tourists often contacting the BCA a year in advance to schedule their vacations around it. This year, the City Hall stage is dedicated entirely to music, but City Hall Park will feature a mix of music and other performances all weekend. Three main "pitches" will also be set up along Church Street itself for other shows.* Keppel will perform as Stick Hokum, one third of the Hokum Bros. comedy/music trio, along with Uncle Al Hokum (Allan Nicholls) and Gus Hokum (Gus Ziesing). Buskers will work three other blocks off Church Street beginning at 5 p.m. on Friday, and all day Saturday and Sunday.
Attendees of past Festivals of Fools will likely recognize the legendary Mr. Spin from Adelaide, Australia, who will return to Burlington for the third time this year. His comedy juggling routine concludes with an eight-foot zigzag unicycle of his own design, on which he keeps three baseball bats in the air while balancing a glass of water on his head.
Keppel promises there will be new faces as well, including stunt comedian Wacky Chad from Boston, who does handstands on a skateboard and gravity-defying moves on an air-powered pogo stick.
What is it about the Festival of Fools that's so appealing to audiences? Keppel suggests it has a timeless quality that transcends cultural and socioeconomic differences.
"It's not quantum physics. It's check-your-brain-at-the-door comedy," he says. "And so you're attracting people from all walks of life."
What's the appeal for the performers, though, who travel from around the world to work for little more than a passed hat? Keppel suggests it's the energy, spontaneity and immediacy of street crowds.
"Out in the street, it's a real raw art. People can leave any second they choose to if they don't like it," he says. "And they'll give you whatever they think it was worth to them."
According to Keppel, Burlington crowds "totally get it" and are generous to the festival buskers.
There are other rewards, too. The day before he was interviewed for this story, Keppel got an email from a woman who'd seen his show last year in Quechee with her husband. The man was suffering from colon cancer and wasn't expected to live. This year, the woman wrote to tell Keppel how much they'd both enjoyed his show — and that her husband is now cancer-free.
"Not that we had anything to do with his healing, of course," Keppel says. "Still, it's nice to know I'm doing something that has some redeeming value."
Correction 7/27/15: An earlier version of this story noted that the City Hall Park stage would be devoted to music. It will, in fact, feature a mix of music and performances.