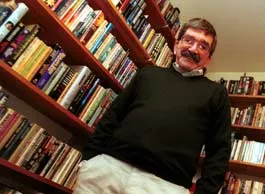 If you're a fan of Frodo or seriously spooked by the hissing Gollum, Michael Stanton understands. Until his recent retirement from the University of Vermont, the 63-year-old English literature professor spent three decades teaching generations of fantasy-loving students about The Lord of the Rings. The Colchester resident was captivated by the Tolkien novel in 1965, when it first appeared in paperback on these shores.
Now good fortune seems to be shining on Stanton's 192-page Hobbits, Elves and Wizards: Exploring the Wonders and Worlds of J.R.R. Tolkien's The Lord of the Rings, published in early December by Palgreve, an imprint of St. Martin's Press. It just so happens that The Fellowship of the Ring, a high- profile movie based on the first volume of the classic trilogy, opens this week.
"My book was originally planned to come out in February 2001," Stanton explains, adding that unforeseen problems delayed the publication date to coincide with the film's release. "It's perfect timing."
That's how things often unfold when mucking about in Middle-earth, the locale for Tolkien's 1954 masterpiece. Even Stanton, an ostensibly pragmatic man, acknowledges there might be a bit of mysticism afoot in all things Ring. "Tolkien talked of characters that were 'revealed' to him," he explains. "[Science fiction writer] Ursula LeGuin says the same thing, about characters who 'come in without being invited.'"
Stanton was not surprised, therefore, by the comments of Elijah Wood in an interview on the New Zealand set of Fellowship. The young actor, who portrays pointy-eared, furry-footed hero Frodo Baggins, informed BoxOffice magazine his given name means "the chosen one." In his view, that's linked to a pervasive sense of destiny in making the motion picture: "It all feels like it was meant to be," he says. "It's weird. The entire project felt like that for everyone."
Everyone, in this case, includes Sir Ian McKellen. As Gandalf, he plays a wizard who helps Frodo, a brave little hobbit seeking to destroy a magic ring whose dark powers can be used to wreak havoc — particularly by those bad guys from the land of Mordor. Others in director Peter Jackson's all-star cast of elves, trolls, dwarves, orcs, ents, ringwraiths and even humans include Liv Tyler, Viggo Mortensen, Sean Astin and Cate Blanchett.
Stanton was so excited at the prospect of seeing these literary life forms on the big screen, he bought movie tickets a week in advance of the December 19 premiere.
An aficionado of the science-fiction and fantasy genre since the 1950s, Stanton's affinity for Tolkien grew with each successive semester of what began as an experimental course. "The longer I taught him, the more I found to say about him," he recalls, noting he's read the book an estimated 25 times. "I like the way he created the world his characters inhabit, his interest in language, the depth of the story, the quest motif and his moral sensibility."
The brilliance of John Ronald Reuel Tolkien, who died in 1973 at the age of 81, took shape while growing up in an unlikely breeding ground for genius: tiny Sarehole. Stanton makes it clear that this timeless English village provided inspiration for the peaceable "Shire," hometown to the wee hobbits. As old-fashioned as they come, Tolkien abhorred the irrevocable change brought about by the machine age.
After losing both parents before he was 12, Tolkien had a Catholic priest as his guardian — which accounts for the spiritual underpinnings of the prose he later wrote. According to Stanton, the Oxford University professor of medieval literature had studied Old Norse and Anglo-Saxon, as well as modern Swedish, Norwegian, Danish, Dutch and German. His linguistic talents — and vivid imagination — emerged early in life. By his teen-age years, Tolkien had already dreamed up a few fanciful tongues of his own, including Elvish, which some of his fictitious Ring beings speak.
Tolkien fought in World War I and lost all but one of his closest friends in the conflict. Rings is "anti-war but not a pacifist novel," Stanton suggests, although the book was embraced in the late 1960s by American youth, who interpreted it as a protest against the Vietnam War.
"It's not about rebellion," Stanton says of the story about nine diverse creatures who battle seemingly invincible forces of evil. And back then, he remembers feeling "annoyed that people would name their dogs Gandalf. They were writing graffiti in Elvish on subways. . . Some kids were looking for moral clarity that our world doesn't offer. Tolkien said fantasy exists for escape, consolation and recovery. I think the counterculture needed those things. Both Hesse and Tolkien offer an alternate vision of things."
Despite his wild prose images, Tolkien's outward demeanor was somewhat drab. According to Stanton's chapter of biographical information, he was "flagrantly ordinary," opting for "dowdy clothes except for the occasional brilliant waistcoat, plain food, a dull house, unremarkable pictures on the wall."
Appropriately, it was while correcting what Stanton refers to as "a very dull set of exam papers" in the late 1920s or early 1930s that Tolkien suddenly jotted down the phrase: "In a hole in the ground there lived a hobbit." In 1937, his first book — The Hobbit, a delightful children's story about Frodo's uncle Bilbo Baggins — was published. It took another 17 years for him to complete the bleaker, more complex Ring trilogy, conceived as one volume but divided into three by his publishing company for easier marketing.
Stanton is the first to admit his own tome might never be destined for the best-seller list. It's a scholarly examination derived from his UVM classes. "My idea was that there's a large demand in the academic world for something like this," he says. "It's written for students. At first, reading the trilogy can be confusing. I wanted to offer some guidance, a kind of companion to the Tolkien book, for college-age people."
In his preface, Stanton notes that "little here is new," a rather self-effacing comment for any scribe hoping to sell copies of his work. "My original wording was 'profoundly unoriginal,' but I was talked out of that by the publisher," he admits. "I meant to be honest. There's no radical re-interpretation, re-evaluation or far-out literary theory, just things I've thought about over the years and that students have taught me."
The notion of writing a Tolkien book came to Stanton in the spring of 1997, when he was on a medical leave from UVM for a semester. "I had lost my voice from radiation in the course of therapy for throat cancer," he recalls. "I was no longer ill, but I couldn't speak. So I was looking for something to do and thought it'd be fun to write down all these things I'd been teaching. I wanted to codify all this material I'd gathered."
Most of the manuscript was finished by the fall of 1998, when Stanton began considering publication. He sent it to a Texas literary agency, which recommended lengthening the book. A deal was signed with St. Martin's in 2000.
Then came the long struggle to get permission from the Tolkien estate, which balked at the number of direct quotations Stanton proposed. He had to cut back to less than 2000 words from The Lord of the Rings. That delay turned out to be a blessing in disguise, positioning Hobbits, Elves and Wizards in the movie's warm spotlight.
"It really turned out to my advantage," says Stanton, whose own childhood in a small farming community — 1940s Colchester — must have been similar to Tolkien's early history at the turn of the 20th century.
Stanton's father, the local iceman who later ran a grocery store, died when the boy was 16. His mother remarried a co-worker at General Electric in Burlington. At Essex Junction High School, Stanton was named salutatorian of his 1955 graduating class after an English teacher encouraged him to become an avid reader. He attended UVM, but dropped out after a few months. "I was very immature," he says.
Stanton worked at odd jobs until he was drafted in 1961, in the heat of the Cold War. "That shook me out of my complacency. I'd been having a good time, bowling and drinking beer."
In the Army, Stanton was stationed in Oklahoma for two years and at a supply depot in Korea for 12 months. He began to comprehend the value of education, and realized a degree was essential for what he wanted to do in life: become an English teacher. So, it was back to UVM from September 1964 until December 1967 — a shorter-than-usual undergraduate span thanks to courses he'd taken while still a soldier.
After a stint teaching at Fair Haven Union High School, Stanton moved on to earn a Ph.D. at the University of Rochester in upstate New York. His dissertation focused on the Romantic era's Robert Southey, an English poet laureate who died half a century before the birth of J.R.R. Tolkien.
Stanton found himself back at his Green Mountain State alma mater in 1971. Unlike Tolkien, who had a wife and four children, he remains a bachelor. His older sister and younger brother also live in Vermont. Another sister is in California.
At UVM, Stanton began offering classes on "Wordsworth, Coleridge, Byron and those chaps," as he puts it. A year later, he launched the first in his long tradition of sci-fi and fantasy courses, incorporating such authors as LeGuin, Isaac Asimov, Arthur C. Clarke, H.G. Wells, T.H. White and Lewis Carroll in addition to Tolkien. Students flocked to these sessions, "even people who were not English majors," he points out.
What Tolkienistas appreciate about The Lord of the Rings, Stanton surmises, is that the book is about "ordinary people, like Frodo, capable of extraordinary deeds." Not unlike the passengers of Flight 93 who seized control of the airplane from the terrorists, or those in the World Trade Center who sacrificed themselves to save others, Stanton suggests. It's an unintentional parallel that jumps off the pages of his book, in references to Frodo wishing the horrors he faces hadn't happened in his lifetime, or wise Gandalf pointing out that it's what we "do with the time given us" that counts.
Stanton crafted a prescient-sounding line that describes the situation in Middle-earth, with "good being relatively weak and divided because it is free" and evil seeming "strong because its forces are united… though they may be in chains."
Consequently, contemporary audiences might find the same kind of relevance in the film that hippies once did in the novel. The second volume of Tolkien's trilogy, which won't be out as a movie until Christmas 2002, has a hauntingly pertinent title: The Two Towers. By then, hopefully, Ground Zero will no longer look like a raw wound.
Meanwhile, Stanton is enjoying the attention that comes with publishing 25,000 copies of a book related to a blockbuster about to open in movie theaters across the country. He's been interviewed by Vermont Public Radio, The Cleveland Plain Dealer and — perhaps due to the theological implications of the Tolkien oeuvre — the Reverend Billy Graham's evangelical broadcast network.
Which begs the question: What's Elvish for "amen"?