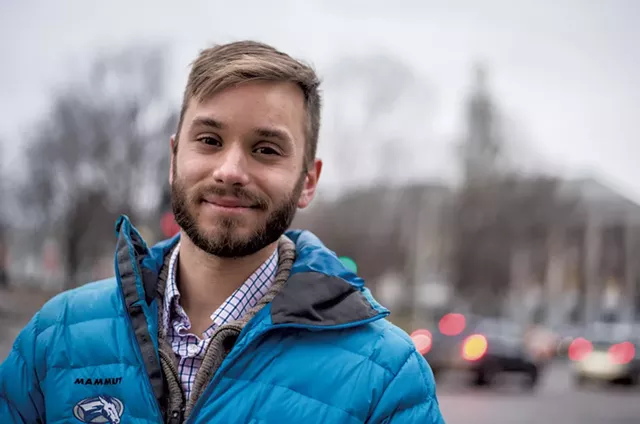 Glenn Russell
Paco DeFrancis
Paco DeFrancis wants to eliminate on-street parking in Burlington — he calls it "free personal property storage" — in favor of bike lanes. He believes a microloan program for refugees and New Americans would stimulate local economic development. And he's hard at work on a plan to decrease Burlington's property tax from 83 to 73 cents per $100 of appraised value.
Just as surprising as his eclectic platform: The 27-year-old candidate for the Burlington City Council calls himself a Republican — the only one in the running for four district seats up for election in March. It's an off year for the other eight ward councilors who make up the body that oversees Mayor Miro Weinberger's administration.
DeFrancis hasn't yet been endorsed by the Burlington Republican Party, which he chaired for a year before resigning last month. Nor has he made a formal announcement of his candidacy; he let VTDigger.org break the news that he is challenging incumbent City Councilor Joan Shannon (D-South District) in the liberal South End. She's represented the neighborhood for the past 16 years.
But with a slightly academic self-assuredness, DeFrancis insists he could do a better job.
"It's ridiculous what they're spending their time on," he said of the current councilors.
Progressive Mohamed Jafar, a 22-year-old who was born in a Kenyan refugee camp, is also running for Shannon's seat.
"I'm not ignorant about the chances here," DeFrancis said of the three-way contest, sitting ramrod straight on a couch in his St. Paul Street apartment, where maps of Vermont ski areas adorned the walls and a Wall Street Journal lay on the coffee table. A win, he acknowledged, would be "miraculous." At the very least, he said, he aims to get his ideas out there and start to influence the public dialogue.
To date, and to his detriment, he's relied almost entirely on Twitter for that.
File: Matthew Thorsen
Joan Shannon
DeFrancis wants to increase development and change zoning rules to allow housing within the current enterprise district, a section of the South End bordered by Lake Champlain and Pine Street where new residential building is prohibited. That's something Shannon has opposed — a "very NIMBY-esque move," DeFrancis said.
High housing costs and few high-paying jobs mean "you have to sacrifice to live here," he said.
DeFrancis has also proposed taxing natural gas, investing in early education and cutting the gross receipts tax in half to spark growth in the hospitality industry.
He talks of monetizing city assets and the need to address Burlington's unfunded pension liabilities. He said he worries about the national "macroeconomic headwinds" and the impact of a possible recession on the local economy.
For now, though, the part of the city he would represent appears to be flourishing. Restaurants and breweries have sprung up along Pine Street, and a second City Market, Onion River Co-op store on Flynn Avenue provides another reason to head south.
Construction on the long-stalled Champlain Parkway project, which is meant to allow traffic an alternative access point to downtown, is set to begin this year. In the Lakeside neighborhood, entrepreneur Russ Scully is turning the former Blodgett Oven building into a hub for tech-related businesses.
Incumbent Shannon can take credit for some of that. She's business-friendly — to a point. Citing ongoing discussions surrounding Memorial Auditorium, the Moran Plant and an expanded Downtown Improvement District, Shannon said, "I'm not feeling like we need a lot of major new initiatives."
"For me, it's mostly about being a guardian and a good steward of our city and balancing the interests of everybody," Shannon said. "I think that people are feeling like we're overwhelmed by development at this time, both in terms of building construction and in terms of the infrastructure work we've been doing."
At the Democratic caucus in December, nearly two dozen South End voters unanimously voiced their support for her candidacy. In her brief nominating speech for Shannon, Michelle Mraz noted, "She has a mind like a steel trap. When I'm wrong, she'll tell me."
Shannon has a rapport with constituents, former councilor and South End resident Bill Keogh said in an interview. She's willing to compromise on the council floor and attends all of the local Neighborhood Planning Assembly meetings, he said.
Courtesy Of Laura Hale
Mohamed Jafar
Challenging Shannon on the left is Jafar, a recent Colby-Sawyer College graduate, who earned the Progressive Party nomination on Sunday evening.
His was one of the first Somali families to come to Vermont through the refugee resettlement program in 2003. He said he decided to run for office because he wants to engage New American families in local politics, increase access to childcare and make housing more affordable.
During the party caucus, he fielded questions about his positions and how he'd accommodate the needs of New Americans at city hall. Several Somali South Enders asked questions in their native tongue, which Jafar answered in Somali and then translated into English.
"I'm hoping to be a bridge" with constituents, especially New Americans, he emphasized in an interview. "There's a little bit of a void there."
DeFrancis grew up in Norwich, the son of quantitative thinkers. His mother is an engineer; his father works as the education director of the Montshire Museum of Science. DeFrancis attended Hanover High School, then Colby College in Maine, where he double-majored in economics and geology.
He spent a year trying to break into the Nordic ski-racing scene in Bozeman, Mont., before he moved to Burlington in 2016 for a job as a financial analyst at Keurig Green Mountain, now Keurig Dr Pepper.
What brought him to Burlington City Hall? The debate about the CityPlace development introduced him to city politics, Kurt Wright (R-Ward 4) and other members of the Burlington GOP. "Why would anyone be against a project that could bring in $200 million in private investment?" DeFrancis asked rhetorically.
He served a two-year stint on the Community Development Block Grant citizen advisory board and ran — unsuccessfully — for justice of the peace in November.
Local Rs, hoping to infuse young blood into the floundering party, tapped DeFrancis to lead the Burlington Republican Party in late 2017. Instead, he became its enfant terrible, using social media as a weapon.
Most notably, DeFrancis used the party Twitter account to criticize state Sen. Debbie Ingram (D-Chittenden) for her October 2017 drunk driving incident. He urged her to give up her license and, at one point last summer, tweeted an edited police dashcam video of her arrest along with the message, "Just say NO to drunk driving."
DeFrancis' posts sparked backlash from Republican political candidates and leaders, including Gov. Phil Scott. DeFrancis later blamed Jeff Bartley — who at the time was serving as campaign manager for Ingram's challenger, Republican Alex Farrell — for giving him the green light to attack.
In July, DeFrancis also derided heroin users on Twitter, writing "good riddance!!!" to those who don't have the "self-control" to avail themselves of treatment.
DeFrancis later backed off both statements. He has since deleted his old tweets and emphasized that he plans to keep his city council campaign positive.
As party chair, he failed to convince any other Republicans to get on the 2018 Town Meeting Day ballot. A slate of 16 Democrats, and not a single Republican, will represent the Queen City in Montpelier during this legislative session. On the Burlington City Council, only Wright now represents the GOP, and he has said this term is his last.
Wright served multiple terms in the Vermont House but lost his reelection bid in November.
"The party is obviously just not in good shape. That's obviously very concerning," said Burlington's elder Republican statesman.
Asked about DeFrancis, Wright demurred, saying he could not endorse the candidate because of his current role as council president.
Wright did say he is "strongly, strongly opposed" to DeFrancis' proposal to abolish on-street parking and said he had contacted the former party chair multiple times to chastise him for controversial social media posts that did not show "good judgment."
The candidate's response? "I don't think Kurt Wright has a lot of support down in this district," DeFrancis said matter-of-factly. "I don't really want his support."
DeFrancis also bashed Bartley, who once served as executive director of the Vermont Republican Party, calling him "a nasty guy, personally." Bartley "made mistakes" while in the leadership role, DeFrancis said.
Reached last Friday, Bartley declined to comment.
Until he was contacted by Seven Days, Chittenden County Republican Party chair Mike Donohue was unaware that DeFrancis had recruited himself to run for office. He said he was "disappointed" that DeFrancis left the party chairmanship to run without a successor in place — or even a vice chair who could take over.
"It's undeniably a setback when the structure is dismantled," Donohue said of the local party.
DeFrancis has a knack for policy, but his Twitter wars can overshadow his political promise, Donohue added. "I think Paco's gotten into some unfortunate situations that way," he said.
Other prominent local Republicans were similarly disinclined to weigh in on DeFrancis' candidacy. Vermont Republican Party chair Deb Billado deferred to Donohue. Farrell, who once served as Burlington's party chair, did not respond to requests for comment, nor did steering committee member David Kirk.
Jason Maulucci, who formerly served on the party's steering committee and who now works for Gov. Scott, declined to comment for the story.
DeFrancis dismissed the lack of enthusiasm for his candidacy as the result of the party's "limited ground game and network available."
One backer is Rich Ferber, a political operative who worked on Len Britton's unsuccessful 2010 U.S. Senate bid. Ferber, a South End resident and former coworker who is advising DeFrancis, said the candidate is "trying to run to make the city more inviting for young people to come and to stay."
Lowering property taxes is one way to do that. DeFrancis explained his "dime tax plan" using bar graphs and half a dozen spreadsheets. He said his economic outlook informs every aspect of his run for office, including the lawn signs.
For example: "In a display of frugality, I plan on using a simple, two-tone campaign color theme for my #btvcc campaign," DeFrancis wrote on Twitter last week. That is: black and white.
The question is whether Burlington voters will agree to put them in their yards.
Burlington City Council Candidates as of January 8
North District
Dave Hartnett, Democrat
Kienan Christianson, Independent
East District
Richard Deane, Democrat
Jack Hanson, Progressive
South District
Joan Shannon, Democrat
Mohamed Jafar, Progressive
Paco DeFrancis, Republican
Central District
Perri Freeman, Progressive
Jared Carter, Democrat