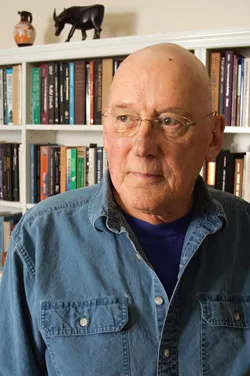 Hans Penner was battling stage IV lung cancer when a right-to-die bill was introduced in the Vermont legislature early in 2011.
After a successful career teaching religion at Dartmouth College, Penner had retired to Wake Robin, a senior living community in Shelburne, where he became active in the so-called death-with-dignity movement. He served on the board of Patient Choices at End of Life Vermont, the main group behind a bill that would give terminally ill Vermonters with fewer than six months to live the option of taking a fatal dose of medication.
While undergoing chemotherapy, Penner spoke out as a poster child for the legislation, saying that when things got bad, he wanted to be able to end his life — and his suffering — voluntarily.
"I'm a good Darwinian. I understand [death] is a natural thing," Penner told Seven Days in January 2011. "But I want to be able to make decisions right through the end. If that's what it came to, my hope is the legislature would have passed that bill."
Penner died on February 25. The legislation he advocated for — called death with dignity by supporters and physician-assisted suicide by opponents — has gone nowhere. Despite Gov. Peter Shumlin's support for the legislation, Senate leaders have said the votes aren't there to pass it, and that debating a doomed bill would be a waste of time.
Improbably, that bill now has a faint pulse — and will finally get a hearing. Sen. Dick Sears (D-Bennington) agreed to take three hours of testimony in the Senate Judiciary Committee he chairs on Wednesday, March 14, to hear from the main groups for and against the legislation. He acknowledges pressure from advocates to "better understand their side."
But Sears cautioned that there's no guarantee the legislation will be voted on — by the committee or the full Senate. Even if it is, he believes the bill still lacks the votes to pass in either chamber.
But that grim prognosis hasn't kept the opposing sides from lobbying hard. Patient Choices Vermont purchased a combined total of $8000 in airtime on WCAX and WPTZ to show a television commercial supporting the legislation during evening newscasts this week. The group is also circulating a Zogby poll the group commissioned in January that shows Vermonters favor the legislation by a margin of 73 to 19.
The television ad is actually one that Patient Choices Vermont ran in 2007 — during a previous effort to pass a right-to-die bill — showing former Vermont congressman Dick Mallary on his sofa with his wife, Jeannie Mallary, discussing death with dignity. As first reported by Vermont Public Radio, Mallary, who suffered from terminal prostate cancer, took his own life last fall by means that have not been disclosed.
In the middle of the new ad, the screen fades to black and text appears reading, "Congressman Mallary died waiting for 'Death With Dignity' to become law."
Mallary was a prominent public figure, and his death is a potent symbol for the death-with-dignity movement. But he and Penner are not the only right-to-die backers to pass away while the bill stalled.
Another is Alice Cook Bassett, a well-known former state legislator from Burlington who served in the Vermont House from 1983 to 1992. Bassett died on December 28 at age 86.
Previously unreported is the fact that Bassett, like Mallary, took her own life — by starving herself to death after months of suffering. Her daughter, Cindy Cook, says her mother endured chronic pain and "unremitting nausea" after she fell and broke her hip in February 2011. Cook says her mother asked her to speak out in favor of a right-to-die law after she was gone.
"She went to Wake Robin. I visited her every day," Cook recalls. "I'd go over there and she'd be in tears, saying, 'Another day. I've got to face another day.' Finally, she said, 'You know, if I could lick this nausea, I'd want to keep on living. But since it doesn't appear that we can, I'm going to stop eating and taking my meds.'"
Cook brought her mother home to Adamant but didn't tell Wake Robin of her plans. "My sister told Wake Robin she was coming to visit me for a few days, which was true," Cook says. "But they didn't say that she wasn't planning to come back. And then my sister wrote a letter and explained what was going on and she was choosing to die."
It took two weeks without food to end Bassett's life. At one point, Cook says she thought about giving her mother a higher dose of morphine to "help her along," but didn't because the next morning, she was "clearly very close to going."
While supporters highlight stories such as Bassett's, groups opposing the bill are responding with their own — through web video. In one, state Rep. Anne Donahue (R-Northfield), a prominent voice for disability rights, says the legislation "scares" her. Vermont Alliance for Ethical Healthcare produced the spot that was posted on the True Dignity Vermont website.
"We've got so many people who clearly don't have choices and are not being helped by family members, or are in fact being abused and neglected," Donahue says, "and they're so vulnerable to being pressured."
The polling and posturing might all be for naught. Insiders tell Fair Game the bill is at least two votes shy of passage in the Senate, and virtually no senators are on the fence.
But Adam Necrason, the chief lobbyist for Patient Choices Vermont, maintains hope that a hearing could move the bill.
"We think the vote is close and the facts matter, and they come out through the legislative process," Necrason says. "The Vermont dialogue is very mature on this, and the issue is ripe and ready for action."
The Commune-ist vs. the Socialist
U.S. Sen. Bernie Sanders (I-VT) has raised more than $3 million for his reelection campaign this year, but no candidate, Republican or otherwise, has come forward to run against him. Until now.
Republican John MacGovern, a former Massachusetts lawmaker who lives in Windsor, has thrown his hat in the ring to challenge the über-popular Sanders in November. MacGovern has already launched a campaign website and identified the "skyrocketing national debt" as the most serious problem facing the country and the focus of his campaign.
He's also wading into the toxic politics of contraception, writing on his website that America faces a "full frontal assault on our religious liberties."
Unlikely as it seems, MacGovern might have competition for the GOP nomination. Vermont Republican Party executive director Mike Bertrand says there's another R considering a run, though he did not name the person.
"I would not assume by any stretch of the imagination that that is the one candidate," Bertrand says of MacGovern, adding that he met MacGovern for all of "15 seconds" at a GOP fundraiser.
That's news to MacGovern, who tells Fair Game he believed he was the sole GOP contender. "There was no one running when I jumped in," he says. "I would expect it's not in the party's interest to have a primary — people spending money defeating each other. I would hope they would give me a call."
In fact, MacGovern says he delayed his decision because he was waiting to see if higher-profile Republicans such as former governor Jim Douglas or State Auditor Tom Salmon would challenge Sanders.
MacGovern is a 1980 graduate of Dartmouth College and now serves as president of the Hanover Institute, a nonprofit he founded in 2002 to challenge — using rhetoric and lawsuits — how the college is governed. He served four terms in the Massachusetts legislature, from 1982 to 1990, and came within two percentage points of unseating a Democratic congressman in 1990.
MacGovern ran and lost twice for the Vermont Senate, in 2006 and 2010. In the town of Windsor, he's served on both the development-review board and the local budget committee.
But that's just the résumé. Who is John MacGovern? That was the headline of a 2009 profile in the Dartmouth Alumni Magazine. The story turned up some intriguing details about his past.
According to the article, MacGovern grew up on a dairy farm in the town of Harvard, Mass., that "bore a striking resemblance to a hippie commune. Children wore robes, milked cows, tilled an organic farm." There was no contact with the outside, MacGovern told the mag — no newspapers, no radio, no television.
About 100 families lived on the farm, MacGovern adds in a more recent interview.
His parents belonged to the Slaves of the Immaculate Heart of Mary, a Catholic sect founded by a Jesuit activist who was ultimately excommunicated. MacGovern's father died when he was young and his mother became a nun within the order, whose common practice was to dissolve parental bonds early, according to the article.
"I was raised to stay there my whole life and never leave," MacGovern told the Boston Globe in 1985.
He left the homestead at age 21, attended Catholic school in Rome and later enrolled at Dartmouth, where he studied Chinese language and culture. MacGovern went on to develop energy projects in China and Southeast Asia as a partner with the Greenwich-Chartwell Group.
What kind of Republican is John MacGovern? His past offers some clues there, too.
He worked on arch neocon Donald Rumsfeld's exploratory bid for president in 1988, and on Indiana U.S. Sen. Dick Lugar's presidential campaign in 1996. MacGovern describes his years in the Massachusetts legislature, where Democrats held the majority and Michael Dukakis was governor: "I felt I did a good day's work if I kept something from happening."
MacGovern says today's Congress should tackle the national debt by going after "big budget busters" such as Social Security, Medicare and Medicaid — positions sure to draw fire from Sanders. So far, Vermont's "socialist" senator isn't engaging his opponent; campaign spokesman Jeff Frank declined to comment on MacGovern's announcement.
So is MacGovern just the GOP's latest sacrificial lamb?
Even the candidate seems resigned to lose.
"When you're on the ballot, you can win," MacGovern offers. "But yes, it's an uphill fight. There's higher turnover in the House of Lords than there is in the Senate of the United States. I have no illusions."