Caleb Kenna
Rutland Mayor Chris Louras
It was standing room only at the Godnick Adult Center, where more than 120 local Rutlanders were hammering officials from the Vermont Refugee Resettlement Program about a plan to bring 100 Syrians to their city. Some questioned whether the immigrants would carry communicable diseases. One individual asked how Rutland would handle the imposition of Sharia law.
All the while, the man responsible for the controversy stood silently in the back of the room, his wife and young son by his side for moral support. Even if he was clearly avoiding the microphone, Mayor Chris Louras wasn't hiding. He was born and raised in the city he has led for the past decade — through multiple police scandals, record-setting blood drives, opiate-related urban blight and countless Rut-Vegas jokes.
Everyone in the room knew who he was. But that didn't mean they understood why 55-year-old Louras would risk his reputation, and possibly his job, for this.
Although he didn't speak that Wednesday night in May, Louras had already made his argument at other meetings and in the media: Bringing the refugees to Rutland would be a humanitarian act that also served the city's self-interest. It has long struggled with a stagnant economy and a declining population and has failed to attract the young families it needs to grow.
"Rutland has been addressing our issues, and, having turned our community around, this is the next logical step — to embrace New Americans and enjoy the economic and cultural benefits that level of diversity will provide," Louras said in an earlier interview. "There's not a successful, vibrant and growing community in the country that hasn't embraced New Americans."
Acting unilaterally, however, may have jeopardized his laudable gambit.
Louras privately lobbied the VRRP to choose Rutland, then spent months quietly laying the groundwork for the refugees' arrival without seeking approval from the board of alderman, or even telling most city officials what he was up to. The end-run has given his opponents political cover — critics are now arguing against both the refugees and Louras' conduct — and irritated some people who were inclined to support him.
"He's a go-at-it alone person. Keeps a lot of information and ideas close to the vest, except for a close-knit group he has around him," said Alderman David Allaire, a longtime Louras rival, in an interview. "You should be doing just the opposite. Don't just lay it on everybody and say, 'I know better, and that's it.'"
As the board of aldermen meeting crept into its fourth hour, Louras moved closer to the front, leaning against the wall, shuffling from side to side, occasionally shaking his head or curling his lips into a sarcastic smile. He was clearly struggling to contain himself.
And he succeeded. After Alderwoman Sharon Davis slammed him and the crowd erupted in applause, he assured a reporter, "Nothing I haven't heard before."
Greek to Him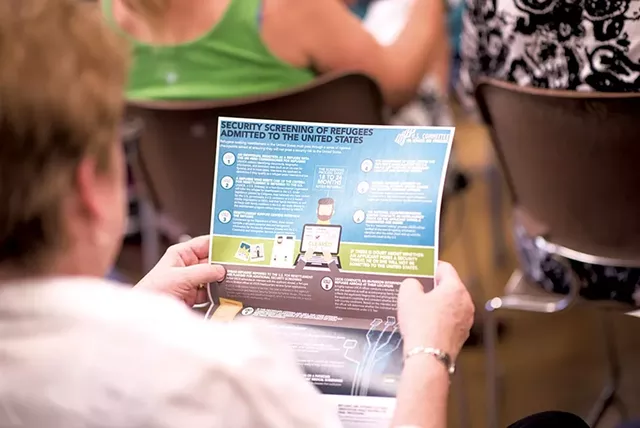 Caleb Kenna
A resident reading a flier about resettlement
Louras grew up three blocks from Rutland City Hall in a Greek Orthodox family with deep roots in the city. His paternal grandfather, Nicolaos, emigrated from Greece in 1906 to escape Ottoman Turks. The family patriarch came to Rutland in search of all the same things the Syrians want today: justice, religious freedom, security and work.
Nicolaos' son Gus — Louras' dad — managed to buy the grocery wholesale business where he was employed. At 91, he still goes to work every day at Sam Frank Distributors in downtown Rutland. He also owns the adjacent tobacco shop at 15 Center Street.
Chris, the youngest of three children born to Gus and Ruth, chose a different path. From Rutland High School, he went straight to the University of Vermont, where he graduated with a political science degree in 1982. When no jobs appealed to him after college, Louras enlisted as a warrant officer in the U.S. Army and learned to fly twin-rotor Chinook helicopters. He keeps a model of the chopper in his city hall office — along with a crushing amount of paper piled on the desk, floor and coffee table and couch.
Technically, Louras was a maintenance pilot — he oversaw repairs, then flew the choppers to make sure the work had been done right. That landed him at a number of large military bases — in Texas, Alabama and Kentucky — before the 1991 Gulf War. Deployed to Saudi Arabia for the duration of the six-month conflict, his job was to ferry military equipment into Iraq and transport prisoners of war out.
Louras had a wife and kids by then, but the marriage broke up after the war. A bitter divorce left him with full custody of the couple's two sons (who now have two young stepsiblings — the result of Louras' second marriage, to Judith). In 1995, he left the military and moved back home to Rutland to work for the family business. Sister Valerie and brother Nico were also on the payroll.
Within six months, Louras decided to run for alderman, aka city councilor. "It was an itch I had to scratch," he said. Although his parents weren't much into politics, his uncle Peter Louras had served for years on the board.
"I think a lot of people thought they were voting for my uncle Pete," Louras said.
He got on the city's 11-member governing board but had bigger ambitions. In 1998, Louras ran for a seat in the Vermont House of Representatives as a Republican — and lost by 115 votes to Democrat Diane Carrol. Six years later, he tried again and coasted to victory over Democrat Ted Lindgren.
He lasted one term.
Sen. Peg Flory (R-Rutland), who was then House minority leader, said Louras was "intense." Although the two remain close, she said, "When he makes up his mind, he goes full bore. It serves him well many times and gets in his way many times, and I think he knows it."
"I wasn't built for it," Louras said of Statehouse politics. "I don't like the process in place in the legislature. It's all based on relationships to get things done, and I felt it should be about policy and not personality."
The expectation of partisan loyalty also turned him off — so much so that he studiously avoids stating the names of America's two major political parties. Instead, he says "people with an R next to their name," or "guy with a D next to his name." Get him worked up, and his voice rises. Like a nerdy sailor, he mixes in expressions like "gosh," "good golly" and "holy moly" with actual swear words.
Particularly galling, Louras said, was the reaction of Republican colleagues when he cosponsored a 2005 bill that would have made companies that produced genetically modified seeds liable for inadvertent crop damage on neighboring farms.
Louras was one of only two Republicans who signed onto the bill, which former Republican governor Jim Douglas vetoed. Louras said he was trying to stick up for local agriculture.
He recalls a fellow Republican telling him, "You shouldn't be supportive of the bill because those people don't vote for us.'" That didn't sit well. Although he opposes marijuana legalization and other lefty causes, Louras has endorsed high-profile Democrats, including Gov. Peter Shumlin and Chittenden County State's Attorney T.J. Donovan.
Concluding that he's a "technocrat, not a politician," he returned to Rutland and rebranded himself as a nonpartisan fixer.
In 2007, he ran for mayor — along with five other candidates. Board of Alderman President William Notte recalled a campaign debate in which most of the contenders gave "flowery speeches" and made a lot of promises, while Louras, looking down, hands in pockets, told the crowd that whoever won was probably going to have to raise taxes to help balance the city's budget.
"He is very blunt. People respect him for that," Notte said. "He's not by any means your standard slick politician. He stumbles over his words; sometimes he doesn't come up with the words he's looking for. People take that for what it is — genuine."
Louras won by a landslide and hasn't lost a race since. If he wins reelection — he told Seven Days he will run for a new two-year term in 2017 — he will be the longest-serving mayor in Rutland history.
Very Barre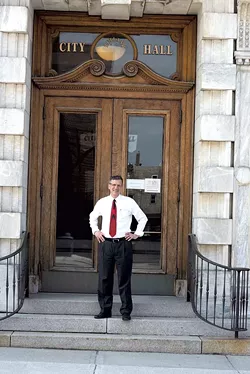 Caleb Kenna
Mayor Chris Louras
Rutland and Burlington are the only two Vermont cities in which an elected mayor functions as the day-to-day chief executive officer. Other communities, large and small, rely on professional managers, hired and overseen by elected boards, to run city hall.
Louras makes $72,000 a year compared to Burlington Mayor Miro Weinberger's $94,000.
For that, Louras is supposed to answer for the actions of city employees — including the police. But at times, he has had little to say about what's gone wrong on his watch.
In 2010, Vermont State Police charged a Rutland police sergeant for viewing pornography on his work computer and removing a pornographic video from the police evidence locker. After he accepted a plea deal and was fired from the force, Rutland aldermen urged the police commission to dismiss the man in charge: former chief Tony Bossi. Commissioners refused; Bossi resigned in 2012.
Last year, the city paid $975,000 to settle claims from a former African American Rutland police officer who said he was a victim of racial bias from fellow officers. Andrew Todd, now with the Vermont State Police, also accused Rutland police officers of racially profiling drug suspects, carrying on inappropriate relationships with female confidential informants and drinking on duty.
There's an internal report documenting problems in the Rutland Police Department, but Louras did not release it to the public when news of Todd's lawsuit broke. At the time, he referred all questions to the city's attorney.
Like his predecessors dating back to the 1970s, Louras has focused on Rutland's economy, which started declining when local industries — mills, quarries and a railroad — shut down. The construction of Interstate 89 — 50 miles to the north — contributed to the city's isolation. A General Electric aviation plant is one of the few remaining.
It didn't help when local, national and even international journalists descended on Rutland's blighted Northwest and Southwest neighborhoods, portraying the areas as ground zero in Vermont's "opiate crisis."
The city's population has steadily declined since 1970, and the U.S. Census Bureau forecasts that it will sink further, from 16,500 today to 14,800 in 2030.
A recent afternoon saw Louras grappling with a problem that would be unimaginable in Burlington — reducing his city's housing stock. At foreclosure auctions, some four-bedroom homes have sold for less than $20,000.
"It does not paint a pretty picture," Louras said.
That's where Louras excels, airbrush in hand. A constant presence at municipal meetings and other local gatherings, he doubles as the city's public relations director. "He bounces all over the place. I kid him about it. He's all over town," said Tom Huebner, president of Rutland Regional Medical Center — a Rutland native who has known Louras for decades. "He's a highly active, sometimes hyperactive guy who cares deeply, deeply for the Rutland community. He bleeds Rutland."
Literally. Louras' right forearm sports a red cross with a blood drop — the result of a promise he made in 2013 to get a tattoo if Rutland broke the national record for one-day donations to a Red Cross blood drive. In prior years, Louras shaved his head, and rocked a Mohawk, for the same cause.
Not surprisingly, Louras feels a kinship with Barre Mayor Thom Lauzon, a brash businessman and booster with similarly unpredictable politics. Both men are supporting Phil Scott for governor.
"Lauzon just takes it and does it, and that's what I like about Thom," Louras said.
Lauzon's take on Louras: "When Chris believes in something, he goes at it. Chris works his ass off. There is no bigger advocate for the city of Rutland." When he's encouraging fellow mayors to act decisively, Lauzon urges them to go "full-on Louras."
Does Lauzon take his own advice? "Ten years in office has tempered my style a little, and it hasn't tempered Chris," said Lauzon, adding that he would have handled the refugee situation differently.
"I think that was a fearless approach, and color Thom Lauzon a coward, but I would not have taken that approach," Lauzon said. "The first thing I'm going to do is schedule a public hearing."
Destination: Rutland
Caleb Kenna
The crowded board of aldermen meeting
This year, there will be an estimated 60 million refugees and displaced people worldwide. The United States has agreed to take in 85,000, including 10,000 Syrians, though the country has fallen behind on its schedule to fulfill that pledge. VRRP, the organization tasked by the U.S. Department of State with settling refugees in the state, usually accepts 300 refugees a year. With the crisis in war-torn Syria, which has prompted millions of displaced people to flee to Europe, the VRRP is upping that number to 400.
It has quietly funneled most refugees who arrived in Vermont — Bosnians, Somalians, Bhutanese, Congolese, Burmese and Iraqis — to Burlington and Winooski. Burlington's Old North End is full of restaurants and shops opened by refugees. More than 30 languages are spoken in Winooski, and more than 40 percent of Winooski High School students were born outside the U.S.
But the resettlement agency has long wanted to open up a second refugee hub in Vermont to be able to serve more people.
Last November, after the Paris terrorist attacks, several Republican governors across the country declared they would not welcome refugees fleeing Syria into their states, citing concerns about possible terrorist infiltration. Vermont Gov. Peter Shumlin was among the first to declare that his state would welcome the Syrians.
Soon afterward, officials from Middlebury, Woodstock, Warren, Waitsfield, Brattleboro, Bennington and other communities reached out to VRRP, offering to help. Louras got in line.
The organization knew little about Rutland, and had never considered the city as a possible destination, director Amila Merdzanovic said.
But Louras was dogged. He came to Burlington for a three-hour meeting in December, and his pitch proved persuasive. Louras said that despite his city's reputation for economic woe, it had plenty of cheap housing, employers struggling to fill entry-level jobs, and a willingness to welcome the refugees.
"We don't have a jobs problem," Louras said. "We have a workforce and population problem." Rutland has an unemployment rate of 3.3 percent, right around the statewide average of 3.2 and well below the national rate of 5 percent.
"We feel really confident in being able to get folks placed on the ground down there," Vermont Department of Labor Commissioner Annie Noonan said.
"There's a potential workforce here, not unlike lots of places, that isn't interested in the sort of grungy, dirty, hardworking, entry-level jobs that are the sort of thing you will do because you're glad for a fresh start," said Notte.
Huebner said he has 120 vacancies at Rutland Regional Medical Center, from entry-level housekeepers and cleaners to nurses and technicians.
"Ask any employer in town. They'd say their greatest problem is finding enough workers," Huebner said. "When these folks start coming into our community ... we'd love to work with them. We'll see what skills they bring, but even if they don't have English yet and don't have health care skills, we would still work with them."
With so many employers promising jobs, Rutland became Merdzanovic's top choice. "And there's ample housing," she added, in contrast to the real estate markets in Burlington and Winooski.
After a one-time payment of $925, plus minimal language, housing and employment assistance, more than 80 percent of refugees meet the federal definition of "self-sufficient" within a year of arriving in Vermont.
"People lived full lives before coming to the U.S.; we have to remember that," Merdzanovic said. "They come with goals and dreams, and we're here to give them the tools. People are highly motivated. They want to give the best possible future to their children because they lost everything."
It's a moving message, but Louras didn't think it would play well with the public. He told Notte and a few local business leaders about the refugees but left the rest of the board, along with the city's legislative delegation and his constituents, in the dark.
Emails from a public records request show Louras and Merdzanovic considered announcing it but nixed the idea.
They engaged in secrecy for one simple reason — they feared that involving the public sooner would derail the effort. VRRP never announces refugee arrivals in Burlington or Winooski.
In an April 14 email to Louras, Merdzanovic wrote: "If we open it up to anybody and everybody, all sorts of people will come out of the woodwork, anti-immigrant ... anti-anything."
Although Louras said the planning "maybe could have been handled a little better," he insisted that if he could do it all over again, he wouldn't change anything. The mayor and father of four stated firmly, "Refugee resettlement should not be a political issue."
Plan B?
Ironically, Rutland's refugee issue is now thoroughly politicized. Louras and allies insist that the supporters outnumber the opponents. A Rutland Welcomes Facebook page has 1,000 members. More than 170 people turned out to a meeting at a Unitarian church, volunteering to help the refugees.
At the same time, the other side is circulating a petition with more than 500 names calling for a public vote to oppose the refugees' relocation.
Louras alleges that many of those finding fault with the "process" are being disingenuous: Their real objection, he said, is to the idea of welcoming refugees to Rutland.
"I discount that totally," said Allaire. "I'm sure there are some in the community who are concerned about the refugees themselves. I'm certainly concerned about that, too, but that's not my issue. My issue is process. If I had been brought in on the front end of this and had been given the information that apparently a select few of the elites had been given, I would have guaranteed the vetting process was thorough and there would be a program laid out about how these people would assimilate; I would have been at the front of the line welcoming them with open arms."
"I would have preferred more advance notice. My concern is: What's the plan?" said State Rep. Peter Fagan (R-Rutland). "This has to be planned very, very well. Show me the plan. I don't understand how the planning process works for this."
"How much pushback do you need?" David Trapeni, the author of the petition, asked Merdzanovic during the recent meeting. "Have you ever experienced enough pushback that you've stopped the program?"
It is unclear if a public vote will happen, or, if it does, whether anyone in power will care about its result. Merdzanovic was evasive when asked at the meeting if a "no" vote would prompt her organization to look elsewhere. Louras is adamantly opposed to a vote.
Refugees, once they legally enter the country, can live wherever they want. Even the governors who protested the arrival of Syrian refugees last fall have no legal authority to close off their states.
"The people that have concerns about process, the people that say they have concerns about process, my issue with that is ... the other option would have been voting on allowing people to come into our community," Louras said. "And we don't do that in America."
If all goes well, backers say, this will not be a one-off event: Rutland will take its place alongside Burlington and Winooski and welcome a new batch of refugees every year. Louras thinks some of those who have settled into Chittenden County might decide to move south, where housing is cheaper.
A year from now, Louras envisions dozens of refugees renting apartments, filling jobs, and opening businesses. He lets himself dream of Syrians opening falafel shops and young people moving back to be part of the newfound diversity.
But, if enough of his constituents disagree, Louras knows he may not be in office to see his vision come to fruition.
"I have to imagine there's at least one or two people considering a run against him, thinking he's shot himself in the foot here, either for bringing in the refugees or the close-to-his-chest nature," predicted Notte. "I think someone could make hay with that."
As he sat in his messy office, Louras joked about making an appearance a few hours later at a local forum hosted by right-wing author Jim Simpson, who travels the country speaking out against refugees.
"Agenda 21," Louras casually explained to a puzzled visitor. "You've never heard of Agenda 21?"
Agenda 21, as defined by the United Nations, is a strategy for sustainable development. As interpreted by Simpson and the segment of the populace that insists President Barack Obama is a Muslim, it's a conspiracy between the UN and liberals to create one world government. A key part of the plan is allowing refugees from Syria and other Middle East countries to infiltrate America, confiscate land, and set up fundamentalist Islamic control.
In the wake of Louras's announcement, that theory appears to have gained a toehold in Rutland.
Louras grabbed his iPad and gleefully pulled up a video of Simpson speaking at a recent event in New Hampshire.
"The immigration and refugee agenda is one of their more malevolent issues," Simpson said. "It dilutes American culture; it sucks up welfare; it creates crime and racial and ethnic animosity."
Louras emitted a high-pitched laugh as he watched, shaking his head.
"Not a lot I can learn from that guy!" Louras said. "I've got voters who invited that guy to come to Rutland!"