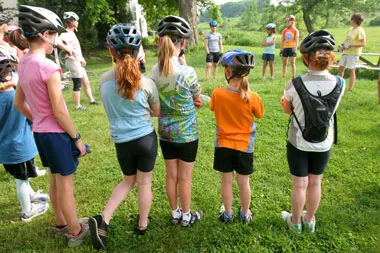 At the Catamount Outdoor Family Center one recent Sunday afternoon, a group of girls and women sit on a patch of jade-green grass and play a get-to-know-you game: "How many people have a pet?" and "Who likes potato chips?" are among the questions being lobbed around the circle. Then someone says, "OK, name your favorite singletrack."
Suddenly, the conversation shifts from humdrum into overdrive with a lively debate on the best mountain-biking trails in Vermont. Helmet-clad heads bob in agreement. Around the perimeter of the Williston gathering, silver Konas, an orange Santa Cruz and blue Cannondales lie on their sides like patient dogs waiting for their owners to come and play. A picnic table holds a box of Malt Nut Power Bars, fuel for the ride ahead.
This is a glimpse of Little Bellas, a brand-new mountain-biking program for local girls aged 8-12 that could go nationwide after its pilot season this summer at Catamount. It aims to boost confidence and foster female camaraderie by partnering pre-adolescent riders with adult mentors. And thanks to its co-founders - Jericho sisters and mountain-biking mavens Lea and Sabra Davison - Little Bellas is already an extraordinary fellowship of female riders.
"It's like being a young tennis player," says mentor Jane LeMasurier, "and getting to play pick-up every Sunday with Venus and Serena Williams."
The idea of Little Bellas began to bloom last fall, when the Davison sisters were having lunch at Martone's in Essex Junction with Angela Irvine. As coordinator of the Bellaship, a spin-off of the Chittenden County mountain-biking community Fellowship of the Wheel (FOTW), Irvine knew all about the sport's gap for girls. "There was a group of women who all had daughters, and the daughters didn't really want to ride with their moms," says Irvine. "We thought, 'We really need to foster these girls' riding, but what's the best way?'"
Lea and Sabra Davison, meanwhile, were looking for ways to share their mania for mountain biking. Originally alpine ski racers and runners, they began competing at Catamount in 2000 and quickly climbed through the eastern, and then national, ranks while racking up biking sponsorships.
When the Davisons met with Irvine, ideas began to percolate. "We wanted to create a team atmosphere for girls," says Lea, who graduated from Middlebury in 2005. "Mountain biking teaches girls how to take risks in all arenas. It just provides them a place to be a girl on a bike."
"Which can be really conflicting sometimes," Sabra interjects - the enthusiastic sisters have a habit of finishing each other's sentences.
Lea launched Little Bellas last fall as a branch of the FOTW, which is a chapter of the nonprofit Vermont Mountain Biking Association. Irvine provided direction for the fledgling program, along with FOTW head Hans Jenny, who had mentored the Davison sisters as young riders. Sabra, who graduated from Middlebury last month, formalized the paperwork as a class project. The duo turned to their main sponsor, Trek, to help support the program and offset the tuition cost of $100. Selecting Catamount, where Lea and Sabra learned to race, was a no-brainer, they say.
For the debut season of Little Bellas, which officially launched last Sunday, June 3, there are a dozen mentors, most of them hand-picked by Lea from among old ski buddies and friends of friends. "Mountain biking has been about many, many things for me: fitness, community building, a way to experience the wilderness, empowerment and, most of all, self-development and personal transformation," says mentor Jennie Date, 34.
"I felt drawn to the program," says Aliza Cohen, a 24-year-old Cornell graduate who grew up mountain biking in Golden Gate Park and the Marin Headlands of San Francisco. "The feeling of standing at the top of a tricky downhill section or technical uphill climb, forcing those doubts out of your mind and arriving triumphant at the bottom or top, is one that few sports can match."
Cohen and the other "big" Bellas received mentoring training through the Burlington-based nonprofit Mobius to help expand the program's focus beyond the weekly rides at Catamount. "It's not just about mountain biking," says Sabra. "We want to foster a healthy, active, constructive lifestyle - that's first and foremost."
The mentors say they can already see the positive influence of the program. "Kids between 8 and 12 are just starting to test their limits, in all aspects of their lives, physically and mentally," says LeMasurier, a 24-year-old from Stowe who also teaches English and coaches ski racing at Mount Mansfield Winter Academy. "Mountain biking is both a physical and mental sport, so every little challenge, every skill that's learned, affects them significantly - I'm amazed at their willingness to test themselves."
While the Davison sisters didn't start riding seriously until they were in their late teens - past the age of the current Little Bellas - they say they would have been drawn to such a girl-power program. "We've definitely seen how mountain biking is male-dominated," says Sabra. "Our teams have been all guys and us; maintenance, managers, massage therapists - all men."
Lea jumps in. "Girls approach things differently," she says. "Guys can sometimes be a little bit abrasive: 'Just go, go do this ledge!' But it's a slow build in confidence: It's not just 'Go huck yourself off that four-foot drop.'"
So while each of the Little Bellas rides will build skills, such as handling narrow singletrack or climbing over rocks, the sessions also focus on fun. The season's culminating events, held July 21 and August 4, are not competitions but celebrations. The first is a "Lemonade Social" at the Mount Snow National Off-Road Bicycle Association Championship, during which Little Bellas will invite pro riders to an on-site party. "I'm really excited for the Lemonade Social," says Little Bella Ellie Miner, a 12-year-old from Burlington.
The second big event will be the Ride Across Vermont, in which mentors and Little Bellas will pair up to ride legs of a relay, showing off skills they've learned over the summer. Mentors may find themselves reflecting on some of the lessons they've been taught by the Little Bellas, too. "It's super-fun to work with these younger girls," says Date. "They remind me that playfulness is an essential element to a happy life."
The Davison sisters hope to see Little Bellas - which resembles the wildly popular Girls on the Run program - sprout in other parts of the country next season. Their vision comes at a time when mountain biking is increasingly showing its feminine side, with women-specific bikes, saddles, helmets and more. As Lea and Sabra, decked out in matching red-and-white Trek jerseys, prepare to meet the Little Bellas and their mentors on Sunday afternoon, they shake their heads in wonder at how far their idea has come since that lunchtime discussion.
"We were like, 'All right, we want to empower some girls!'" recalls Lea. "'Let's get out there and do something!'"