Matthew Thorsen
Hatchet burger
It had been a feast day, his first feast day, and a celebration of being alive and the new way he had of getting food. By the end of the day, when it became dark and he lay next to the fire with his stomach full of fish and grease from the meat smeared across his mouth, he could feel new hope building in him.
–Gary Paulsen, Hatchet
Hatchet, Gary Paulsen's modern YA classic, has probably inspired more budding survival-skills experts since its 1987 debut than any other work of fiction. When I read it for my assigned summer reading before entering sixth grade, I liked it for a different reason — I thought of it as a food book.
The novel details 13-year-old protagonist Brian's survival after he's marooned in the woods following a plane crash — armed with only a hatchet. Paulsen's descriptions of the animals that the boy kills and cooks verge on culinary pornography, the meat described as "juicy" and "hot."
Now another Hatchet is bringing a similarly rugged ethos to Richmond. Hatchet Tap and Table opened on July 13 in the space that held an old-fashioned diner, Bridge Street Café, for the past 14 years. It's a gastropub with a beer focus. Yawn, right? But that jaded reaction vanishes when your mouth becomes smeared with animal grease, just like Paulsen's protagonist.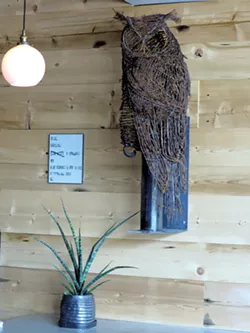 Matthew Thorsen
Bonito
My inner mountain man leapt into action the moment I went to open the restaurant's door; the handle is a real small hatchet, its sharp end wedged into the wood. A barbed-wire owl named Bonito perches near the bar, greeting visitors with his own brand of silent menace.
While Bonito may be on the prowl, the rest of the crowd is convivial. From the outside, dimly lit Hatchet may appear to be a dive bar. And it is a townie bar — just one with well-prepared food and tables that owner Gabriel Firman made from wood he sourced from a century-old farmhouse in the Northeast Kingdom.
Firman, a Richmond resident since 2002, was all too aware of the dearth of bars in town, he told me last December. His goal was to fill a hole in the community, and it worked. Even early in the week, I found Hatchet's bar reliably packed with bodies jostling for a sip of one of the 24 beers on tap. A restaurant crowded with excited locals is a good thing — but a loud thing. Expect to speak a few notches above your usual volume.
Matthew Thorsen
Maple creemee with bacon sprinkles
Grown-ups can choose among the several Hill Farmstead brews on offer, including the smooth, eminently drinkable Raskolnikov, a Baltic porter that Shaun Hill created in collaboration with Christian Skovdal Andersen of Beer Here at the Denmark restaurant-brewery Svaneke Bryghus. Meanwhile, kids can occupy themselves at the sawdust-powdered shuffleboard table. That is, until their creemees arrive.
The creemee window opened before the restaurant did, on July 4. Its presence is a holdover from Bridge Street Café, but the bacon sprinkles are pure Hatchet. The flakes of flesh bestow an affectionate swat of salt and smoke on the maple creemee, made from a Kingdom Creamery of Vermont base.
Yes, Hatchet is the kind of no-holds-barred place where you can start your meal with a creemee. But maybe you should let dessert wait. It would be a shame to skip a corn dog ($5) in its favor.
At Hatchet, corn dogs are made from a juicy all-beef dog dipped in buttermilk batter. The corn flavor is less dominant than normal, but the crisp jacket compensates with an uncommon creaminess. While bright-yellow maple mustard adds a pleasant dash of sweetness, this dog easily stands alone.
Matthew Thorsen
Executive chef Jared Morin
Jared Morin, late of Philadelphia's Good Dog Bar, is Hatchet's executive chef, but sous chef Eric Hodet prepares many of the specials. The first night I visited, he made a carrot soup from his family's own veggies. The mild, cold soup could have used a more aggressive carrot flavor, but chunks of caramelized ginger on top made it an interesting spin on the standard carrot-ginger potage.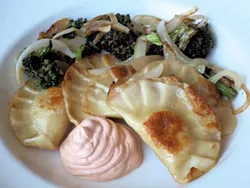 Matthew Thorsen
Pierogi
The comparatively healthy soup left room on my first visit for the carbo-load of the $14 pierogi plate. Though the dumplings' wrappers were slightly overcooked, the potato-and-cheese filling won me over big time with its Gobstopper-like evolution of creamy and tangy tastes in every bite. Buttery snap peas and onions lent a fresh crunch to the proceedings, but the "smoky" sour cream needed more fire to stand out.
I wasn't excited to order the basic burger ($12). Call it burger ennui, but I hadn't found a patty I loved in months. I was starting to think the American classic was perhaps overrated. Turns out, I was just waiting for a version as solid as the one at Hatchet.
Simplicity is the key to the success of the Hatchet burger. First there's the bun, a sesame-topped specimen from Sweet Simone's bakery next door. It's slightly sturdier than your average burger bun, so the grease of the smashingly seasoned patty doesn't penetrate the bottom and leave a puddle on the plate. Next come a melty blanket of cheddar, some special sauce, pickled onions and a few crisp lettuce leaves. That's it. But those ingredients blended so well that I craved another burger even as I finished my first.
Sandwiches at Hatchet all come with fries or a green salad. My request for half of each was unblinkingly obliged. The greens were fresh but underdressed on my first visit. On my next visit, when I received them properly tossed in their light vinaigrette, I realized they're a wonderful antidote to a fatty sandwich.
The fries, too, are a thing of beauty. Their crisp exteriors, showered in rosemary, evoke the stuff of fantasy that kept Brian going in the wilderness.
Most diners at Hatchet order dessert exclusively from the creemee window, and I learned why when I tasted a special on my first visit. A cold square of lemon-poppy-seed bread pudding made from Sweet Simone's challah was an unbecomingly dense embodiment of an inspired idea. The violet-colored black raspberry crème anglaise drizzled on top was especially eye pleasing, but it tasted medicinal.
When I visited again the following week, ordering more fun apps seemed like a no-brainer. Sorry, beet salad and grilled veggies with farro, I'll see you another time.
Smoked-cheddar fritters ($8) were rusty-brown blobs filled with a dark-orange slurry of campfire-redolent cheddar. Pickled onions brought a nice hint of acid to the party, but the smack of heat from the cayenne mayo dip on the side didn't pair well with the cheese.
Matthew Thorsen
Buffalo wings
My server, whom I've known to be reliable for years at another restaurant, forgot to put in my wing order, so I gnawed on the petite bones along with my entrée. It's rare to find a wing as ethereally crisp as the Buffalo-flavored specimens at Hatchet, but that crispness entails a certain sacrifice of flavor. The vinegar-y heat is present but less prominent than it would be in a saucy wing. Regardless of whether you treasure crunch over piquancy, there's no arguing with the legitimately cheesy blue-cheese dressing or the refreshing celery sticks.
The biggest misstep at Hatchet was the $24 strip steak. The well-trimmed local beef came to me cooked medium well rather than my requested medium rare. In places, it was gray-brown all the way through. It was a good enough piece of meat to survive the overzealous treatment with flavor to spare but still a reason to deduct overall points.
If only the chimichurri on top had been plated with the same zeal, I would have had enough of its acidic, garlicky juice to make up for the overcooking. I couldn't argue, though, with the rosemary fries and salty roasted cauliflower on the side.
Despite the Sweet Simone's bun, the Fishwich was a sloppy meal. But the outsize hunk of beer-battered dayboat hake was just as Paulsen described Brian's first taste of the fish he caught himself: "flaky and moist and tender." Indeed, grease ended up smeared across my mouth with aplomb, along with a tangy purple slaw and a layer of the cayenne mayo, which played far better with hake than it did with the cheddar.
Like Brian, by the end of my meals I felt like I had "done food." I hadn't cooked it or killed it myself, yet the best of what I tasted at Hatchet would stay in my mind as if I were starving for my next taste. Lucky for Richmond, this uncommon gastropub has ended the hunger along with the thirst.