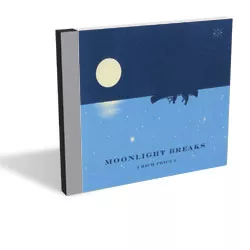 (Self-released, CD, digital download)
Burlington's Rich Price might just be the most successful local songwriter you've never heard of. A member of folk-pop darlings the Sweet Remains, Price's music has reached ears in virtually every corner of the globe. His tunes have appeared in numerous TV shows and commercials and, most notably, on the platinum-selling soundtrack to the movie Shrek 2. But to local audiences, Price remains something of a mystery. With the release of Moonlight Breaks — his fourth solo album and first in more than five years — he reintroduces himself to his hometown.
The Sweet Remains generally favor wistful, harmony-laden pop fare that falls somewhere between Crosby, Stills and Nash and more modern troubadours such as John Mayer. But left to his own devices, Price reveals himself to be as informed by jam and light funk as rock or pop. The result is a breezy collection of tunes that, while not especially edgy or provocative, will appeal to fans of sensitive-guy pop mavens such as G. Love or Boston-by-way-of-Middlebury outfit Dispatch.
Price sets an easygoing tone on the album's opening cut, "Words Hang Heavy." Over a bright, serpentine guitar line backed by rippling drums, he delivers airy, soothing vocal lines that dovetail with fleeting splashes of full-bodied harmony. On the surface, the tune is generally pleasant and inoffensive. But beneath the casual groove lurks a melancholy darkness as Price contrasts the tune's buoyant vibe with well-crafted ruminations on love and loss. It's subtle but substantial, suggesting Price is more than your average pop confectioner. There is weight here; his words do indeed hang heavy.
That juxtaposition of emotion and aesthetic is a recurring theme, especially on the brooding ballad "Make It Right" and the sweetly pretty "A Wasted Chance." But Price shows equal depth and cunning in more celebratory moments. For example, the unabashed pop joy of "To Be Loved," the seductively slinky "How a Woman Loves a Man," and the loping, country-ish charmer "Sweet Ball and Chain."
Price surrounds himself with an impressive cast of local talent, including the Grift's Clint Bierman (guitars, banjo, mandolin, keys and vocals) and Peter Day (bass, percussion), drummer Sean Preece and keyboardist Joe Deveau. The record also features a few notable cameos, including by drummer Russ Lawton and a number of nice vocal turns from Will Evans, Brian Chartrand and rising local songwriter Jer Coons. Still, Moonlight Breaks is Rich Price's show. And for fans of smartly conceived and professionally executed pop, it is more than worth the price of admission.
Moonlight Breaks by Rich Price is available at richpricemusic.com.