sam Simon
Sadie Simon
As a cook at the Burlington Children's Space, it's my job to make healthy and tasty meals on a tight budget. I do the same for my family of five. So it's no surprise that one of my go-to BCS lunches evolved into one of our favorite dinners at home: rice and beans with roasted vegetables. It's a great way to clean out the vegetable drawer and use up any onions or garlic hanging around. The dish is also quick and easy to prepare.
Try my basic recipe on its own, or jazz it up with simple soft tacos. Either way, it makes for a delicious, hearty meal that won't break the bank.
Basic Rice and Beans
Brown rice is the healthiest variety, but I sometimes use a fragrant white rice such as basmati or jasmine. I use canned beans because they're inexpensive and quick to prepare. If you have the time and motivation, you can soak your own.
Ingredients:
3 cups uncooked rice
2 15-oz cans of black beans, rinsed
2 tablespoon butter or olive oil
2 cloves garlic, finely minced
1/2 yellow onion, finely minced
1 teaspoon salt
1 teaspoon pepper
1 1/2 teaspoon cumin
1 teaspoon chili powder
1/2 cup water
6 cups assorted seasonal vegetables (my favorite combinations: broccoli and cauliflower, sweet potatoes and butternut squash, brussels sprouts and red potatoes, or corn and red peppers.)
Optional garnishes:
1-2 tablespoon cilantro leaves
1 cup grated cheddar cheese
salsa
Directions:
Cook rice according to package directions.
While rice is cooking, melt butter or heat olive oil in a shallow saucepan. Add the garlic and onions and cook for 4-5 minutes over medium heat, until the onion is translucent and very fragrant. Add the spices and stir. Add the drained beans and stir to incorporate.
Add the water, reduce heat to low and let simmer for about 10 minutes, until everything starts to come together.
When the rice is ready, you have two choices: Leave the rice and beans separate and let folks serve themselves some of each, or mix them together.
For the roasted vegetables:
Preheat the oven to 400 degrees.
Cut the veggies into uniform pieces so they'll all cook at roughly the same rate. Then toss them in a large mixing bowl with a few teaspoons of olive oil, and salt and pepper.
Spread the vegetables on a rimmed baking sheet and roast for about 20 minutes, rotating halfway through. Bigger, tougher veggies may take a few minutes more, while softer stuff such as peppers and corn only need about 10 minutes.
Pro tip:
I recommend scattering thinly sliced onions or shallots around your veggies before roasting. At my house, this is a magic trick that turns plain, old veggies into something special. If you were to ask my kids, they would probably say they don't like onions. They don't realize they find their way into just about everything I cook.
Soft Tacos with Fresh Salsa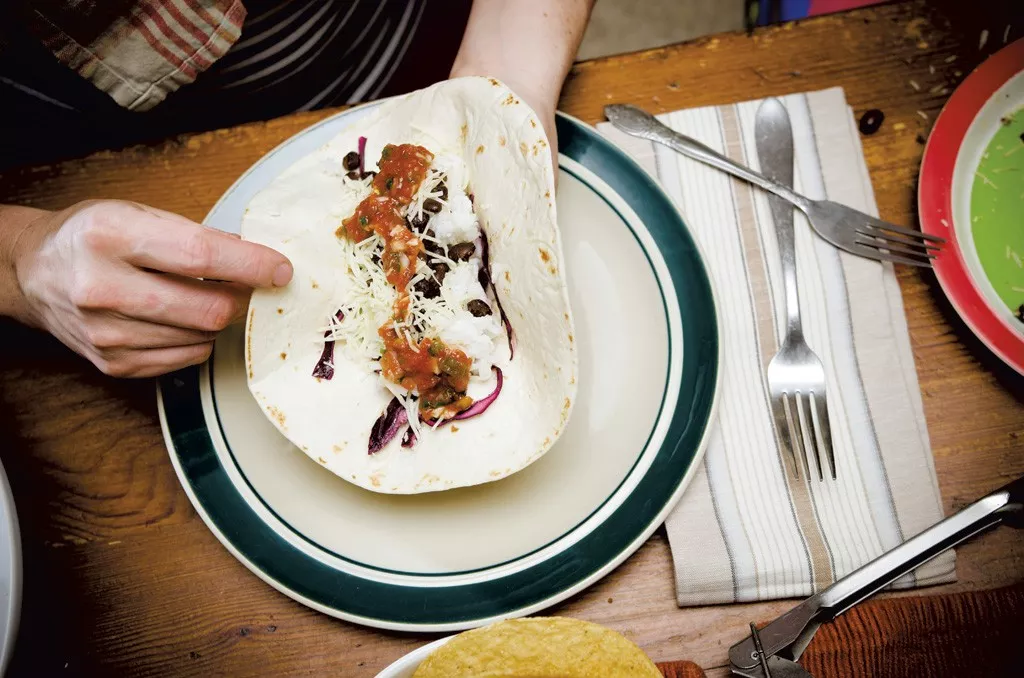 Ingredients:
3 medium tomatoes, seeded and chopped
4 scallions, sliced
1/2 small yellow onion, roughly chopped
3 garlic cloves
1 tablespoon cilantro leaves, stems removed
salt and pepper to taste
1 teaspoon cumin
juice of one lime
2 bell peppers, seeded and sliced
2 packs of small corn tortillas
1 lb cheddar cheese, grated
2 ripe avocados, sliced
Directions:
Combine the tomatoes, scallions, onion, garlic, cilantro, salt, pepper, cumin and lime juice in a food processor or blender and pulse a few times. Don't blend too much; this salsa should be chunky.
Cook the bell peppers in a dry skillet over medium heat until they start to char. Let them heat through but don't overcook them; you want a little crunch.
Warm the tortillas in a 250-degree oven for about five minutes.
Bring the salsa, peppers, tortillas, cheese and avocado — and the prepared rice and beans — to the table and let everyone assemble their own tacos. Feel free to add chicken, beef, pork, fish, tofu or another protein.
---
Making Great Meals on a Modest Budget
Always have onion and garlic on hand. Adding some to the pan will elevate the flavor of the dish, no matter how simple.
Plan ahead. While you're relaxing with your cup of coffee on Saturday morning, make a plan to roast a chicken on Sunday and make chicken chili with the leftovers on Monday. It's hard to think like this when you're dashing through the store after work. And buying ingredients for one meal at a time usually means spending more money.
Make friends with soup and salad. In winter, soups are a great way to make the most out of seasonal ingredients. I like making a double batch of roasted veggies on a weeknight and turning half of them into a hearty vegetable soup with potatoes the next night. In summer, pile just about anything — cheese cubes, chickpeas, grilled or marinated veggies, tofu, grilled meats, nuts and seeds — on a bed of seasonal greens. Serve alongside whole-grain bread and butter for a meal that's healthy, budget-friendly and endlessly adaptable.