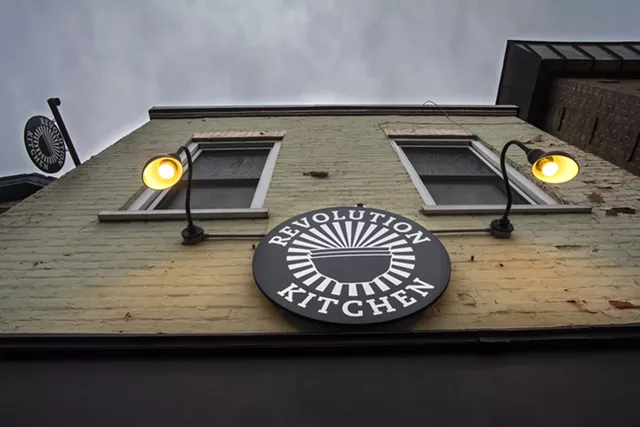 File: Glenn Russell
Revolution Kitchen in Burlington
Updated November 28, 3 p.m.

Burlington's vegetarian restaurant baton has been passed. On Thanksgiving eve, chefs and co-owners Debra and Peter Maisel sold
Revolution Kitchen
at 9 Center Street to the mother-daughter team of Karen and Madison Barchowski. The family is relocating to Vermont from Flagler Beach, Fla., where they owned beachside mainstay Sally's Ice Cream for a decade.
The Maisels opened Revolution Kitchen, the city's only table-service eatery with an exclusively vegetarian and vegan menu, in the summer of 2013. They put the 49-seat restaurant on the market in April 2022 for $195,000. Debra Maisel declined to share the final sale price.
An experienced chef, Karen opened her first restaurant, Zen Den, in New Jersey in 2002. Madison grew up in restaurants and was general manager of Sally's Ice Cream, her mother said.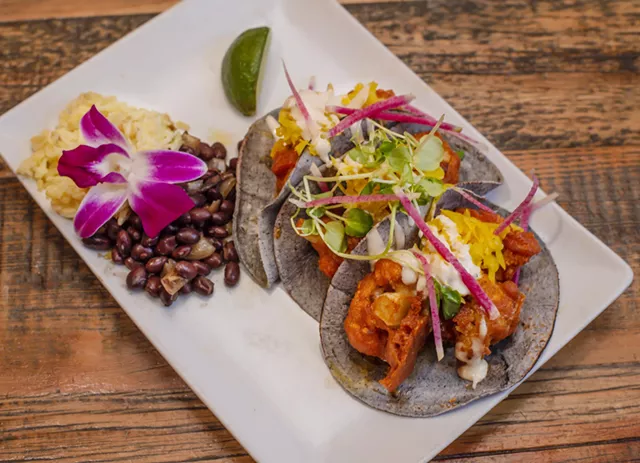 File: Glenn Russell
Buffalo cauliflower tacos with turmeric slaw and blue cheese crema at Revolution Kitchen
After handing that business over to new owners on November 1, the Barchowskis had no immediate plans to buy a restaurant, but they started casually looking at listings in the Burlington area.
"The name caught me first," Karen said. Revolution, she said, is "in our DNA."
The purchase timing was not ideal, Karen said, because of the baby soon to join the family. But she and Madison decided the opportunity to buy Revolution Kitchen "was too good to pass up," she said. It was a great match in style and size, she continued. The downtown location and the connection she felt with the Maisels sealed the deal.
The Barchowskis will move to a small farm they've purchased in Vermont, Karen said. During her New Jersey childhood, she spent vacations in New England. "It felt like home," she said. "It just fit us the best."
Debra said that, after 36 years of working together at six different restaurants, she and her husband were ready for a change. "We are so grateful for the support of the community and will miss our customers," she said.
But, she added, "We're 62 and 66, and you start thinking about what's left in your life to do. Restaurants hold you back from traveling, from seeing family. We needed to do other things."
Debra plans to open a small retail and wholesale baking business when she finds an appropriate space. "I want to pursue what I love, and that is baking," she said. Her husband will not be involved in that operation. "We want to be a married couple, not business partners," Debra said.
She noted that the Maisels are very pleased to have found experienced industry professionals to carry Revolution Kitchen forward. "Just because Peter and I are leaving, it doesn't mean the restaurant is leaving," she said.
Karen said she and her daughter have no major changes planned for Revolution Kitchen. "I will honor what they did," she said.
But, she added, "We'll gradually put our own spin on it. There will be a little bit of an evolution with the revolution."