When an opera begins with a logger cursing the cold in a French Canadian accent and a chorus of small-town folks singing about "waiting out the winter," it must be set in Vermont. Sure enough, A Fleeting Animal: An Opera From Judevine takes place in a town based on Wolcott. Debuted in 2000, the work has been revived for six upcoming performances in Barre, Colchester, Hardwick, Woodstock, Vergennes and Randolph. Even if Vermont audiences aren't familiar with opera, they'll immediately recognize the characters, their attitudes and their struggles in this powerfully realistic work.
Last week, the 16-member cast was rehearsing Act 1 of the two-act opera, off-book for the first time, at the Monteverdi Music School in Montpelier. Composer Erik Nielsen of Brookfield looked in; Wolcott writer David Budbill, who wrote the poem collection called Judevine (1991) from which he derived the libretto, couldn't make it. The small room barely fit the cast, along with stage director Margo Whitcomb, artistic director Anne Decker (whose TURNmusic chamber group will provide the small orchestra) and a grand piano. The mood was jocular. Lead tenor Adam Hall clowned around with his prop, a fake hunting rifle. When lead soprano Mary Bonhag shouted, "Fuck Vermont!" at the end of her opening aria, the cast cheered.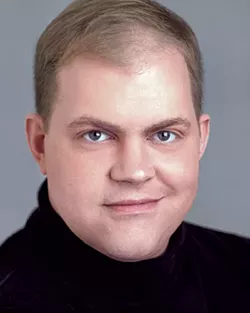 The antics had little to do with the tragedy A Fleeting Animal portrays. The opera takes place in Judevine, a rural outpost of trailer parks, underemployment and long, numbing winters. There, Tommy (Hall), a troubled veteran recently returned from Vietnam, meets Grace (Bonhag), a worn-out but fiery single mother. The two gradually fall in love, but Tommy can't help reenacting painful wartime moments. As the town gossip, Edith (soprano Sarah Cullins), puts it, "Vietnam did something to that boy's inside brain."
Since Vermont Opera Theater in Montpelier first commissioned Fleeting, its subject matter has acquired a name — PTSD — and the suicide rate among vets has risen. So, over the past year, Nielsen and crew have worked at more than reviving an opera — itself an enormous undertaking. They've also used other media to link the work to ongoing discussions in which veterans have a voice.
Two art shows, both titled "Fleeting Moments: Why We Go On," containing submissions by veterans and other works, have been mounted at Chandler Center for the arts' Downstairs Gallery in Randolph and in the Barre Opera House lobby. Vets are invited to see the performance and participate in talk-back sessions afterward. Middlesex filmmaker Susan Bettmann is creating a documentary about the entire process. She plans to make A Fleeting Animal: The Film available through the public library system in 2016.
"We wanted this to be something where the opera was part of a community conversation starter," Nielsen explained.
Not all vets will want to — or should — come to the opera, acknowledged Nielsen's partner, Jackie Smith, a former caseworker with Sen. Patrick Leahy's office who helped facilitate the veteran center partnerships. "A lot of my casework was with vets who had PTSD. Things can trigger them," she said. But, added Smith's liaison at the VA Medical Center, Rev. Mary Lewis Webb, for some the opera can be "cathartic and helpful, a way to think about the issues."
To make it easier for veterans and their families to attend, Smith has garnered sponsors to subsidize more than 100 $5 tickets. Counselors will be present during the talk-backs, which will be facilitated by a mediator and vet-center representatives.
To those who might shy away from Fleeting just because it's an opera, Nielsen advised, "Follow the story." Chorus members help tell it by singing the characters' backstories, as if gossiping with the audience. Still, some viewers may be disoriented by the disjunction between the soloists' opera training and Fleeting's colloquial English. The logger, Antoine (baritone Geoffrey Penar), sings with French Canadian inflections. So a quick read-through of the libretto is recommended; copies will be sold at every performance.
One can also follow the music. Nielsen's inventive score moves easily between styles, from the blues to atonality to soaring lyricism. A snare drum sneaks into a quartet sung by Grace, Tommy and his two African American vet buddies.
For Budbill, who also wrote a play based on Judevine, "The music intensifies the emotion of everything," he said in a later phone call.
Budbill, who was a conscientious objector during the war, based Tommy on a Vietnam vet from Vermont who died by suicide, whom he read about in the Times Argus in the late 1970s. With the state's larger population of returned Iraq and Afghanistan vets, the opera is "more relevant than ever," Budbill said. "It's ironic, isn't it?"