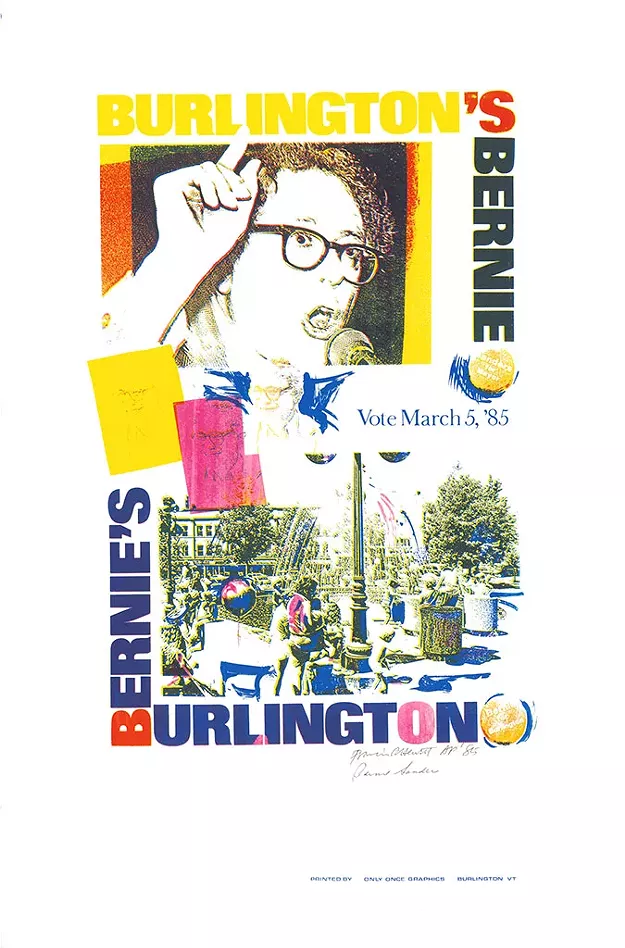 Frank Hewitt
'Bernie = Burlington' - When Sanders ran a third time for Burlington's top job, Hewitt's poster featured a classic image of the mayor with a mic, hand raised to make a point. Sanders won reelection with 56 percent of the vote, again in a three-way contest.
Frank Hewitt
'Grand slam' - For Sanders' fourth and final term as mayor, Hewitt chose a different theme for his poster: baseball. The poster suggested that the mayor could hit a "grand slam" of accomplishments if voters returned him to office. It also reminded voters that Sanders' dogged pursuit of a professional minor-league baseball team paid off. The Double-A team, initially dubbed Vermont Reds, began playing in the city in 1984. Sanders garnered 55 percent of the vote against a Democratic challenger.
Frank Hewitt
'A new audience' - Hewitt kept it simple when he created the 1990 poster for Sanders' second attempt to win the state's sole seat in the U.S. House of Representatives. Just the candidate's name appeared — first, of course — followed by a map of Vermont and a declaration of his independence. After six unsuccessful runs for various statewide offices, Sanders secured the Congressional seat in a four-way race, with 56 percent of the vote.