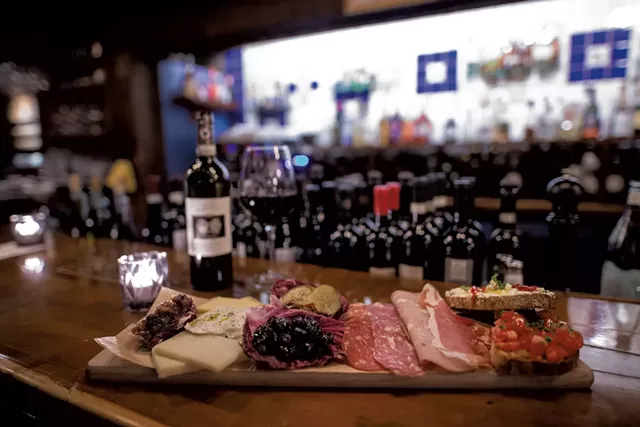 Luke Awtry
Antipasto board
If I were a server at Trattoria Delia, I would be able to recite the details of every item in the bountiful antipasto misto. Mastering that information is part of the rigorous staff training that includes multipage food, wine and service tests and has long made the Italian restaurant on St. Paul Street a standout for service within the Burlington dining scene.
But I am just a customer, so I could simply focus on enjoying every bite of the colorfully loaded wooden board that filled up our table on a January evening.
The three of us nibbled our way happily through a rosy array of thinly sliced cured meats (prosciutto di Parma, mortadella, both sweet and spicy soppressata); tangy goat cheese bruschetta dressed with Calabrese chiles and drizzled with honey; and housemade eggplant caponata that struck the right sweet-sour balance.
There was also a jammy red onion marmellata to pair with three distinctly different and delicious cheeses: a young pecorino Toscano, chunks of a buttery Jersey Girl tomme from Woodcock Farm in Weston, and pillow-soft fresh mozzarella made at Pizzeria Verità next door.
But the connection between the two restaurants goes beyond mozzarella.
In the spring of 2017, the pizzeria's owners, Leslie McCrorey Wells and her business partner, John Rao, bought the venerable Trattoria Delia and its younger sibling, the neighboring Sotto Enoteca, from founders Tom and Lori Delia. Wells, Rao and Tom Delia had known each other a long time, since all three worked together at Sirloin Saloon on Shelburne Road before the Delias opened their own place in 1993.
At the time of the sale, Trattoria Delia was approaching its quarter-century anniversary. And, Wells told Seven Days, "We're not buying this wonderful, authentic restaurant to change it ... We're really buying all the work and the effort and the time and love and passion [the Delias] put into this great institution."
Almost three years later, my goal was to revisit the downtown mainstay. The city's restaurant landscape has greatly expanded since the early 1990s, as have the culinary horizons of many Americans. I wondered, how have the new owners navigated the transition, and how does Trattoria Delia hold up?
Somewhat to my surprise, I realized that it had been a few years since I'd last eaten there. I had been more likely to head — often with a small group — to the more casual Sotto Enoteca for an impromptu meal of menu items that both venues share, such as the beef carpaccio or crispy duck confit with a salad and glass of wine.
Also, several Burlington-area restaurants now make their own fresh pasta; "the Tratt" was no longer the only place where I could get my fix.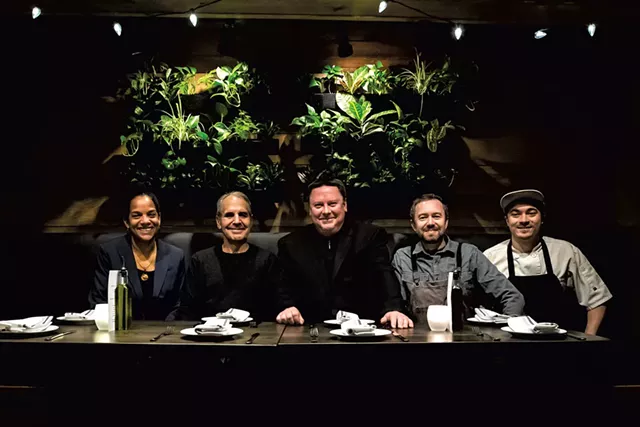 Luke Awtry
From left: Leslie McCrorey Wells, John Rao, Jeremy Venditto, Tim Peters and Jamie MacLeish
Frankly, the restaurant had fallen off my radar — and I was not alone. When I mentioned it to a friend, she said, "Oh, I love that place, but I haven't been in years."
Over the course of three recent meals, I found that Trattoria Delia still delivers some of the best service in town, along with satisfying, rustic handmade pastas and classic meat and seafood dishes. It's also a great place to drink wine. I know that I can get a thoughtful recommendation for an interesting $10 glass — or drop $329 on a rare Amarone.
During my solo meal at the bar, general manager Jeremy Venditto, who runs the wine program, recommended a white made from a lesser-known ancient grape called fiano minutolo, grown in Puglia. It was like sipping the aroma of sweet-tart apricots with a whisper of ocean breeze.
The restaurant also has a temptingly sophisticated and creative cocktail list, which owes something to its younger siblings, Sotto Enoteca and Pizzeria Verità. (I was interested to learn that Trattoria Delia has had a full bar for only the last five years.)
I will not wait so long to return to Trattoria Delia for a number of reasons. These include the aforementioned antipasto misto ($21) and an appetizer I remembered from long ago of wood-grilled smoked mozzarella and summer vegetables ($14). (That is currently on the Sotto Enoteca menu and, since the two restaurants share a kitchen, they can accommodate cross-menu ordering if it's not too busy.)
I have a soft spot for the housemade pastas, especially the all'amatriciana ($22). It's made with thick spaghetti in a soul-warming tomato sauce enriched with cured and caramelized guanciale and pecorino. The classic ragù of slow-simmered veal, beef and pork Bolognese crowns perfect ribbons of eggy tagliatelle ($22).
One evening's special combined twisted tubes of dry pasta (not housemade) with a rich ragù bianco that started with the same meat and aromatics base as the Bolognese but replaced tomato with cream and porcini ($24).
Eating at the bar, I ordered the fried calamari ($15) from the piccolo piatti (small plates) as my main. It was crisp and light, with abundant tentacles among the rings. I didn't have to share but there was plenty to do so. I decided to pay an extra dollar to try both dipping sauces: the house pomodoro with basil and an apricot agrodolce. But I preferred the squid plain with a good squirt of lemon. The agrodolce was reminiscent of the packets of sweet-and-sour sauce from some Chinese American takeout places; I feel sure the kitchen can do better.
When I tore myself away from pasta, a caveman-friendly grilled bone-in veal chop ($36) with sage salsa and arugula salad tossed with warm baby potatoes hit all the carnivore buttons. Venturing into the seafood mains, acqua pazza ($28) delivered a medley of mollusks, prawns and fish in a spicy tomato broth with grilled bread to sop it all up.
The silken panna cotta ($9), anointed with saba and burnt honey in its current incarnation, maintains a solid ranking on my list of favorite comfort food desserts.
On the disappointing end of the spectrum was an unfortunate appetizer of slimy, chewy and underdone baby octopus ($14) strewn over what looked like a tire skid mark of cuttlefish ink. (The chef has since changed the octopus dish to a different execution.) I can recommend the whole caramelized pear and generous wedge of Vermont blue cheese in the insalata di pera (pear salad) with almonds and dried tart cherries ($14) as a lovely cheese course, but the smattering of arugula did not justify the word "salad."
Overall, Trattoria Delia offers well-executed food that more than satisfies but does not necessarily excite. It's like the hug of an old friend with whom you don't talk often but who is there when you need a warm, familiar embrace. And sometimes that's exactly what we want when we go out to eat.
Taking over a beloved institution is not without risk. The vision and passion of founders can be hard to replicate. Valued regulars are often deeply attached to the way things have been done, yet times and tastes shift.
"A lot of things have changed since the restaurant started," Wells said last week. "It's a deeply traditional restaurant in a lot of ways."
We were sitting at one of the new wood-topped tables in the Trattoria Delia dining room. The latest in a series of small, incremental décor changes has been the removal of tablecloths. The restaurant also has new interior walls with decorative alcoves. A living wall of plants anchors the dining room's far end and brings some green into the dark, grotto-like space. Upholstered banquettes replaced the old church pews that bordered the room, and the carpet is new. It's all a little fresher but not radically different.
Joining our conversation were Venditto, the general manager, who has worked at Trattoria for 15 years, and executive chef Tim Peters, whom the Delias hired five years ago. The trio acknowledged the tension between retaining the restaurant's longtime appeal and the need to stay "relevant to how people eat," as Venditto put it. "The way people eat today is lighter, less, and more shared plates," Wells elaborated. Smiling at her colleagues, she said there have been "a lot of conversations, a lot of fights."
Luke Awtry
Pasta all'amatriciana
One concession the team offers is old favorites on request (dishes that are not on the menu), such as scallops with tagliatelle and porcini with cream, or gnocchi with a truffled sausage cream sauce. "If we have the ingredients, we will make it," said Wells, noting that "all that tradition is especially important" to Rao.
At the same time, Peters has been lightening the menu: adding more small plates and, especially in summer, offering dishes that are less rich, such as halibut with cannellini beans, roasted shishito peppers, kale and a delicate lemon cream sauce.
While trattorias in Italy are not high-end dining destinations, Burlington's Delia has a reputation as a special-occasion and business-dinner destination. Even for a last-minute dinner with your partner or a friend, it feels like somewhere you need a reservation.
The owners are aware of this image and are working to shift it. They now hold a few tables open every night and have stopped reserving bar seats, even at the risk of disappointing regulars. I observed several walk-ins get tables — though that is not a safe bet during the two-hour window before any show at the Flynn Center for the Performing Arts around the corner.
The Trattoria Delia team is also hoping to draw a younger crowd and "bring some of the feel of Sotto," Wells said. This summer will be the first time that the group's restaurants will have outdoor seating on the redesigned St. Paul Street, which should help.
For Trattoria Delia, especially, to emerge from the cozy, dimly lit dining room into the sunlight will be another new phase.