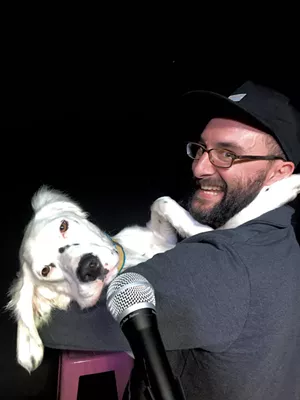 Dan Bolles
Anthony Apodaca and his dog, Seamus
Tucked into a small suite in Burlington's South End Arts District, Revelry Theater has something of a living-room vibe. From her front-row seat prior to last weekend's Saturday Night Showdown improv comedy show, Burlington's Kerri-Ann Jennings took particular note of that ambience.
"That's our living room rug," she said, pointing to the stage floor of the newly opened black box theater. An electronic keyboard in a corner of the stage also used to reside in her home. "Every time I come here, I find more things from our living room," Jennings said.
Her husband, Anthony Apodaca, 37, opened Revelry Theater on September 15. He painted the walls black, installed curtains along the back stage wall and put in some stage lighting, but certain aspects of the space remain a work in progress.
"We're still fine-tuning some stuff," said a grinning Apodaca a couple of days before the Saturday show.
One thing that won't need fine-tuning is the theater's intentionally intimate setting.
Revelry seats about 35 patrons comfortably. Well, perhaps 27 of those seats are comfortable. The eight in front are practically on the floor-level "stage," essentially erasing the invisible barrier between performer and audience in the 500-square-foot space. Sitting up front at a Revelry show can feel as though the comedians are performing in your lap. And that's part of the fun.
"The stage here exists for the performers, not the audience," said Apodaca. He paused, then added, "Well, and the audience. But in that order: performers, audience."
"That's exactly what we as performers want," said Eric Wright of Revelry's intimate setup. Wright is a member of the local improv team Boom City, which performed at the Saturday Night Showdown. "We want people to sit close to us. And if there are only four rows, there's nowhere for the audience to hide."
Apodaca envisions his black box theater as an opportunity for local comedians to log more stage time. He also sees the venue as an addition to the area's existing entry points into comedy, including sketch, standup and improv.
"I want this space to be primarily about learning and training, and the stage is just an extension of that," he said.
In June 2017, Apodaca, who works for a Munich-based software company, moved to Burlington from Seattle with Jennings, a Vermont native, to be closer to her family. He's been involved in improv and sketch as a performer, writer and teacher since 2010, including lengthy stints with the Magnet Theater and Annoyance Theatre & Bar, two improv theaters in New York City. Most recently, Apodaca was a member of CSz Seattle, where he played in ComedySportz, a show he describes as "if 'Whose Line Is It Anyway?' was a sport." The Saturday Night Showdown at Revelry is modeled after that show.
When he arrived in Burlington, Apodaca performed occasionally at Vermont Comedy Club. Touring standups fill most weekend slots there, so Apodaca soon began producing his own weekend improv shows at the Off Center for the Dramatic Arts in the city's Old North End. But neither venue quite suited what he was looking to do.
"The Vermont Comedy Club does a great job supporting the improv community," said Apodaca. "But I think a lot of people don't want to put on a show where the capacity is 150 people," he continued, referring to VCC's larger size. "Maybe you want to do a show where the capacity is 20 people and you can get 15 of your friends to come and do a show."
The smaller Off Center is good for that, but Apodaca quickly realized that producing shows with regularity in that space meant working around the schedules of other performing groups and productions that might book the venue for as long as a month.
"There doesn't exist in Burlington, except for this space now, a place where you can do a consistent show on a Friday or Saturday," he explained. "You can do that on a week night, but not on a weekend. And that's a hard way to build the brand of a show."
His solution: Open a new space, and then outsource as much of the programming as possible.
In an announcement/manifesto he published on September 15 on Medium.com, Apodaca wrote that he views his role at Revelry Theater primarily as a "facilitator and to provide guidance." He added that, "aside from a few classes and shows that I want to teach/produce, and a general spirit of creative collaboration I want to promote, I sincerely hope that the vast majority of the events that take place are driven by the community and not by me ... Really, this is your space."
He's relying on other local comedians to supplement his own efforts to populate the performance and class schedules. Upcoming shows include the Apodaca-produced Flask Improv Night and Jeremy Rayburn's variety show Junk Island, both on Friday, September 28. A storytelling comedy night called Butterfly happens on Saturday, September 29. And a standup showcase called Sweater Weather, hosted by comics Emily Kueppers and Jenna Perrapato, runs the first and third Friday of every month. Classes include Rayburn's Introduction to Sketch Writing and Introduction to Musical Improv, taught by Mike Paternoster.
Apodaca stressed that producers won't have to rent his room. Revelry will take the money from the first 20 seats sold. Any income from the remaining 15 seats goes to the producer.
Most of all, Apodaca hopes people simply view Revelry Theater as a place to have fun.
"People are so serious about comedy, for some reason," he said. "It's not that big a deal. It's dumb. Improv is silly and dumb."