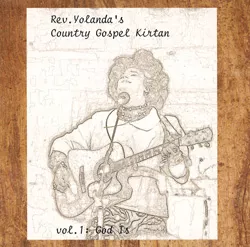 (Mighty Companions Ministries Productions, CD, digital download)
On his latest release, Rev. Yolanda's Country Gospel Kirtan Vol. 1: God Is, former Vermont drag queen and current NYC resident Rev. Roger Anthony Yolanda Mapes finds religion — though it is unlikely to resemble what most of us think of when we consider the church. The album is based on the teachings of A Course in Miracles, a nondenominational spiritual guidebook developed in the 1970s. While it has roots in Christian principles, ACIM is more a philosophy than a religion. Appropriately, the gospel according to Yolanda is less one of fire and brimstone than of love, acceptance and affirmation that proves, yes, indeedy, the Lord works in mysterious ways.
Mapes' sermon opens on the bluesy gospel ballad, "Love and Light." Over tinny electric piano and drums, he puts forth what will serve as the fundamental tenet of God Is: God is love. (And light.) It is affirmation — or indoctrination — by repetition. And while not exactly a revelation, his impassioned, overtly stylized baritone is believable enough to suggest he's doing more than preaching to the choir.
Mapes brings it down on the next few tracks, including "Love Divine" and "Sweet Sweet Spirit," the latter of which begins with a swirl of chimes and features a duet with fellow ACIM minister Rev. Chanda Rule.
The middle of the album finds Mapes mulling more abstract philosophical notions. Cuts such as the worldly, beat-centric "Free Your Mind," the sitar-laden "You are an Idea," and the pedal-steel-laced twang of "We Are Angels" are rooted less in blind religious faith than the discovery of inner peace through self-love. The gist, as laid out in the album's final, genre-mashing act, seems to be that God isn't some all-knowing greater entity but rather an internal conviction. Find yourself, and you'll find God.
On his 2010 debut album as Roger Anthony Yolanda Mapes, House of Joy, Mapes celebrated the intertwining of his previously separate personae: the drag queen, Yolanda, and the gay man, Roger Mapes. After years of duality, it was a declaration of a unified identity. On God Is, Mapes takes that notion a step further to include his faith. It is a queer sort of holy trinity — pun partially intended — but one that speaks to the questions of identity each of us faces, regardless of gender, religion, ethnicity or sexuality. Amen.
Rev. Yolanda's Country Gospel Kirtan Vol. 1: God Is is available at yolanda.net. Mapes performs at the Winter Is a Drag Ball at the Higher Ground Ballroom in South Burlington this Saturday, February 16.