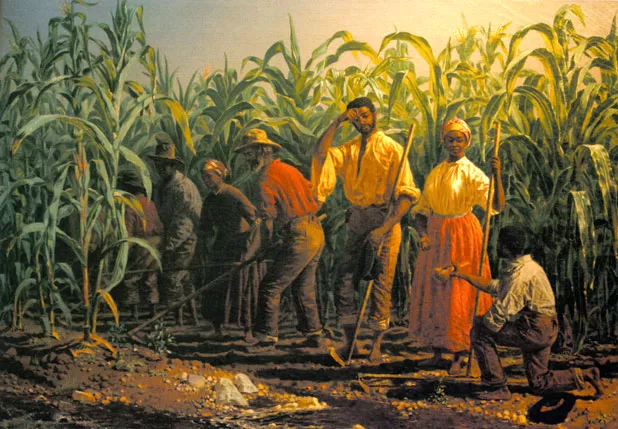 When Montpelier's native son Thomas Waterman Wood (1823-1903) was born, the rapidly growing village had been Vermont's state capital for only 18 years. Wood went on to become a successful portrait and genre painter in New York City, yet his ties to Vermont remained strong throughout his life. "Montpelier's Treasures: The Legacy of Thomas Waterman Wood," now on view at the gallery that bears his name, offers a fascinating look at the inner workings of Wood's art. The 105-piece exhibition also includes a sampling of paintings by Wood's contemporaries, along with many works from the gallery's extensive WPA collection.
Wood was a very good painter who achieved great commercial success in his lifetime, after a late start. His early artistic endeavors were helped along by an itinerant portrait painter whose name is lost to history, and Wood began minimal formal studies only in his late twenties. But he became a meticulous master, and some of the most engaging works in the show are studies that later became the basis for finished paintings.
"Crossing the Ferry" (1878) is a horizontal 18-by-26-inch watercolor presenting a multi-ethnic array of figures sitting on a boat's bench as a boy approaches with a fiddle. An oil sketch of the bench — devoid of figures and dated 13 years before the watercolor — is also on view. An undated sketch titled "Man With a Newspaper" is the precursor to Wood's man with a newspaper in "Crossing the Ferry."
Wood didn't just make crossings on ferries. In an effort to educate his countrymen, he made many trips to Europe, where he assiduously copied masterpieces to bring back home. One of the most dramatic canvasses in the exhibition is a large, exacting copy of J.M.W. Turner's 35-by-44-inch "The Fighting Temeraire." Wood retold Turner's narrative of the glittering demise of the legendary British fighting vessel, which is shown being towed to the berth where it's destined to be dismantled. Wood's amazing eye for detail no doubt matched the original brushstroke for brushstroke.
Other examples of Wood's scholarship as a copyist include a delicately painted version of Josef Ribera's 17th-century "St. Bartholomew." Although such duplication may seem tantamount to forgery today, copies were crucial to fine-arts education in 19th-century America.
Vermont was a major conduit on the Underground Railroad, and Wood's legacy includes many humanistic portrayals of African-Americans as his fellow citizens — including those in bondage. In "Cornfield (Southern Cornfield)" from 1861, the year the Civil War broke out, Wood ennobles field hands by focusing on a strong couple in the center of the composition. While the 28-by-40-inch oil at first seems like a tame view of slavery, suitable for a Currier and Ives print, Wood added a figure that transforms the piece with an almost subliminal abolitionist iconography. The young boy at the right, passing a gourd of water to a man mopping his brow, kneels in a pose reminiscent of the famous antislavery image of a shackled slave who says, "Am I not a man and a brother?" Furthermore, the drinking gourd the man is receiving could refer to the encoded Underground Railroad spiritual "Follow the Drinking Gourd," which alluded to the Big Dipper's pointing to the North Star.
The Montpelier venue, at the newly formed Vermont College of the Arts, is also the state's repository of Depression-era WPA artworks. A selection of the most notable pieces — including paintings by Reginald Marsh and Frank Stella — is included in the current exhibition.
The T.W. Wood Gallery was founded in 1895, after the childless artist decided to donate a sizable collection of his works to his hometown. His civic-mindedness survives as a substantial gift that will enrich Wood's cherished Vermont for generations to come.