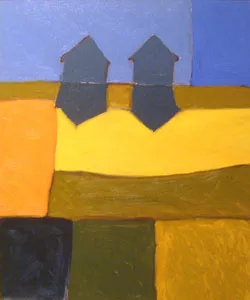 "San Gimignano #1," oil on canvas
Italy has inspired touring artists since the Renaissance, and Vermont painter Ray Brown is no exception: A new series of works, now on view in the Vermont Supreme Court lobby, is based on his travels in Tuscany. They're the main component of Brown's solo exhibition of recent canvasses.
Tuscany includes Florence, Pisa, Siena and dozens of other picturesque towns that Brown refers to in the titles of his paintings. The images are reduced to rectangles and squares of color. Brown uses large brushes to layer hue over blended hue, patching together exhilarating, abstracted landscapes. He's been using this streamlined approach since experiencing a stroke in 2007.
"I needed to change the way I painted for a way that enabled me to continue to enjoy the process," Brown writes. "For me, the process of applying paint is the thing that I enjoy the most. This way of reacting to the real world is a way to keep the process fresh and exciting for me."
Brown's paintings are surely fresh and exciting to most viewers, as well.
"San Gimignano #1" is a 20-by-30-inch oil referring to a hill town renowned for its medieval towers. An abstract rendition of one such tower, bearing one red and two brown clocks, stands teetering in the center of the composition. The tower stands against a rich, deep Phthalo-blue sky. Brown separates the blocks of color with lines of different weights. While the pieces are essentially geometric abstractions, they are soft edged and have an organic feel.
The internecine Italian conflict of Guelph versus Ghibelline, begun in the 12th century, is referenced in another group of Brown's towers. "Guelph Towers #2" has four structures protruding into a light green sky. In "Ghibelline Towers," a vertical composition with a higher horizon line, the towers loom in a brown-yellow sky. The blocks of the latter image are smaller and more tightly packed.
Other Italian-inspired pieces have more color. "Tuscany #2," which includes blue patches, is arranged like farms seen from the air. Brown's colors are closely calibrated, and the blues are slightly varied so that individual patches stand on their own. Nothing is rote in Brown's work; every brushstroke seems like a new discovery.
In addition to the Tuscan group, the exhibit features Vermont paintings with childlike house shapes nestled in the squares. "Vermont #6" is a 20-by-24-inch oil with two gray houses positioned along a top line of the piece. Below, their forms are repeated in a slightly darker value as shadows.
"Vermont #7" presents a lavender house within earth-toned geometric shapes. Nearly all the lines in the piece are slightly angled from the edges of the picture plane, making them seem like the swaying boards of an ancient barn.
Brown is co-owner of the Drawing Board art store in Montpelier, which is currently displaying a selection of his earlier watercolor landscapes. Though very nice and technically competent, these small watercolors lack the exquisite originality of his more recent body of work. Less is more in Brown's abstractions, and his use of color, invention of forms and paint application are arguably superior to his techniques in the more conventional, prestroke works. His nearly 40 new paintings in the Supreme Court Lobby are uniquely masterful and vibrant.