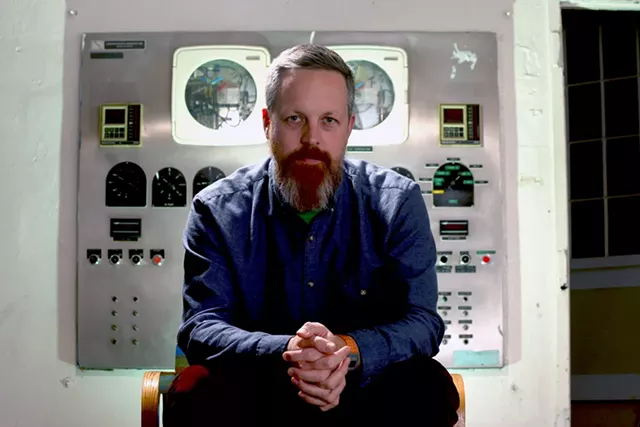 Matthew Thorsen
Greg Davis
Get ready to step out of your comfort zone, folks. Unless, of course, your comfort zone is inhabited by abstract, experimental musicians performing challenging works — in which case, stay put. Beginning this weekend and continuing over the next year, experimental electronic musician Greg Davis is curating Signals, a series of unique live performances hosted and sponsored by local digital audio effects company Soundtoys. Performances will take place approximately every other month from now through summer 2017 at Soundtoys' space in Burlington's Hood Plant.
Signals originated last fall at Champlain College, when Davis was selected to be the college's first sonic artist-in-residence. At the time, the name Signals was not used. But Davis' intention for the series remains the same: to bring interesting, unconventional musicians to a community space where attendees can engage personally with the artists and hear their work in an environment focused on the listening experience.
After several sessions across the 2015-16 school year, Davis decided to move the series elsewhere after running into minor creative differences with Champlain. According to Davis, the college expressed a desire to add other art forms, such as poetry readings, film and dance. Davis wanted to keep the series focused on sound and music, so he sought out alternative venues. Enter Soundtoys, the Burlington-based software company specializing in creative audio.
Soundtoys has been praised for its uncanny ability to simulate a host of vintage analog gear. Owner Ken Bogdanowicz was a fan of Davis' Champlain series and sought to preserve it. His company has a history of organizing similar events, including showcases at South by Southwest. It has also produced an online video series called "Process," in which artists such as Tycho and Trent Reznor explain how they used Soundtoys software to further their artistic visions.
Davis has a vast catalog of albums under his belt and has been organizing off-the-beaten-path concerts in Burlington since he first arrived on the scene in 2004. Noticing a lack of experimental local music, he filled the void by putting together shows at venues such as Radio Bean, the BCA Center and the Green Door Studio. While he feels that these concerts were successful, he notes that it was hard to build momentum, given the shows' sporadic schedules and shifting locations. Starting in 2010, Davis took time off, both from making music and organizing concerts, until he began his residency at Champlain.
Years of experience led Davis to a crystal-clear vision for Signals. First, he knew that the concerts needed to be part of an official series, occurring regularly in the same place. He also knew that the performances needed to be free. Davis notes that, in his experience, people are more likely to dive into the unknown if there isn't a financial investment.
He also wanted to highlight just one artist per performance, so as not to dilute the experience or force listeners to sit through multiple artists performing music to which they may not have the most positive reaction.
"Last year during the series, people were very engaged," he explains. "There was a spectrum, [from] people who were interested in this music and know a lot about it to people who have never heard anything like it before but were excited about it. And there were probably people who hated it, too, and that's fine. That's part of it."
Another key component held over from his run at Champlain is the question-and-answer period that follows each performance. This is meant to be informative but also to break down the barrier between the audience and performers who may be seen as mysterious or unapproachable because of the kind of music they make. The artists will primarily be performing avant-garde electronic music, though some may also incorporate other organic sounds. Many of the performers create music that involves psychoacoustic phenomena, which is defined by physiological and psychological responses to the transference of physical sound waves to neural pathways.
The performances diverge from the typical concert experience in other ways. They'll be more like recitals — seated and with no alcohol or other refreshments served. While attendees can certainly expect to be entertained, Davis feels that it's necessary to strip away some of the social aspects of live performance to put the focus solely on the music: "Music often gets tied in with lots of other aspects of life: drinking, entertainment, all that," he says.
In an effort to expand the audience for Signals, audio from each performance will be recorded, then archived and streamed online.
"When [I was] programming the series with Soundtoys, we had talked a lot about producing content and trying to think about ways that we can share it beyond Burlington," says Davis.
Courtesy of Anjali Mishra
Jean-Sébastien Truchy
The series begins this Saturday, October 29, with perhaps the most challenging artist currently slated to appear: Jean-Sébastien Truchy. The Montréal-based composer creates music that ranges from disquieting to full-blown terrifying — perfect for Halloween weekend. Truchy's music operates somewhat like a musical collage. The individual elements — modular synths, static zips and zaps, neoclassical piano, and Truchy's overdriven, nightmarish vocals — are strung together in a way that's disorienting and unfamiliar. Truchy just released a new album, the dizzying Transmission in an Expanse of Firelight, Hear Me! Visual artist Guillaume Vallée will accompany Truchy with specially designed visuals combining digital and analog projections.
Next up in the series: Norm Chambers, who currently lives in Seattle and records under a few different names, most notably Panabrite. However, in 2011, Chambers released an album, Science of the Sea, under the pseudonym Jürgen Müller. Creating an elaborate backstory, he painted himself as a salty marine biologist experimenting with electronic composition on a houseboat in the 1980s. As Panabrite, Chambers creates warm, layered synthscapes that often tread on New Age and cinematic territory. In fact, he composed the score for Graphic Means, a forthcoming documentary about pre-digital graphic design and layout. Chambers performs on Saturday, December 3.
The third installment of Signals features another Canadian artist, Vancouver's Sarah Davachi. A classically trained pianist, Davachi began branching out and experimenting with original composition in her late teens, often fighting her Western musical indoctrination. Her music is sometimes categorized as drone. On her latest release, Dominions, she takes a musical concept, such as a tone or a chord, and stretches it to near-infinite proportions. As the tracks build and variations are added, they reach tremulous peaks and climaxes. Davachi will perform in February 2017. The final three performances of the series will be scheduled soon.
Signals promises to be an engaging, educational and unfamiliar experience. If you go with an open mind, you'll likely leave with an enlightened one.