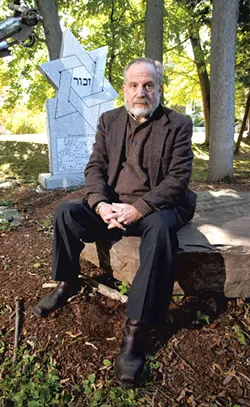 Matthew Thorsen
Rabbi Joshua Chason on the synagogue grounds
Night fell as the lonesome moan of a cello filled the sanctuary of Burlington's Ohavi Zedek Synagogue with the haunting refrain of "Kol Nidre." The ancient Aramaic prayer announced the eve of Yom Kippur or "Day of Atonement." The holiest day on the Jewish calendar, it's a time when observant Jews cease their normal activities to pray, fast and take stock of their lives in the preceding year.
On this solemn occasion, Jews are expected to perform a cheshbon hanefesh, or "accounting of souls," so God will seal their names in the Book of Life for another year. This particular Yom Kippur, members of Ohavi Zedek also had reason to reflect on the soul of their longtime spiritual leader: Rabbi Joshua Chasan, who's retiring this year after 25 years on the pulpit.
As the cello wailed, a few stragglers hurried into the packed sanctuary and quietly found seats in a diverse throng: a single woman with a crying infant, a senior pushing a walker, men and women in business attire, a college student in beads and sandals, a middle-aged man with a beard and ponytail.
Nearly all the men, and several of the women, wore yarmulkes, or skullcaps, and tallit, or Jewish prayer shawls. In Orthodox and other, more traditional synagogues, such religious garb is worn solely by men, who also run the service. Not so here. Standing beside Chasan on the bimah, or pulpit, was his assistant rabbi, Jan Salzman, who routinely chants the "Kol Nidre" and most of the Hebrew liturgy. Her spouse converted to Judaism from Roman Catholicism — as did Chasan's wife, Kathy Comstock Chasan.
More than a few of the worshippers seated before the pulpit were same-sex couples married by Chasan before it was acceptable for rabbis to do so. OZ is a Conservative synagogue, but that label refers not to its political leanings but to the branch of American Judaism with which it's affiliated. With a name that translates as "lovers of justice," Vermont's oldest and largest Jewish congregation embraces progressive values on gender and marriage equality.
At least, its leader certainly has. Over the years, 69-year-old Chasan has earned a reputation as an outspoken and committed political activist — for challenging not just his own flock of nearly 400 families but Vermonters of all creeds to confront issues of poverty, war, inequality and social justice. On occasion, that approach has put him at odds with more traditional members of his congregation. His stance on at least one contentious issue — performing interfaith marriages — nearly cost him his job.
Robert Resnik, a Burlington writer, musician, librarian and Vermont Public Radio host, likened the outgoing rabbi to another New York City émigré: Vermont independent senator and 2016 presidential candidate Bernie Sanders.
Matthew Thorsen
Rabbi Joshua Chason at home with his sculptures
"These are guys who've been singing the same tune for decades, and they're not changing their stance for political reasons," said Resnik, whose ancestors joined Ohavi Zedek back in the 1890s, when it was still an Orthodox shul. He said Chasan has sustained OZ's tradition of "working with people of different beliefs and making people recognize that humankind is one, regardless of what you believe."
Those "people of different beliefs" include Gary Kowalski, formerly minister of the First Unitarian Universalist Society of Burlington, who now has a ministry in Taos, N.M. Kowalski calls Chasan "one of the most effective religious leaders I have ever known" and "a powerhouse in the prophetic tradition."
Kowalski, who served with Chasan on the board of Vermont Interfaith Action, which Chasan cofounded, cites Chasan's work in founding the Vermont Kids4Peace camp, which each year brings together Jewish, Christian and Muslim youth. He also points to Chasan's deep commitment to women's rights.
"He was one of the few clergy colleagues I could consistently count on when Planned Parenthood was under attack," Kowalski said. "When the hate-mongering Westboro Baptist Church came to Burlington to spew venom against gays, Rabbi Chasan was the chief organizer who helped the city's faith leaders form an effective response."
While Chasan is rarely shy about wearing his politics on his sleeve, his willingness to court controversy is always tempered by a sense of his responsibility to his congregation. A vehement opponent of the U.S. military-industrial complex — and himself a draft resister — he nonetheless kept silent publicly on the U.S. invasion of Iraq, because it conflicted with a more pressing rabbinical duty.
Early in the war, Chasan explained, Marine Cpl. Mark Evnin of South Burlington was killed. Evnin was the grandson of Chasan's predecessor, Rabbi Max Wall, a beloved figure who led Ohavi Zedek for more than 40 years. Chasan didn't feel comfortable attacking the war with Evnin's mother as a member of his congregation, he said. As he put it, "I had a pastoral role to fulfill."
Talking the Talk
About 40 minutes into the Kol Nidre service, Chasan stepped up to the lectern and greeted his congregation in Hebrew and English, then began his sermon.
"It's good to be here together," he said. "It's good simply to be here" — a joke about his age. Chasan's beard has grown whiter, his hands occasionally shake and his voice doesn't project as strongly as it likely did when he first arrived in Burlington in 1991. Still, his message was as powerful as ever.
Throughout the 22-minute sermon, much of which was autobiographical, Chasan undertook what felt like a public soul searching. He began by describing his wandering exodus from New York City, which eventually led him to the Green Mountain State.
"Some say that those of us who have chosen to live here in northern Vermont have chosen to live in midbar, in a Jewish wilderness," he began. "Here, we escape the frenetic frenzy of the metropolis, the impersonality of life in big cities, where the passing by of a stranger in trouble is acceptable behavior."
As he continued, Chasan touched on many themes he's championed throughout his tenure: the rekindling of Jewish spirituality; the preaching of humility to resist the urge of "placing ourselves at the center of the universe"; and the necessity of "doing t'shuvah," or "'turning around' from the unkindness, hatred and violence which currently rule the world."
Chasan's words also emphasized what many of his congregants say is his greatest strength as a rabbi: providing solace in times of trouble.
"Here we find it easier to keep in mind the needs of our friends, fellow congregants and neighbors," he said. "Here we are drawn to prepare a meal for someone unable to cook, just out of the hospital, or simply weakened by age. Here we are encouraged to fulfill those greatest of commandments — doing deeds of loving kindness, providing hospitality, visiting the sick and the dying, and making peace between one person and another."
As always, Chasan also pushed the envelope. "We all know that God is not a bearded white man sitting on a cloud in the sky," he said. He referred to the Book of Life, a mainstay of Jewish High Holiday liturgy, as a metaphor and a "legend," albeit a useful fiction.
"We do not need to believe that such a book literally exists, or even, as our sages teach, that these particular 25 hours have a special power to nurture atonement between us and our creator," Chasan said of Yom Kippur. "After all, let's be realistic. For most of humanity, these are just another 25 hours — the beginning of the pope's visit," he added, provoking smiles with a reference to the biggest headline of the day.
Chasan's humility shone through, even when he spoke of his deeply personal relationship with God.
"I have tried to walk the walk about which, year after year, I have talked," he said. "Our sages understood creation to be an ongoing process that underscores that we are all works in process.
"Remember that," he added with a smile, "as you welcome your new rabbi."
Many in the room chuckled at the inside joke. Even after 25 years, some OZ old-timers still refer to Chasan as "the new rabbi" who could never replace his predecessor, Rabbi Wall.
Though the service was far from over when Chasan concluded his remarks, a smattering of people quietly ducked out. Evidently, it was Chasan's words they'd come to hear.
One would never have guessed from his performance that when he applied to rabbinical school in 1981, Chasan didn't know a word of Hebrew. Or that he considered social work, law, even veterinary medicine before the rabbinate. Or that some of his greatest spiritual teachers were Christians. For years, Chasan described Robert Lee, the reverend at Burlington's First Congregational Church, as "my pastor."
When Chasan finally embraced the Jewish faith — with a full-body hug — he did so without the support of his family.
'Red-Diaper Baby'
Chasan grew up in New York City's Stuyvesant Town, on Manhattan's East Side — a "red-diaper baby" whose parents, Evelyn and William, were members of the Lovestonite, or anti-Stalinist, branch of the American Communist Party.
Chasan's father was a dentist for the Veterans Administration. His mother was an educator at New York City's Seward Park High School. She was a small woman, he recalled, just 4-foot-11, who'd break up fights on the roof of the school among the neighborhood's Chinese, white and Puerto Rican gangs. "She was tough."
She was also "a strict materialist," Chasan added, who didn't believe in anything she couldn't perceive with her five senses, including God. Though Chasan's parents took their Jewish cultural roots seriously, neither was religious. In fact, Chasan had to plead with them to give him a bar mitzvah. "My parents held their noses," he recalled, but eventually acquiesced.
Were Chasan's parents disappointed that he became a rabbi? "More than disappointed," he said. "They were crushed."
Chasan's younger brother wasn't supportive, either. Jonathan Chasan, who went on to become a well-known prisoners' rights attorney — he successfully sued New York City to address overcrowding at Rikers Island — occasionally needled his elder brother about his faith, even after he was ordained.
"My brother once said to me, 'I don't know whether you're just a hustler and you really don't believe this stuff,'" Chasan recalled, "'or you really are crazy!'"
Chasan attended Hobart College, in Geneva, N.Y., graduated in 1966, and applied to grad school to avoid the draft. When he received an induction letter from the Army, Chasan refused and was indicted. Through a stroke of luck, the U.S. Supreme Court shortly thereafter threw out the indictments of thousands of men, including Chasan, who should have received student deferments.
By that time, Chasan was already in grad school at the University of Pittsburgh, working on his doctorate in American history. As he put it, "I was taught at an early age to finish what I start."
For his doctoral thesis, Chasan read the 19th-century sermons of the Rev. Ebenezer Cutler, who'd preached in St. Albans. It was those sermons, he said, that transformed his intellectual understanding of religion into a spiritual one: "Ebenezer Cutler taught me about concepts like redemption and forgiveness." Growing up in a nonobservant household, "I didn't know from such things," he added.
Chasan married his first wife, who wasn't Jewish, in a secular service in 1970. They lived in Worcester, Mass., through most of the 1970s, until Chasan was admitted to Yale Divinity School. During his interview there, the administrator asked Chasan if he planned to convert to Christianity, as most students in those days were destined for Christian ministries. His response: "That's not gonna happen." He attended for just one year before dropping out.
Chasan and his first wife had moved to New Haven so he could attend Yale, but after 10 years of marriage and a son, Cavan, he said, "We were coming apart." The couple divorced in 1980.
While still at Yale, Chasan landed a job as assistant director of Sage Advocate, an association of churches in downtown New Haven, Conn., that Chasan described as "the agency of last resort for unchurched elders."
When the organization's executive director resigned, Chasan stepped up, but some board members couldn't envision a Jew as their leader. The local Episcopal priest, Harry Smith, "shamed" them into hiring him. Such interdenominational cooperation planted a seed that, years later, bore fruit when Chasan helped found Vermont Interfaith Action.
Chasan found love at Sage, too. Kathy Comstock was a college senior when she came in looking for an internship. She and Chasan struck up a relationship while working in roach-infested apartments to assist seniors who were, as Chasan put it, "mentally off the grid." Comstock, who'd been raised a Catholic, converted to Judaism. The couple married in 1982.
That year, Chasan enrolled in the Jewish Theological Seminary of America in New York. Initially, he said, he attended rabbinical school simply to gain a better grounding for his work with older people, with no plans to become a pulpit rabbi.
But, after Chasan was ordained in 1987 and briefly preached with a congregation in Iowa, he and his wife decided he'd serve as a pulpit rabbi for no more than five years. He landed a job in Montclair, N.J., and when his two-year contract expired, he re-upped for another three. The OZ position opened in 1991, and Chasan leapt at the opportunity. He knew Burlington well, in part because his brother worked with prisoners across the lake in New York.
Big Shoes to Fill
What was OZ like when Chasan arrived? Just remembering it made him chuckle.
"Rabbi Wall ran a really tight ship," he said.
Indeed. Wall was a larger-than-life figure not just in Vermont but in American Jewry. During World War II, he rode with General George Patton into the Battle of the Bulge and helped liberate the Nazi death camps. After the war, many Jews wrote to him to learn the fate of their European relatives.
Among other things, Chasan said, Wall is credited with leading Burlington's Jewish community out of its self-imposed ghetto in the Old North End to its current home on the hill on North Prospect Street. Wall even officiated at Gov. Richard Snelling's funeral when he died suddenly in office in 1991. When Wall himself died in 2009, the Burlington Free Press described him as "a state treasure."
"I can't tell you how many suits I got from him, before he died and after he died," Chasan recalled. They fit. The footwear, not so much. Chasan's shoe size is 8 and a half; Wall's was at least a 10. As many people reminded the younger rabbi, "I could never fill his shoes!"
Despite Wall's imposing presence, Chasan said he grew to love his Jewish mentor immensely.
"My father was not an in-your-face father. He was a very kind, decent man. And he was very quiet about his parental instruction," Chasan said. "Rabbi Wall gave me the opportunity to come up against a father who was in my face."
Chasan got good at confrontation himself. Even before civil unions appeared on the public's radar, he was an early proponent of same-sex unions, a position that didn't go over well with OZ's old guard.
"I managed to move the congregation toward acceptance of civil unions, first for partner benefits ... then marriage equity," he recalled. "We lost a few people, but it helped distill out who we are."
At the same time, Chasan's stance brought many lapsed Jews, and even some non-Jews, into the OZ fold.
Among them was Roz Grossman, who has now been an OZ congregant for 22 years. Raised Jewish in Valley Stream, N.Y., Grossman didn't practice her faith for years, she said, in part because of her sexual orientation. Today, however, she credits Chasan with rekindling her faith; he officiated her wedding last year to her longtime partner, Diana Carminati, herself a convert.
"Joshua leads with his heart," she said. "One of the reasons I felt comfortable coming back to the synagogue, which I had not done in my earlier adult life, was because of his welcoming and inclusiveness."
Yoram Samets, a longtime OZ member and founding partner at KSV marketing firm in Burlington, agreed. Chasan, he said, has done "an incredible job of building and continuing to grow this congregation. He is literally the rabbi of a very large Jewish tent. When you look at the other Jewish organizations in Vermont, no one has the growth of Ohavi Zedek. And that is, ultimately, because of what the rabbi brings to this community."
Does Chasan's outspokenness rub some congregants the wrong way?
"Oh, definitely. You can't be an activist without creating waves," Samets said. "Although Joshua is the rabbi of Ohavi Zedek, I would say he is actually the rabbi of the people of Vermont, regardless of their religion."
Chasan's next major battle within his congregation was over interfaith marriage.
"I didn't win that one," he admitted. In 2003, Chasan put out the word that he planned to officiate the interfaith marriage of a staff member. When he asked his board to OK the ceremony — off the synagogue's premises — he sparked an uproar.
"I got a call from a good friend who said, 'Not in my lifetime will it happen!'" Chasan remembered. "I called other people who were part of the opposition who said, 'It's going to split us apart.'"
Eventually, the OZ board met, and "by the grace of God, they didn't fire me." Chasan promised never to raise the issue again as OZ's rabbi. But even in defeat, he found a silver lining.
"What changed was, now we could talk about it," Chasan said. "To quote Joe Biden, 'That's a big deal.'"
On the Map
Chasan's Burlington home is a modest gray house due west of the synagogue. Inside, the den is cluttered with wood and metal sculptures. For years, people brought the rabbi roots, stumps and driftwood that washed up on beaches, all of which Chasan carves into abstract pieces. His second son, Ari, creates sculptures, too, in Portland, Maine, where the Chasans are moving. Their daughter Ze'Eva lives in Burlington.
There's no indication of the Chasans' impending relocation until you walk across the street to Joshua's box-littered office, on the first floor of the temple. To get there, you pass beneath a mural recently rediscovered in an apartment on Hyde Street — once a place of worship in Burlington's erstwhile Jewish neighborhood. The well-publicized restoration of Ben Zion Black's Lost Shul Mural "put 'Little Jerusalem' on the map," said Chasan.
Which of his creations is likely to leave the greatest mark on Ohavi Zedek? The Kids4Peace campaign he spearheaded? The full-page ads against basing F-35 fighter jets at Burlington International Airport that he organized? His almost-run for lieutenant governor? His role as a kochleffel — Yiddish for "pot stirrer," aka one who riles people up?
Many say Chasan will be best remembered for the quiet deeds most congregants never see.
Grossman, who considers Chasan "like an older brother," pointed to his efforts to keep the synagogue's kitchen kosher, and to ensure the presence of a nightly minyan — or quorum of 10 Jewish adults — for anyone wanting to say Kaddish, the Jewish prayer for the dead. "To get 10 Jews together every night," she noted, "is remarkable."
Temple president Jeff Potash, 61*, has been affiliated with the synagogue since his bris at 8 days old; Chasan officiated his wedding and the funerals of both his parents. Potash said he suspects many congregants are oblivious to all the work Chasan does in his off hours. He's grateful for the time Chasan spent with his mother when she was dying of cancer.
"My mother struggled with the notion of what Judaism is all about, especially over the term 'spirituality,'" he remembered. "But Josh, in a wonderful manner, explained to her that being spiritual was basically reaching out and caring and working with others."
After she died, Potash found his mother's diary. She'd spent much of her life working with people with mental disabilities, and some of her final words suggest that she'd taken Chasan's lesson to heart: "Maybe I am spiritual."
"I've always been indebted to Josh," Potash said, "for discovering things in us that we don't see in ourselves.
For his part, Chasan said it took him a long time — perhaps too long — to discover how his own spirituality touched those around him.
"I am very grateful for how much I've learned here about how loved I am as a human being," he said. "It's been a real blessing."
*Correction 10/16/2015: An earlier version of this story misstated the age of Jeff Potash as 51. He was actually 61 at the time of the interview .