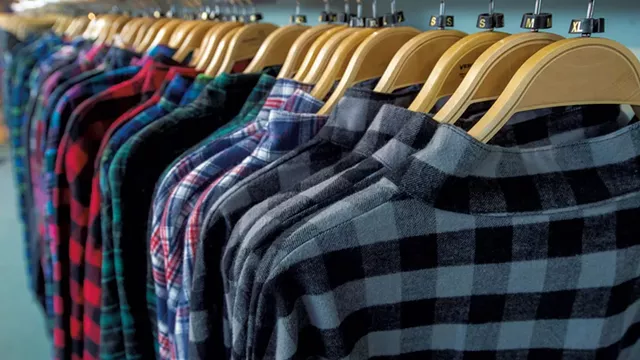 Mark Baker thought he had a million-dollar idea. It was 1991, and he was working in the T-shirt business, designing and screen-printing fun sayings and slogans. In the middle of the first Gulf War, he came up with a rock concert-style tee that read "Saddam Hussein Middle East Tour 1991" with a big stamp over it: "Canceled Due to Desert Storm."
The shirts sold like crazy in Vermont — 2,000 in a week. For the big T-shirt trade show later that year, Baker shelled out $15,000 for a double-size, red-white-and-blue booth and the airfare to get there. Then the war ended.
So Baker, who had already designed a flannel T-shirt, brought a whole flannel sportswear line to the trade show. Buyers were confused. "What is this? Pajamas?" he recalled them asking.
Some of them, though, took samples. A few placed orders. And a new business was born.
It took a while for Vermont Flannel to grow into Baker's million-dollar idea. The company now has five retail stores and about 40 employees. Baker and his wife, Linda, co-own the business.
"All it takes to be successful is working 90 hours a week for 30 years," he said with a laugh during an interview at Vermont Flannel's store in East Barre.
Baker's business card identifies him as the CIO — chief idea originator. He brings a sense of humor to his work of selling thick, super-soft clothing in classic plaid patterns, though he's switched from irreverent sayings to earnest marketing mottoes. For the 2020 holiday season, Baker came up with "Give Vermont Flannel Hugs." It's well suited to a nation craving consolation and calm during a pandemic.
"At this time of COVID," he said, "there's nothing more important than to feel comfortable, to be cozy when people have to work from home, for them to get a feeling of cuddling up in Vermont Flannel."
If customers have that comfort in mind for holiday gifts, they may want to hurry. Facing a volatile economy, Baker cut production earlier this year and has yet to ramp it back up to normal levels. He was worried about ending up with inventory he couldn't sell.
"The problem with this is, we are going to run out of product," Baker said. "Without knowing what was going to happen, we couldn't gamble. We weren't really into making a lot of our regular product line."
That means some of Vermont Flannel's vibrant plaid color options won't be available in its popular stadium blankets, lounge pants or classic button-down shirts. "We should have some of everything," Baker said. "It's just that we may not have as many of the choices we normally would have after Thanksgiving."
Shoppers shouldn't wait until the last minute to send their gifts, either, Baker cautioned. As they implement coronavirus-related safety measures, shipping companies have cut staff, and delivery times are "extraordinarily longer," he said. "We've heard horror stories of products being kind of basically lost in distribution centers for weeks."
Baker is promoting Vermont Flannel gift cards for convenience and guaranteed arrival. "We can email them worldwide in seconds," he said. "We're faster than Santa."
Baker made his first T-shirts for the 1976 bicentennial celebration of the American Revolution in Boston. He and his wife founded Ad Art America to focus on wholesale textile screen-printing and marketing, mostly for the ski industry and other corporate customers. One of Baker's slope-related favorites read "No guts, no glory. No falls, no balls."
The Bakers' increasingly frequent sales trips to Vermont, where they squeezed in a little skiing, eventually inspired them to make the Green Mountain State their home. In 1986, the couple set up their business in a historic building on Mill Street in East Barre — now Vermont Flannel's headquarters.
Baker takes credit for inventing the flannel lounge pant. Early in the business' history, he convinced L.L.Bean — which rarely sold clothing not bearing its own label — to take on his flannel line. Within a year, Vermont Flannel expanded from three employees to 63. "We did big, giant orders for six months at L.L.Bean," until the company began making its own versions, he said.
In the mid-1990s, China expanded its role in worldwide manufacturing. The country's cheap labor enabled its factories to make American products for half the price. Baker acknowledged that the competition nearly drove Vermont Flannel out of business.
In response, the Bakers decided to open their own direct-to-consumer retail stores and concentrate on the domestic market. At one point, Vermont Flannel had nine stores, including two in New Hampshire. Now it operates the five in Vermont: East Barre, Woodstock, Burlington, Ferrisburgh and Johnson.
Vermont Flannel closed its stores for almost four months this year during the state's emergency shutdown to stem the spread of the coronavirus. Overall, company sales are down about 20 percent from the prior year, Baker said. Luckily, the company received a loan through the federal Paycheck Protection Program.
Most of Vermont Flannel's sales take place between August and Christmas, however. And online sales this fall have already surpassed those of fall 2019, Baker noted.
Until about five years ago, the company didn't do much e-commerce, opting to stay out of the fray of cheap, Chinese-made flannels available online. "It was going to be hard to compete," Baker said. "Now there's a real strong resurgence in buying quality, made-in-America products."
Vermont Flannel does most of its manufacturing in Johnson, with a bit in East Barre. The product line stays relatively static, though a new plaid color scheme usually comes out for the holiday season. This year, the company added face masks, made not from flannel but from another all-cotton fabric.
The retail outlets carry a few other Vermont-made products, such as spirits from local distilleries and maple syrup. But the focus is on flannel everything: shirts, hoodies, blankets, backpacks, lanyard key chains, caps, robes, shorts, scarves. They even sell a flannel thong, or Vong, described cheekily as "Vermont's Secret."
Baker may still have a bit of that T-shirt attitude.