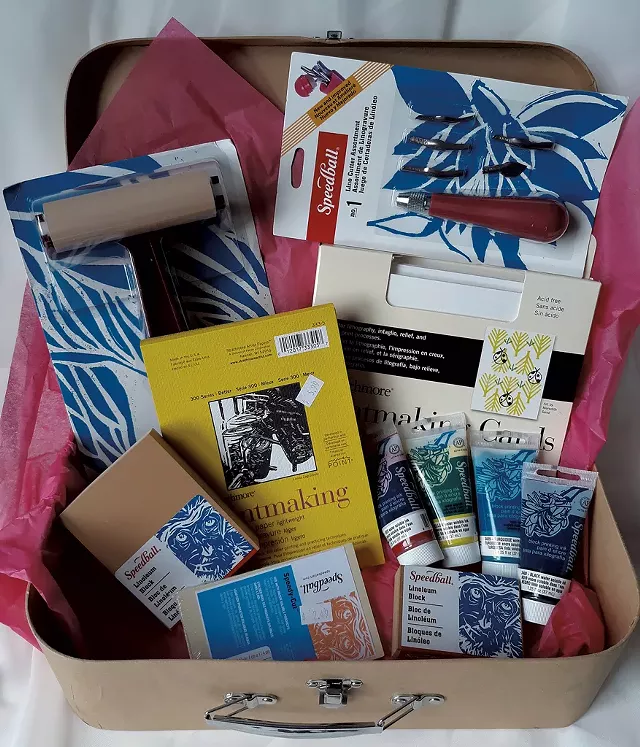 Courtesy Of Liz Walsh
Printmaking Explorer Box from the Drawing Board
In a recent phone conversation with Seven Days, Liz Walsh, owner of Montpelier art shop the Drawing Board, posed a question for Vermonters: "When this is all over, what do you want your community to look like?"
Walsh is one of the state's many small-business owners impacted by the COVID-19 pandemic, having closed her doors mid-March to help slow the spread of the coronavirus. Since then, her customers, whom she describes as mostly hobby enthusiasts and a handful of professional artists, have supported the shop by snapping up art supplies and gift certificates via backdoor pickup or local delivery.
Two loyal customers even donated money from their stimulus checks to help ensure the future of the brick-and-mortar store. "There's a palpable feeling of being in an art store and the potential that lies in all the materials, and you just can't get that from ordering online," Walsh said.
For art lovers in isolation, the quarantine could be an opportunity to try a new medium. Folks may also decide to freshen up their homes by purchasing new artwork. As Whitney Aldrich, owner of Axel's Frame Shop & Gallery in Waterbury put it in an April email newsletter, "We know you've been spending a lot of time looking at your walls lately."
This week, our ongoing column focused on local shopping options highlights items related to making and appreciating visual art, whether you're a longtime creator, a collector or preparing to make your first brushstroke.
If you don't see your favorite retailers here, seek them out. This list is by no means comprehensive.
Printmaking Explorer Box
Sometimes the most difficult part of trying your hand at a new creative endeavor is having the right supplies. The Drawing Board in Montpelier makes it easy. The downtown shop's online store includes curated art-supply kits for different mediums, such as the Acrylic Explorer Box, the Drawing Explorer Box and the Printmaking Explorer Box (pictured). The last includes everything you need to make block prints — ink, linoleum blocks, a rubber brayer and more — and can come with or without a cardboard suitcase-style carrier.
How to buy: Order at drawingboardvt.com or call 223-2902 for pickup or free local delivery.

Also try: Art supplies from the Frame Dames in St. Johnsbury.
"Faces and Figures" by Athena Petra Tasiopoulos
Courtesy Of Athena Petra Tasiopoulos
"Faces and Figures" by Athena Petra Tasiopoulos
Central Vermont mixed-media collage artist Athena Petra Tasiopoulos' work is recognizable by its soft, muted colors and found vintage photographs. "By re-inventing the portrait," she writes in her artist statement, "I aim to disjoint my subjects from an antiquated identity, allowing them to transcend the constraints of time and place." Vermonters looking to transcend the constraints of quarantine may find some respite in Tasiopoulos' catalog "Faces and Figures." Peruse this 44-page collection of mixed-media works on paper and get lost in Tasiopoulos' soothing color palette, soft shapes and the faces of strangers.
How to buy: Visit athenapetra.com for shipping.

Also try: The graphic novel Off Season by Vermont cartoonist James Sturm from Crow Bookshop in Burlington.
Flower Messengers Small Card Pack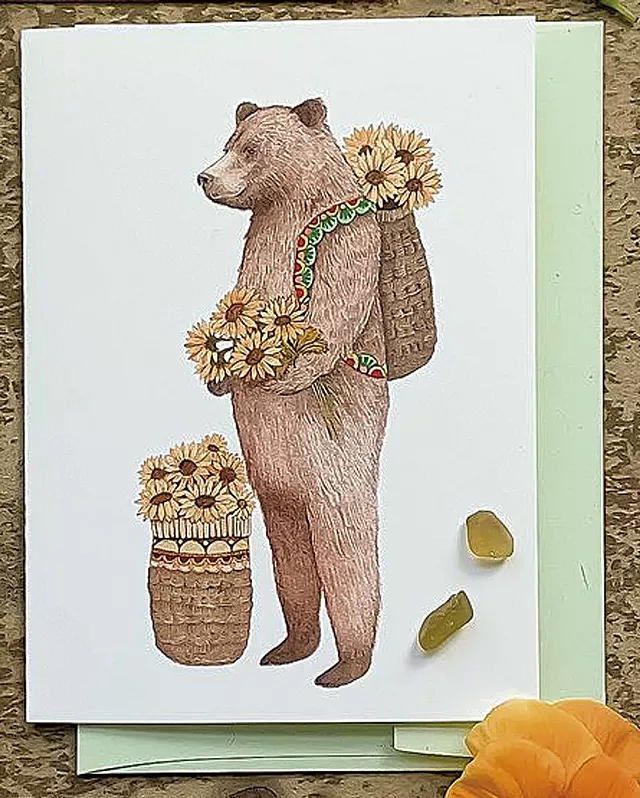 Courtesy Of Jess Polanshek
Flower Messengers Small Card Pack
If Vermonters become overwhelmed by on-screen communication in this time of social distancing, perhaps letter writing will make a comeback. Those who wish to correspond through pen and paper can do so on cards designed by Vermont illustrator Jess Polanshek of Polanshek of the Hills. The artist renders subjects from the natural world with "high detail and loose realism." Her Flower Messengers Small Card Pack features illustrations of animals bearing various flora, making them artistic — and adorable — vehicles for well-wishes.
How to buy: Order from ofthehills.com for shipping.

Also try: Assorted note cards by Vermont watercolor artist Cindy Gage Stotz from Artisans Hand Craft Gallery in Montpelier.
Future Tattoos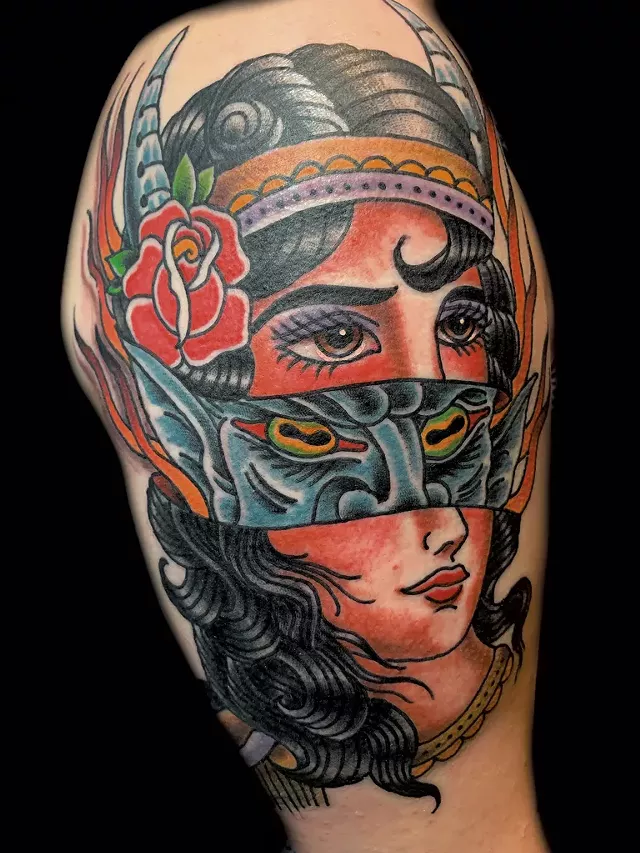 Courtesy Of Devin Wood
Seven Symbols Tattoo
On March 23, Gov. Phil Scott ordered the closure of close-contact businesses, including tattoo shops, but body-art enthusiasts can still buy now and get inked later. Seven Symbols Tattoo on Burlington's Pearl Street, for example, is selling digital gift certificates to be redeemed in the future. Scroll the shop's Instagram page to see neo-traditional work by artists Jazzie Beaudette, Jhon Rodríguez and owner Devin Wood, whose work is pictured here. Your tattoo will be worth the wait — it's permanent, after all.
How to buy: Email sevensymbolstattoo@gmail.com.

Also try: Prints and commissioned art by the artists available through their Instagram accounts (@jazzie.beau, @jhonrodriguez and @devinwoodtattoo).
Painting With Craig Mooney
Painting With Craig Mooney
Stowe's Helen Day Art Center has a straightforward mission: "to enhance the human experience through the visual arts." To that end, the nonprofit gallery and education center offers a wide range of classes for those looking to sharpen their artistic skills. Among its spring online offerings is Painting With Craig Mooney for adults and teens. Taught by an award-winning local artist, this two-part virtual lesson on May 29 and 30 is a great opportunity to unleash your creativity in isolation.
How to buy: Register at helenday.com.

Also try: Online art classes for adults through the Middlebury Studio School.
Framing Services
So you've spent your time in quarantine creating your masterpiece — how do you display it? At Axel's Frame Shop & Gallery in Waterbury, owner Whitney Aldrich brings a background in fine arts and graphic design to custom picture-framing projects. In addition to custom work, the shop offers ready-made frames, lamination, minor repairs and more. The gallery is closed, but framing services are available with consultations on a one-on-one basis.
How to buy: Call 244-7801 or email info@axelsgallery.com to schedule an appointment.

Also try: Tabletop and wall frames from Homeport in Burlington.
"Greetings From Coronacation: Souvenir Postcards From 2020," Volumes 1 & 2 by Stephanie Salmon
"Greetings From Coronacation: Souvenir Postcards From 2020," Volumes 1 & 2 by Stephanie Salmon
With her new project, "Greetings From Coronacation: Souvenir Postcards From 2020," Stephanie Salmon has come up with a colorful way to foster interpersonal connections while friends and families stay home and stay safe. Each volume holds 22 postcards featuring original comics by the Gotham City Graphics cofounder that folks can color, and then send to someone special. Sales benefit Thirty-odd, an artisan boutique in Burlington's South End Arts District, where 30 or so artists and makers bring home 100 percent of their sales.
How to buy: Order at thirtyodd.com for shipping or curbside pickup.

Also try: Donate to Burlington maker space Generator's COVID-19 Relief Initiative to support production of personal protective equipment.