File: Luke Awtry
Fresh ingredients and finished Yerbary Master Tonic products
As the COVID-19 pandemic threatens the health of Vermonters and people around the world, it also has serious side effects for small retailers. Under Gov. Phil Scott's stay-at-home order, all "nonessential" businesses have been forced to shutter their doors, resulting in huge financial losses as well as devastating reductions in the workforce.
But just because retailers aren't physically open to shoppers right now doesn't mean many aren't still operational. Like the rest of us, these stores are adapting to survive: They're building e-commerce websites, changing their inventory, starting home deliveries and doing curbside pickup.
Many are offering free shipping or sales;
AroMed Essentials
in Montpelier is even throwing in free hand sanitizer when you phone in a purchase.
Now, more than ever, it matters where you spend your money.
If Vermonters want their downtowns to be as vibrant when the pandemic is over, said Delaney Shea, a manager of
Slate
, "then we hope that they support us right now, because this is when we really need it." Her Burlington home goods store, which typically benefits from Church Street foot traffic, has struggled to reach customers since its doors closed and has had to reduce its staff by about three-quarters.
"Rather than buying a candle on Amazon, [shoppers] can buy a candle from us, and we'll be here when it's over," Shea continued. "It's really important that people think of their neighbors right now."
That seems to be happening in Hardwick, where
Galaxy Bookshop
is open for shipping and curbside pickup. "When we decided we were going to close the doors," said co-owner Sandy Scott, "it was scary, and we worried that we wouldn't have any sales coming in. But people are continuing to buy from us. They're saying, 'I'm so glad you're there; thank you for being there.' They're saying, 'I want you to be there when this is all over.'"
If you're looking to support local retailers and score some useful products at the same time, read on for the first in a weekly "shop local" roundup, each with a different theme. This week's is self-care, for obvious reasons. If you don't see your favorite retailer below, seek them out; this list is by no means comprehensive.
Take Care: Seven Items to Make You Feel Better
The Yerbary Master Tonic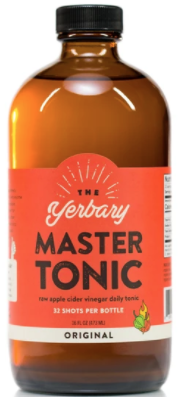 Everyone is upping their wellness game right about now. To strengthen immune systems, the Charlotte-based
Yerbary
concocts a Master Tonic made with onions, garlic, horseradish root, ginger, turmeric, habanero and raw apple cider vinegar. Bold, spicy and tangy, it makes you feel alive.
As Yerbary CEO and founder Michaela Grubbs
told Seven Days in January
, "Especially in Vermont, people are doing what they can to feel better naturally, and they're realizing that there is a space in between wellness and sickness where we can use food as medicine."
How to buy: Order at Yerbary.com for shipping or free Burlington-area pickup. Also look for it in the supplement aisles at local markets and co-ops.
Also try: Herbal health remedies from Urban Moonshine.

Weighted Cable Knit Throw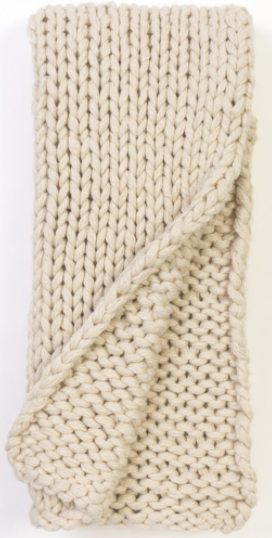 Several lifetimes ago, in February 2018, the
New Yorker
published a story titled
"The Seductive Confinement of a Weighted Blanket in an Anxious Time."
Well, times have only gotten more anxious. If anything can make confinement feel seductive, perhaps it's this gorgeous cable-knit number from Burlington's
Slate
, which "offers 10 pounds of pressure, helping to relieve anxiety, insomnia and more." Especially if you're not able to get all the hugs you need in this era of social distancing, consider being smooshed by this blankie instead.
How to buy: Order at slatehome.co or call 540-6850; free local delivery within Chittenden County. Spend $75 and Slate will send a free thank-you kit to the essential worker of your choice.

Extra-Strength CBD Gummies
Here in Vermont, cannabidiol — aka CBD — comes in many forms, from oil and salves to truffles and kombucha. But these days you might want to reach for the extra-strength stuff. After all, cannabis' nonpsychoactive sibling can relieve anxiety and depression, promote sleep, reduce pain and even help with posttraumatic stress disorder.
So we all could likely benefit from Upstate Elevator Supply Co.'s 65-milligram gummies, made with hemp grown in Craftsbury. Find 'em through
Elevated State VT
in Stowe. The watermelon flavor just might make you think of summer.
How to buy: Order at elevatedstatevt.com or call 253-HEMP for free shipping, curbside pickup or local delivery.
Also try: CBD products from AroMed Essentials or Ceres Natural Remedies.

Wreck This Journal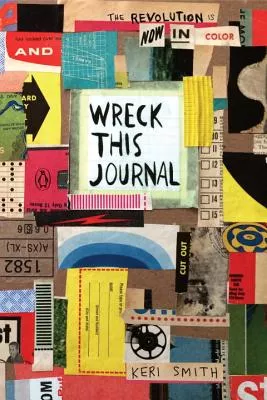 The University of Vermont Health Network recommends journaling to keep calm in a stressful time. Its
website
even suggests going a step further for catharsis: "Write down a negative emotion, then rip up the piece of paper and toss it away."
Sounds like Wreck This Journal is just what the doctor ordered: The colorful notebook contains DIY prompts for painting, tearing and otherwise "unleashing your creativity," not to mention your emotions. Find it through the
Yankee Bookshop
in Woodstock.
How to buy: Order at yankeebookshop.com, call 457-2411 or email info@yankeebookshop.com for free shipping, contact-free pickup or local front-porch delivery.
Also try: Any journal from a local bookstore, such as Phoenix Books and Bear Pond Books.

Mindful Matcha Latte Mix
When your brain starts spiraling, it can be helpful to practice mindfulness — the art of acknowledging and accepting your thoughts and feelings while shifting focus to the present moment. Burlington-based
Tomgirl Kitchen
offers a DIY organic matcha latte mix to "plant the seeds of meditation." It contains "the building blocks of everyday joy": ceremonial-grade matcha green tea from Middlebury's Stone Leaf Teahouse, gingko biloba for brain health, and moringa leaf for all eight essential amino acids — plus maple sugar and peppermint. Vibrant and green, the drink is a reminder to pause, breathe and reset.
How to buy: Order at tomgirl-102717.square.site for free local delivery or pickup.
Also try: Calming teas such as chamomile from Vermont Artisan Coffee & Tea Co.

Swear Word Coloring Book
Need some screen-free time? Social distancers have been turning to puzzles, board games, knitting and, yes, adult coloring books to unwind. You'll never get an alarming news blast or pop-up ad while working on these analog activities, but you may get an hour or two of engrossing entertainment and stress relief. We like the attitude of the
F*ck Off, I'm Coloring!
book, available through Hardwick's
Galaxy Bookshop
. It contains 40 detailed designs of "wonderfully original insults, exclamations and swear words."
How to buy: Order at galaxybookshop.indielite.org or call 472-5533 for shipping or curbside pickup.
Also try: Any coloring book from a local bookstore, such as the Flying Pig Bookstore and Next Chapter Bookstore.

Hand Sanitizer*
Obviously, the most important aspect of self-care is staying safe and protecting yourself, and others, from the coronavirus — and that requires a lot of hand sanitizing. Montpelier's
Caledonia Spirits
has produced more than 1,200 gallons of Barr Hill Hand Sanitizer for health care workers at the front lines of the fight against COVID-19: first responders, nurses and doctors. They continue to supply the sanitizer to these essential medical professionals, but now they've opened orders up to the general public, as well.
How to buy: Purchase here or email cleanhands@caledoniaspirits.com.
Also try: Lunaroma and Pure Energy Apothecary, among others, also carry hand-sanitizing products for personal purchase.


* Updated April 4, 12:01 p.m., to reflect new order options for Barr Hill Hand Sanitizer.