Courtesy
Matcha Bowls
Are you working from home? That phrase conjures something different for everyone. Whether "home" is a house in the country, a shared apartment with roommates in Burlington or another arrangement, there are plenty of ways to spruce up your abode and make the most of your personal space.
For Brett Bashaw and Natasha Lawyer, working from home is the norm, because both their ceramics studio and their house sit on an 11-acre piece of land in Fletcher. The couple sells ceramics online as Sugarhouse Ceramic.
Sales have grown since Bashaw and Lawyer started Sugarhouse nearly two years ago. But when it became apparent that the pandemic was, well, a pandemic, Bashaw said he was concerned. Assuming sales would take a hit, he started looking for information online about whether the couple could qualify for unemployment insurance.
"I was so close to doing that, but I never did. Because literally, over the next few days, our sales started to pick up," Bashaw said. "Our sales were through the roof ... It's gotten to the point where, as soon as we put it on the site, it sells."
Bashaw said he's not entirely sure what's caused the uptick in interest in handmade ceramics. But he said he notices every Vermont-based order and is grateful for the support.
"If this whole experience has taught us anything, I think it's emphasizing the power of local communities supporting each other. I do think we need to start valuing handmade things that aren't just pumped out in a factory thousands of miles away," Bashaw said. "This has highlighted how important it is to value our local economy."
Seven Days rounded up some products from local businesses to help turn your home into a sanctuary during trying times and beyond. This list is by no means comprehensive. Check the status of many Vermont sellers by visiting the Register at shoptheregister.com.
This is the last of nine Retail Therapy columns published during Vermont's shutdown during the coronavirus pandemic. Visit the Retail Therapy archives for intel on everything from garden goods and outdoor gear to books and self-care.
Matcha Bowls
It might take a bit of doing to get your hands on a piece of pottery from Sugarhouse Ceramic, but it's worth it. The site is restocked every week or so with small batches of new items, but they fly off the (virtual) shelves very quickly. The best way to stay on top of the new offerings, Bashaw said, is by joining the company's email list or turning on notifications for its Instagram account, @sugarhouseceramicco. Happy hunting!
How to buy: Order from sugarhouseceramicco.com.

Also try: Pantry Bowl from Farmhouse Pottery in Woodstock.
Garden Tools Puzzle
Courtesy
Garden Tools Puzzle
Few things are more Zen-like than sitting down to chip away at a puzzle, especially if you've been staring at a screen. Woodbury Mountain Toys in Montpelier has dozens of 1,000-piece puzzles to peruse, including this spring-themed option. Owner Karen Williams opened the store to in-person shopping on May 25. In a video on Facebook, she described rugs placed around the store at safe distances from one another as "hot lava safety spots," referencing the interactive kids' game The Floor Is Lava. Trust a toy store owner to make social distancing fun.
How to buy: Visit woodburymountaintoys.com, call for curbside pickup, or visit the store Monday through Saturday, 10 a.m. to 5 p.m., or Sunday, 11 a.m. to 4 p.m.

Also try: Ideal Bookshelf puzzle from Phoenix Books in Burlington, Essex or Rutland.
Palm Canyon Birdhouse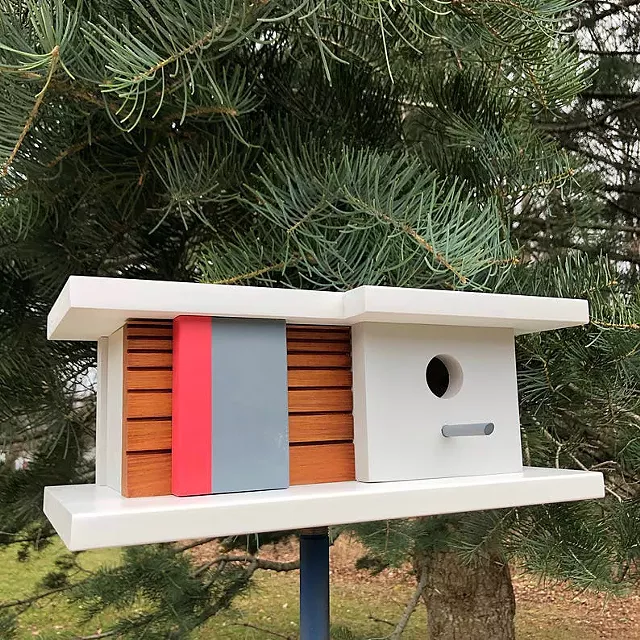 Courtesy
Palm Canyon Birdhouse
Bird-watching is on the rise during the pandemic, according to the National Audubon Society, which reports that downloads of its bird identification app have increased dramatically over last spring. If you're suddenly noticing the feathered friends in your yard, why not give them a snazzy new home? Steve Hadeka (a former Seven Days staffer) makes brightly colored birdhouses in the style of midcentury-modern architecture in his Winooski workshop.
How to buy: Order at pleasantranch.com.

Also try: Recycled Ski Birdhouse from Green Mountain Ski Furniture in Waterbury.
Letterpress Coasters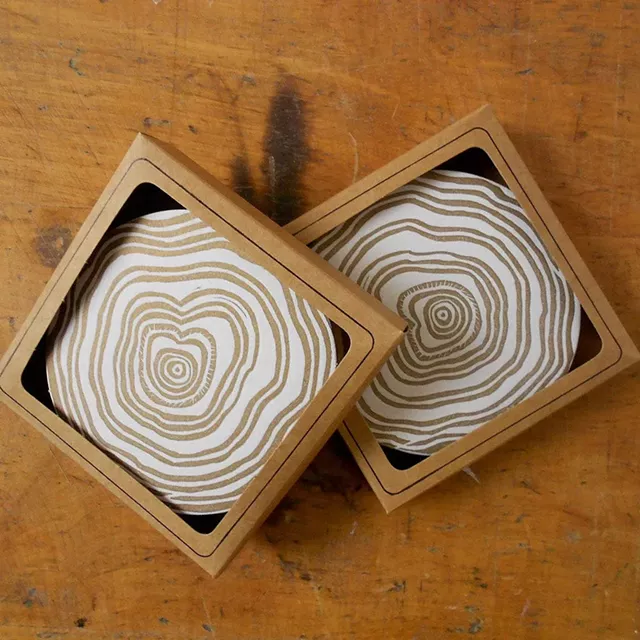 Courtesy
Letterpress Coasters
Life is too short for boring coasters. If you're going to use them to protect your furniture from water rings, why not take the opportunity to spread tiny works of art across your coffee table? These letterpress coasters from Montpelier's May Day Studio are one of many charming printed products the shop offers. While you're browsing, pick up a greeting card and send a note to someone you haven't seen in a while, or buy a journal to document these crazy times.
How to buy: Order at maydaystudio.com.

Also try: Recipe card box from Shelburne Gift Company in Shelburne.
Waxed Canvas Planter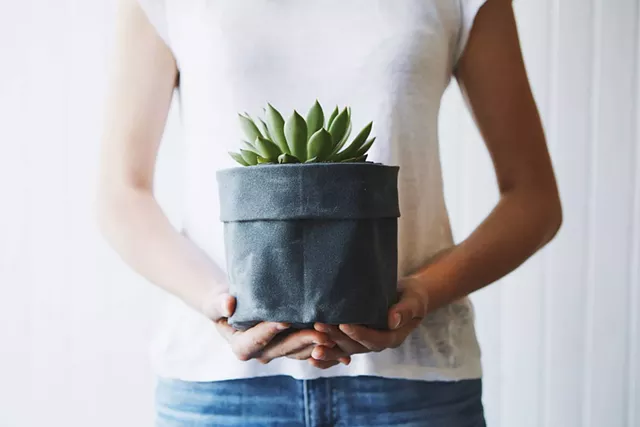 Courtesy
Waxed Canvas Planter
Give your succulents a little love — and a minimalist style upgrade — with this planter from Red House, handmade from waxed canvas. Known for its durability and waterproofing, waxed canvas works well for indoor and outdoor use. The planters, handmade in Shelburne by Matt and Britt Witt, are available in three sizes and colors.
How to buy: Order at redhousevt.com.

Also try: Handmade Hanging Planter from SWD Potteryworks in Ludlow.
Print-at-Home Handwashing Sign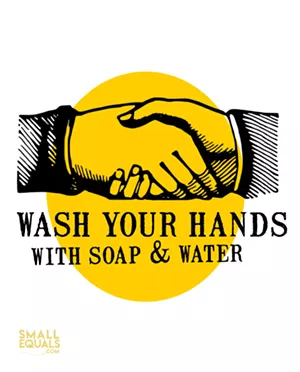 Print-at-Home Handwashing Sign
Everyone could use a little health reminder now and then. And if it's cute, even better! South Burlington artist Liza Cowan is offering "Wash Your Hands With Soap & Water" signs for would-be decorators to download and print on their own. They're bright and friendly, just like all of the art at Liza Cowan Design. Though she sells much of her work as prints, Cowan appreciates digital downloads as "a very democratic way to circulate art because it's so affordable and customizable," she writes by email. "Digital downloads are perfect for a pandemic, because you can buy art without leaving your home."
How to buy: Buy and download prints at smallequals.com.

Also try: Mount Mansfield Woodblock Map Print from Tangerine & Olive in Stowe.
Echo Bowl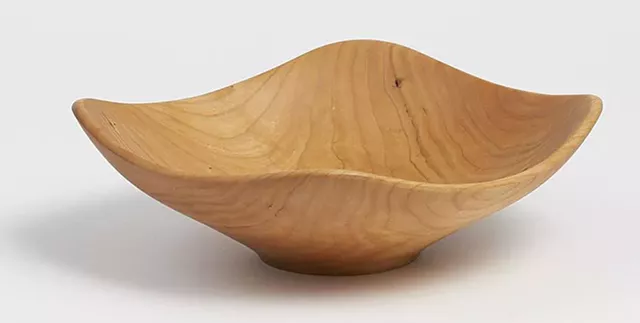 Courtesy
Echo Bowl
What do you get when the son of renowned glassblower Simon Pearce turns his attention to wood? The graceful lines of a salad bowl from Andrew Pearce. Made from sustainably harvested hardwood, each bowl is hand-cut on a lathe, sanded smooth and dried in a kiln at his Hartland workshop. The artist is also dedicated to essentially replacing every tree used to make his bowls. So far, the company has planted 1,150 trees in the United States through the Shelburne-based nonprofit One Tree Planted.
How to buy: Order from andrewpearcebowls.com or call for curbside pickup.

Also try: Cutting board from Vermont Tree Goods in Bristol.