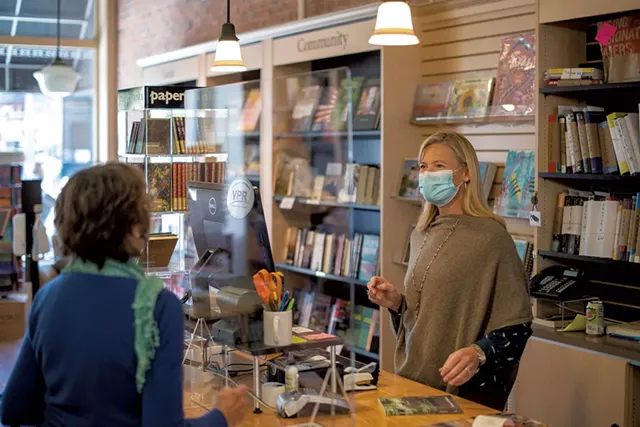 Caleb Kenna
Becky Dayton at the Vermont Book Shop
As 2020 dawned, Becky Dayton knew she was heading toward a rocky few months at the Vermont Book Shop. Outside the store on Middlebury's Main Street, a major construction project was soon to begin, bringing with it blocked streets, ripped-up sidewalks and a severe drop in customer traffic.
"I was expecting a huge hit in business," Dayton said in a recent interview.
She anticipated that the 10-week project — the replacement of two railroad bridges with a tunnel through the center of Middlebury's commercial district — would be her worst problem of 2020. Then came the coronavirus.
In mid-March, a few days before Gov. Phil Scott ordered the emergency shutdown of nonessential businesses, Dayton closed her store out of concern about infection and laid off her six employees. Last week, after nearly seven months of serving the public online and via curbside pickup, the 71-year-old bookshop quietly reopened for in-person shopping.
Hours remain limited for now: 10 a.m. to 2 p.m., Tuesday through Saturday. Customers can also browse a smaller selection at the Vermont Book Shop's satellite location inside the Stone Mill Public Market, around the corner on Mill Street. And they can continue to order online.
By the time the rail project wrapped up, in late September, the Vermont Book Shop's revenue had slipped 34 percent from the same period in 2019, Dayton said.
Still, she's optimistic: "We're fine. We're going to survive."
Dayton, 51, who bought the bookstore in 2005, used the closure as an opportunity to renovate the interior and add COVID-19 protections. For easier cleaning, she replaced carpeting and cork floors with wood ones. Shelves now can be moved on casters, allowing staff to expand aisles or remove them entirely when the shop resumes hosting readings and other events. Dayton doesn't expect that to happen before next year.
"The store had gotten very tight," she said. "It wasn't going to be safe for people to socially distance themselves."
Dayton also swapped a single checkout and gift-wrapping counter for two separate register stations, fronted by clear Plexiglas. A big sofa and a few chairs, which once encouraged customers to linger and relax, are gone.
The space is bright and airy, if perhaps a little sterile. Reduced inventory has left a few gaps in the shelves at the back. Dayton said her top priority is keeping her staff and customers safe — and her business solvent.
"I'm working extra hard to keep this little bookstore alive in my community," she said.
The Vermont Book Shop ended 2019 on a high note, with a strong holiday season and a 5 percent increase in sales over the previous year, Dayton said. By June, monthly revenue had dropped to less than 50 percent of the pre-COVID-19 total. That qualified the store for a $50,000 Vermont Emergency Economic Recovery Grant, funded through federal legislation.
Between that boost and her cash reserves, Dayton managed to keep the business afloat through the summer. Until she could call back a few employees, she juggled the equivalent of three staffers' work and solicited help from her daughter and her son's girlfriend to fulfill the surge of web orders. Some days, Dayton's husband and partner, Chris, handled as many as 30 local deliveries, she said.
Even as Gov. Scott allowed retailers to resume in-store operations, Dayton decided it wasn't worth reopening in the middle of construction, which would have required customers to walk from parking spots about a quarter mile away and past two portable toilets placed in front of her door, she explained.
When talk of the downtown tunnel construction commenced in 2016, "I really started to panic," Dayton recalled. "I started thinking about ways to counteract it or cope with it."
In July of 2019, the team that redeveloped the Stone Mill building into the home for a collection of small merchants asked Dayton if she'd like to put a stall there. She loved the idea of having Dedalus Wine and Cheese, Slate Home décor shop, and the Stone Mill gift collection as neighbors in the building.
That market also closed for the initial months of the pandemic, but it reopened in June. The location has subsequently served as the primary pickup site for the bookshop's local online orders.
Dayton's planning for the rail project probably helped her weather the coronavirus shutdown, she acknowledged last week, adding that her stall at Stone Mill proved to be "a lifesaver."
So did the Vermont Book Shop's website, which Dayton set up a decade ago through the American Booksellers Association platform, IndieCommerce. Before the pandemic, the site existed essentially as a marketing tool, a virtual storefront where consumers could find information. It represented less than 1 percent of the bookshop's sales. Since March, online sales have skyrocketed to about 90 percent of the business, Dayton said.
New customers from New York and elsewhere started ordering online. One regular virtual visitor in Staten Island orders about $150 worth of books every six weeks or so, Dayton said. "We were getting orders from kids who had graduated from Middlebury College 10 to 15 years ago, because they were hearing about what the pandemic was doing to small local businesses and they thought of downtown Middlebury."
Other stars aligned to boost the store's sales. Two popular Vermont authors, Julia Alvarez and Chris Bohjalian, published books in May and promoted them on social media, referencing the Vermont Book Shop as a source.
This summer, with Black Lives Matter protests erupting nationwide in the wake of the police killing of George Floyd in Minneapolis, bookstores everywhere saw a flood of interest in books about racism and racial justice.
"We did thousands and thousands of dollars of business selling Ibram Kendi's How to Be an Antiracist and Ijeoma Oluo's So You Want to Talk about Race. It was just amazing," Dayton said. "Everything that James Baldwin ever wrote suddenly was in demand."
She added, "It was fascinating and really very rewarding to be the provider of that for people."
Dayton said her outlook remains bolstered by the flood of concerned comments and encouragement she has received. The emotional affirmation during this challenging time is as important as the financial support, she added.
"We all need human contact," Dayton said, "and we all need to feel seen and appreciated, whether you're the cashier at the Maplefields or the lady who owns the bookstore in your little town."