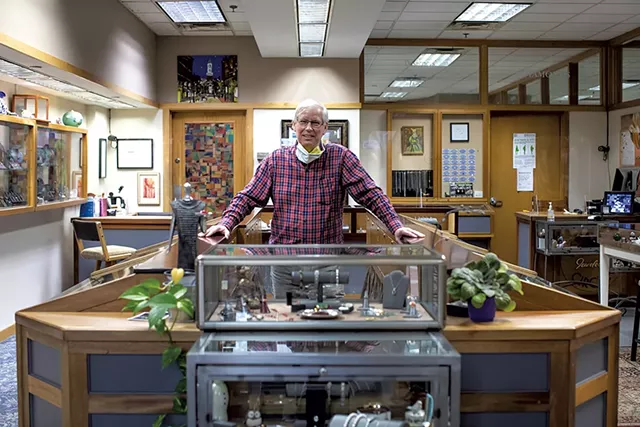 Luke Awtry
David Sisco
During its lifetime on Burlington's Church Street Marketplace, Designers' Circle & Vintage Jewelers has kept pace with nearly 20 other fine jewelry stores in the downtown area. Today, about a dozen purveyors of gemstones and precious metals still surround the 45-year-old Designers' Circle. And that doesn't bother owners David Sisco and Dolores Kurjan one bit. They view their local competition as comrades in the battle against the online sellers and national chain stores that have loomed over their industry for years.
Now, they are fellow merchant soldiers in the fight to survive the coronavirus.
"We're all in this together," Sisco said last week in the Designers' Circle showroom. "We all like to see that the business is downtown and not through some FedEx package."
Local support has a ripple effect, he added: "The City of Burlington gets a little share. The employees get some. The landlord gets some. The insurance company gets some. The people that clean the windows on Thursday get some."
These days, customers seem aware of those benefits of local spending and have stepped up to support the store. One couple recently bought a matching set of pendant, earrings and ring to celebrate their 60th wedding anniversary.
During a normal summer, Designers' Circle would have hosted streams of Canadian customers and tourists from across the U.S. Those out-of-town visitors, who usually account for about 25 percent of the store's business, Sisco said, have largely vanished this year.
"We have the people who come to us specifically, who drive hours to get David to repair their things," said Braelynn Leppert, Designers' Circle's manager. Sisco does his design and refurbishing work in a studio upstairs from the store.
His forte is hand-fabricating metal with layers and textures. Sisco also has an affinity for unusually colored stones, such as blue zircon and green tsavorite garnets. He especially loves pearls and the uniqueness of the nacre, the outer coating that gives them their luster.
Sisco's bezel engagement rings and wedding bands are among the store's best sellers; the most popular bands feature inlaid mountainscapes. The store does well with classics such as diamond stud earrings, Sisco said, but also offers unique artisan pieces, such as Asian-inspired gold-foil-wrapped cuff bracelets and other creations by Connecticut-based designer Évocateur.
"The designers that we represent, it's not just cookie-cutter three-stone rings," Sisco emphasized.
Kurjan's specialty is scouting out those designers and the store's vintage jewelry; some customers come in just to find those one-of-a-kind antique pieces, she said. A particularly spectacular vintage find at the store can cost as much as $30,000, Leppert said. Prices in general range from about $30 for a simple silver necklace to $10,000 for a custom-designed Sisco ring.
Sisco learned how to craft wearable art by watching his stepfather, renowned Charlotte jeweler Guy Cheng. As a high school sophomore, he spent a week working at Cheng's jewelry store and gift shop. Eventually, his stepfather let him sit at the workbench, then gave him tools and a torch for melting metal.
Luke Awtry
David Sisco
"I just loved it," Sisco said. "First of all, you're using your hands. But it was the creative aspect — bending, torching, hammering [metal], taking stones and making bezels, setting stones."
For 10 years postgraduation, he traveled around Colorado and California, making and selling his own bracelets, earrings and necklaces. Back in Burlington, Sisco earned a degree in social work from Trinity College, then worked on contract for national chains, such as Zales, Kay Jewelers, Service Merchandise and Belden Jewelers.
Sisco also sold his work to Designers' Circle and did repairs for the business, then owned by Dennis Bosch. The store had begun as a partnership of five artists who sold a variety of crafts before it shifted to just jewelry. When Bosch retired in 1997, Sisco bought the store.
At Designers' Circle, Sisco met Kurjan, who started working there four years before he took over the business. Kurjan had a background in jewelry retail, beginning with now-defunct Burlington store F.J. Preston. She learned to grade and appraise stones through courses at the Gemological Institute of America.
In 2008, Kurjan left to open Vintage Jewelers on College Street, but she moved back to Designers' Circle after marrying Sisco in 2010. For her, the allure of antiques stems from "the romantic idea of the history behind things, that it's been loved by someone before," Kurjan said.
The coronavirus pandemic isn't the first outside threat to Designers' Circle. In the mid-2000s, many Church Street professionals who were among the store's daytime shoppers vanished as their firms moved to the suburbs.
"A lot of higher-paying jobs left downtown Burlington," Kurjan said. "Certainly it affected the stores, because [workers] would shop on their lunch hour, and that's much quieter in that respect today."
Nonetheless, Sisco said, they saw consistent modest sales growth most years until the recession of 2008 to '09, when revenue fell dramatically. It began to pick up again in 2010.
So far in 2020, Sisco estimated, the store's sales are down about 30 to 40 percent from 2019. Designers' Circle had no business at all in April, he noted, during Vermont's emergency shutdown of retail business to stem the spread of COVID-19.
While the store was closed, it saved utility, labor and overhead costs. Designers' Circle also got a Paycheck Protection Program loan and other financial help from the state through federal stimulus funds. That helped the store survive the worst months, Sisco said.
In May, he was in the showroom to pick up mail and deal with some online orders when he heard a knock at the door. It was a customer who wanted to buy something to give the store a boost. Since then, orders mostly for custom work have been flowing in via phone and email. Walk-in shoppers have also kept the store busy since it reopened to them in June.
"This is the strength of a community, because they understood: 'You haven't been doing any business,'" Sisco said of the couple's customers. "And they reached out. It was, wow, such a blessing that occurred."