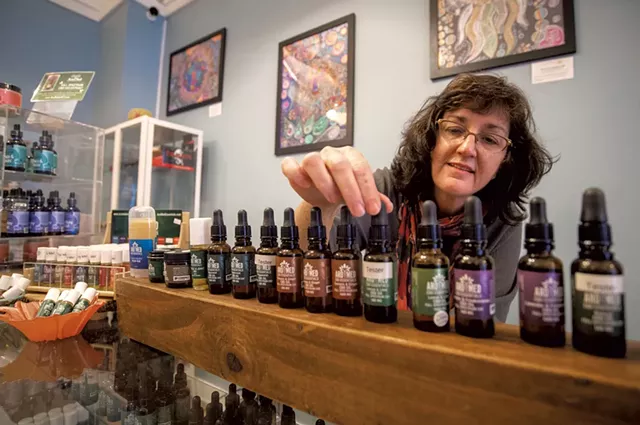 Jeb Wallace-brodeur
AroMed Essentials owner Lauren Andrews
Krista Harness stopped at AroMed Essentials in downtown Montpelier last week to pick up a special cream and other gifts for a friend recovering from a major medical issue. As she handed her credit card to shop owner Lauren Andrews, she raved about the Relief Lotion and its "magic recipe" for mitigating muscle soreness, joint pain and body aches.
"I swear that stuff works, like, immediately," she said. "I like that it's arnica and CBD together, because I think they're both really effective, and I don't see that blend anywhere else." Her son, too, endorsed its powers after using it to soothe a stiff neck, Harness told Andrews.
"One of the reasons I like coming here is because you're a nurse," Harness continued. "You have a medical background. Not that I come here for medical care, but I feel like I can talk to you."
Such opportunities for conversation drove Andrews to open AroMed Essentials in 2015. At the time, she was working as a psychiatric nurse at Central Vermont Medical Center and helped launch its sensory integration program. It included yoga, music therapy, pet therapy and poetry writing as alternative mental health treatments, but it had nothing for the olfactory sense.
So Andrews added aromatherapy with essentials oils she sourced from other suppliers, before she started making her own "synergies," or blends. For many in the sensory integration program, the therapeutic scents helped relieve anxiety, agitation and sleep disorders, in some cases offsetting the need for pharmaceuticals, Andrews said.
"The program became instantly, extraordinarily popular and helpful," she recalled. "The patients were benefiting."
Andrews, who lives in Barre, said she wanted to share those benefits with a wider audience. She chose to sell her wares from a physical storefront, not just online.
"I wanted to have that human interaction," she said. "A lot of the skills that I used in the hospital setting, I use here. You don't just stop being a nurse."
Andrews, 56, also described herself as a plant chemistry expert. She is a clinical aromatherapist and has certification in cannabis science and medicine from a course at the University of Vermont. That may seem like a hefty résumé for a retailer, but AroMed Essentials is as devoted to dispensing knowledge as it is to selling wellness products. Andrews avoids making medical claims but will share scientific evidence and research with her customers.
"So people understand when they come here that they're going to get accurate information, because there's a sea of misinformation online, and certainly fraudulent products on the market," she explained. "I think it's irresponsible to sell plant supplements unless you are educated and experienced."
As for that "magic" Relief Lotion, a fellow aromatherapist friend blends the creamy base of arnica and white willow, which Andrews now buys in 12-gallon orders. Andrews created the rest of the formula of CBD and essential oils after completing a pain-management workshop.
When she opened AroMed Essentials — AroMed stands for "aromatic medicine" — Andrews became one of the state's first retailers to sell products containing CBD, or cannabidiol, a component of the hemp plant that doesn't have psychotropic properties. The store's best sellers are the CBD tinctures she concocts for users to take orally, as drops under the tongue or in food or beverages, Andrews said.
"I realized that I was onto something very powerful and something that was going to be very popular and helpful to people," she said.
Her foundational brand of essential oils, lotions and tinctures provides the bulk of AroMed Essentials' sales. In her nearby production space, Andrews also makes hand sanitizer spray with a pleasant bouquet of Bulgarian lavender, sweet orange, eucalyptus and thyme essential oils.
The shop sells other manufacturers' bath soaps and body lotions, jewelry, bags, eye and neck pillows, diffusers for essential oils, and a variety of stones believed to have healing and energetic properties. Andrews also carries hemp flower and CBD edibles and isolates by Vermont suppliers she trusts, including Lily Hill, Mansfield Provisions, RopaNa Wellness and HempVet, which makes CBD treats and supplements for pets.
In the past two years, Andrews opened AroMed Essentials stores in the Berlin Mall and in Hanover, N.H. But that growth required that she focus more on management than customer care; she had been thinking of consolidating the business back into one store when the coronavirus clinched the decision.
Andrews' leases in Berlin and Hanover were set to expire just after Gov. Phil Scott issued an emergency order temporarily shuttering businesses to stem the spread of COVID-19. So she closed those locations permanently, laying off five retail employees and keeping one production worker.
Since the Montpelier store reopened in June, AroMed Essentials has maintained steady online sales, many from regular customers at the other locations who shifted to web orders. As a result, the average monthly revenue at her remaining business has increased by about 20 percent, Andrews estimated. She declined to quantify the amount of sales she lost from the two closed stores.
Last Thursday, which marked AroMed Essentials' five-year anniversary, Andrews was offering a storewide 20 percent discount during Montpelier Madness, a three-day event to generate shopping traffic. Andrews thought the promotion helped prompt a steady stream of customers that afternoon.
One of them was Alice Goltz. "What's good for muscles?" she asked Andrews, explaining that she suffers from stiffness and pain.
Andrews steered her to the Relief Lotion and dropped a dollop on Goltz's hand with a plastic sample spoon. "Oh, it feels nice," Goltz said.
"And it works," Andrews responded. "It's got CBD and anti-inflammatory essential oils in it. We've sold thousands of jars of this."
Goltz chose the two-ounce jar, which sells for $26.95. "You just put it on at least three or four times a day, and it really kind of numbs the pain, helps with mobility [and] range of motion," Andrews instructed. She added that she would honor the 20 percent discount if Goltz wanted to return another time for the larger size.
"It's not just about making dollar bills," Andrews said after Goltz left the store. "It's about having relationships, and it's about helping the people we serve."