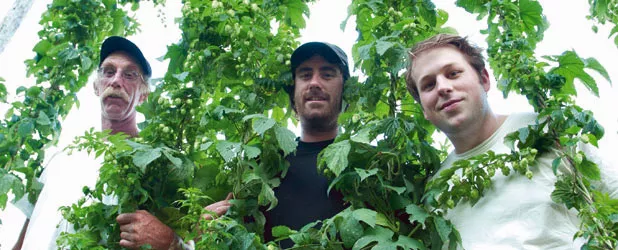 Ian Birkett, in black, his dad Joe Birkett (in glasses) and Fletcher Bach operate Square Nail Hops Farm in Ferrisburgh.
One day late last fall, Ian Birkett was hiking in the Northeast Kingdom when he came across a vine that had grown up into the trees around it, covered in tiny cones that were turning brown. Birkett recognized the plant immediately; he dug up some of its roots and spirited the cutting back to the Ferrisburgh farm his family has owned since 1802.
It was a wild cluster hop plant, a centuries-old varietal that yields the papery, aromatic and bitter cones used to flavor and preserve beer. Birkett, 26, planted the cutting alongside other year-old hops growing at his Square Nail Hops Farm. As his business partner, Fletcher Bach, points out, "It survived for 200 years in the woods, so it must be pretty hardy."
This 300-acre farm, with a sagging dairy barn and expansive views, is home to 800 hop plants. From afar, they look almost alien, a neat grid of fuzzy green bines inching up twine toward the sky.
Bach and Birkett met last year at Shelburne's Village Wine and Coffee, where they both work. "Ian was a farmer," says Bach, 23. "And both of us had a passion for beer." Bach, a home brewer, was growing hops from rhizomes, and the Birkett family farm was lying dormant, awaiting new life. Through research, Birkett and Bach learned that Vermont was once a major exporter of hops; the perennial vine used to blanket Vermont fields in the 1800s, yet all but vanished by the early 20th century.
As they observed the ongoing rise of local craft brewers, Bach and Birkett surmised that growing organic hops could be both profitable and symbiotic with evolving local food culture. And they became part of a movement that has attracted everyone from academic researchers to adventurous brewmasters.
The two ordered 50 varied rhizomes, including popular varieties such as Centennial, Chinook and Cascade. They felled cedar trees to make 16-foot support poles, strung galvanized steel cable between them and tied up perpendicular coir on which the hop bines could grow.
They soon learned that the hop plant, though it loves to grow, requires constant vigilance. The plants are highly temperamental and susceptible to mildew, blight and a raft of insects.
As Bach and Birkett were tilling their first row, they unearthed square nails that had been left in the soil by Birkett's forebears — hence the farm's name. "His family history, and the new history that we are creating, is an important part of this place, and our goal is for place to come through in the beer," says Bach, evoking the concept of terroir, or taste of place.
In a beer, that taste can derive from local water and technique, but certainly from hops, too. Break open a fresh, squishy hop flower, and you'll see — and smell — a handful of tiny, bright-yellow sacs. These are lupulin glands that contain both alpha acids and aromatic oils that lend beer bitterness and flavor. The plants higher in alpha acids are bittering hops, prized by brewers; others, lower in acid and more aromatic, can have flavors ranging from citrus and fruit to grass, pine and spice.
Hundreds of hop varieties have developed naturally or been bred over time, with various yields and flavor profiles. Hop plants like good drainage and lots of sunshine, which is why they flourish in places such as Oregon and Washington. That's where the vast majority of American hops come from, they're pressed into concentrated pellets.
As they watched their first crop to see what thrived here, Bach and Birkett were reclaiming a piece of Vermont's agricultural history: In the 1800s, Vermont was the second-largest producer in the country behind New York.
"There's not one story of hops in Vermont. It's a combination of many different stories in one state," says Adam Krakowski, who recently earned his master's degree in historic preservation from the University of Vermont. He's also wrapping up a year of studying hops for the Vermont Historical Society.
Krakowski became enchanted by the plant's history when he came across an old hop house in Derby during a state historic-barn census. The first hop reached these shores in 1629, but it took more than a century for it to take hold as a commercial crop. Hops "exploded" in Vermont between 1840 and 1850, says Krakowski, just as the merino wool trade was collapsing. The greatest concentration of hop yards was along the Connecticut River and in the Northeast Kingdom — in particular, Orleans and Windsor counties. By 1860, Vermont was producing about 640,000 pounds of hops per year.
Krakowski surmises that the trade's disappearance was due to a collision of factors: Vermont was the second state to join Prohibition, in 1853, around the same time that two Vermonters spirited hop rhizomes to Northern California by way of a ship that rounded Cape Horn. There, the plant flourished in the relatively dry climate. Meanwhile, hops remained susceptible to blight back East, hastening their demise.
By 1910, Vermont was no longer producing hops, and the center of production had shifted to the West.
"This is not new to Vermont. We're trying to relearn the crop," says Heather Darby, an associate professor of agronomy with UVM Extension who is helping oversee a test crop in Alburgh at Borderview Farm, owned and tended by Roger Rainville.
UVM has dabbled in hop research over the years, but this three-quarter-acre, 600-plant test patch — called the Vermont Hops Project — is a bold attempt to resurrect production in Vermont. Darby and her colleagues have planted 20 varietals in a five-year effort to pinpoint which flourish and which fall victim to the panoply of pests and diseases that afflict them.
To demonstrate, the deeply tanned Darby fingers some Saaz leaves turning brown along their edges, the detritus of the hungry potato leafhopper. Tiny green specks cling to the leaf's underside, and she watches one scuttle along. "They dance," she says, cheerful despite the damage.
This yard was inadvertently planted on a former alfalfa field, which may explain the leafhoppers' proliferation. Darby, her colleague, researcher Rosalie Madden, and others scout for pests each week. The delicacy of hops surprised them. "Every time we come out here and see something new, you almost want to cry," Darby says. Powdery mildew, spider mites and the Eastern comma butterfly are among the maladies. ("We stumbled upon this little guy and his friends on the underside of some leaves, chowing down on a fine looking row of Cascade," the researchers write of the butterfly on their website.) Darby says growing hops "is not for the faint of heart."
While they are besieged, hop plants are also hardy. "[In spring,] a lot of them had heaved out of the ground because of frost, but were hanging on by one little rootlet," says Darby. "We were pushing them back in the ground, and now they're looking pretty good."
UVM has helped pioneer the design of a small-scale hop-harvesting machine. Hand harvesting is cumbersome, and conventional harvesters can be prohibitively expensive, so the machine could prove invaluable, says Darby.
As could the research, delivered in papers, reports and videos. Leafhoppers are virtually absent out West, for instance, so UVM's data will be a boon to farmers here. "That's one of the unique bits of information we can give to growers," Darby says.
And possibly to microbrewers, too, as they wait to see how a local hop trade might develop. Allen Van Anda, the brewer at Trapp Family Lodge Brewery, has consulted with the UVM project. "I'm waiting to see what's going to take hold. Then I think we're really going to jump in with both feet," he says. That could mean planting one or more acres of hops at the brewery. "God forbid we put these things in and they get wiped out in a season."
Right now, Van Anda uses 600 pounds of mostly imported German hops each year for lagers that he admits are not very "hop forward." Like other brewers, he's concerned that, despite a rising tide of growers, Vermont still doesn't produce hops with consistency. "We're still in the infant stages. We don't have the facilities or age to know what we're getting, or the nuances or flavor profiles that will come from our landscape," he explains. "Brewers and consumers alike expect a consistent product. If you buy a Harpoon IPA, you expect it to taste the same all of the time."
Renee Nadeau, co-owner of Rock Art Brewery in Morrisville, says she and her husband, Matt, are "huge" on locally grown hops, but also don't see the consistency or quantity they would need to use them. Jen Kimmich, co-owner of Waterbury's Alchemist Pub and Brewery, echoes that view. She sometimes rejects hops that local growers bring by because they haven't been cured properly. In-state hops have far to go, she adds. "It isn't yet lucrative in this state because the amounts are too small."
"Literally once a week, someone with acres of land used to come by and ask us if were interested in buying hops," says Shaun Hill of Hill Farmstead Brewery in Greensboro, who uses about 3000 pounds of hops a year. "It was exhausting explaining why I wouldn't buy their hops." Those issues can include improper packaging and lack of analysis.
If local growers reached a critical mass, though, Hill says he'd be on board. "I am very excited by the prospect of being able to source Vermont-grown hops for the future of our beers, very much so," he wrote in an email. "We use Vermont grains and honey whenever possible. But it seems that the level of education and technology has not yet caught up with the level of enthusiasm that exists for such an undertaking. When the day comes, Hill Farmstead is certainly on board."
Brewer Mark Magiera of Bobcat Café & Brewery in Bristol has more flexibility when it comes to using the diminutive bundles of Vermont hops that come his way. He brews in 200-gallon batches and gleefully plays with them, using commercial and homegrown varieties from a chosen network of growers.
The bespectacled Magiera keeps an assortment of hops in his freezers. He pulls out a Ziploc bag of light-green cones from a grower in nearby New Haven and opens it. A year after harvest, the distinctive piney smell wafts out. Nestled nearby are hops from Slovenia and the U.S. West, as well as tiny clusters from Square Nails' first harvest.
Outside, along the café's eastern wall, wend a dozen or so bushy hop bines — Nugget, Fuggle, Centennial, Cascade and others. They grow on twine tied to a third-story pipe, and some already have dangling cones. When the plants are ready for harvest, an upstairs neighbor threads the tops of the bines onto a fishing pole, then lowers them gently to the ground. Magiera and crew spread them out on the bar and pluck the flowers, which they will eventually use in two brews — an IPA called Lil Brick and a bitter double IPA named, aptly, Brick Wall.
Magiera crafts one-sixth of his beers with Vermont hops, and in November he plans to collaborate with UVM's Darby and Madden on a sensory evaluation of local crops: He'll brew a base beer, then add hops in various increments to judge their flavor profiles.
"The hop growers in this area are reinventing the wheel," Magiera says. "The thing I've been driving home to these local growers is that they should be focusing on aromatic varietals." Higher prices may pose issues in finding markets, however; while Magiera can get western hops for $5 to $6 a pound, local varieties can cost between $11 and $15 a pound, he says.
Magiera suggests that when Vermont growers develop their infrastructure, and equipment, they'll flourish. "Once they accomplish that, these questions about consistency will be nonexistent," he says.
Investing in a pelletizer is part of this season's plan at Bach and Birkett's Square Nail Hops Farm, just a 15-minute drive from the Bobcat. "If we had the infrastructure down, the packaging and harvesting, it would be amazing," says Bach as he walks along a row of vines. "There's a lot to learn, and it's really labor intensive. But we have an opportunity to establish our own taste of place."