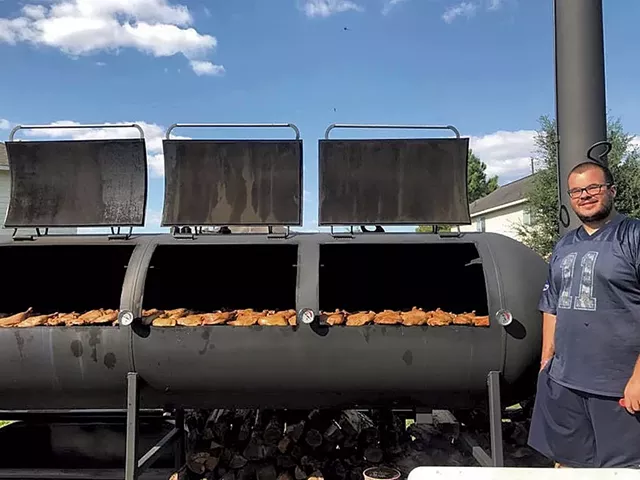 Courtesy Of Restoration Barbecue
Todd Lagendyk
The new owners of a grocery store in Brandon will add barbecue to the business one Saturday a month when they launch Restoration Barbecue in early August.
Todd Lagendyk and his wife, Maribeth, will take ownership of Forest Dale Grocery & Deli at 15 Furnace Road on July 1, Todd said. Their first barbecue service will be August 3, when they fire up the pit that Todd built from a 1,000-gallon propane tank.
"It's huge," Todd said of his contraption. "It's 20 feet long, 13-and-a-half feet tall. The pit probably weighs about 4,000 pounds. We can fit whole pigs in there. We can probably fit whole cows in there, too." In July, he'll bring that pit, mounted on a trailer, to smoke meats at catering events.
Todd, 28, worked as a machinist in Houston before he and his wife, a Rutland native, moved to Vermont. They named Restoration Barbecue for a social mission, which Todd calls a "ministry," that is central to its operation.
"We really want to help out people who are recovering from drug addiction and may not be able to find a job because of a criminal background," Todd said. "Once we get our business launched, we're going to hire people looking for employment who may not be able to get it elsewhere."
The couple demonstrated their commitment to helping others in Houston two years ago when Hurricane Harvey flooded parts of the city. Todd smoked meat in his big pit and gave it away.
"We'd get up early in the morning, load food in the back of the truck, drive around and hand it out," he said.
If the barbecue is successful on a monthly basis, the Lagendyks will prepare smoked meats more often, along with sides that include macaroni and cheese, potato salad, baked beans, coleslaw and cheesy smoked grits. The grocery and deli side of the business, which has served Brandon for 30 years, will stay the same, Todd said.